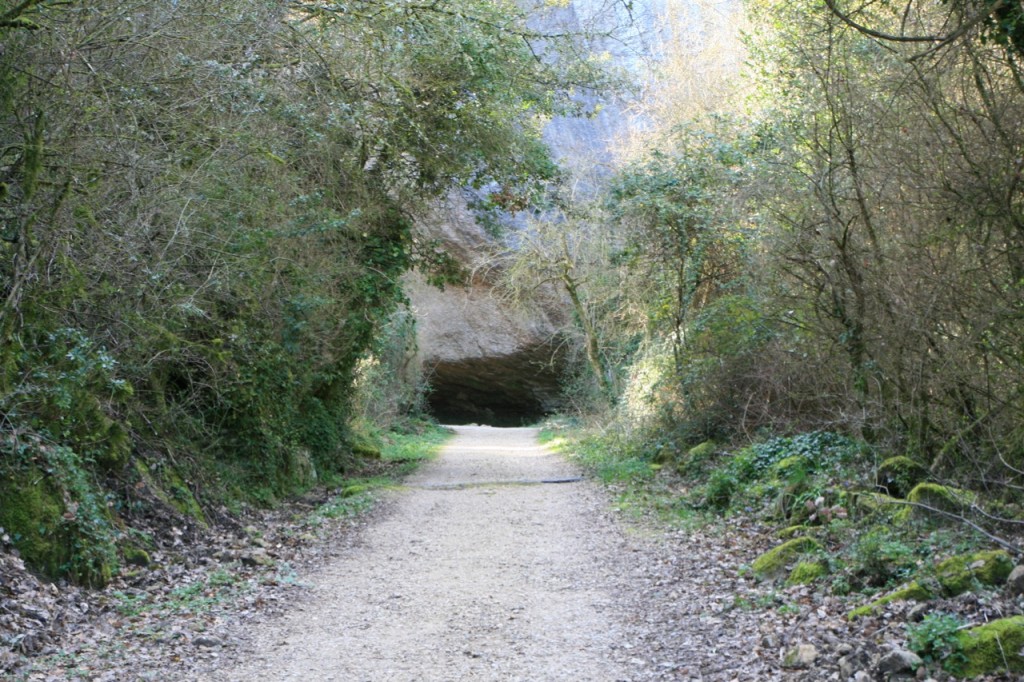 L'histoire a connu de tous temps des catastrophes, que l'on faisait payer ici aux juifs, là aux femmes, ailleurs aux chats… J'espère que ce temps est révolu, et je pense que malgré nos angoisses bien légitimes, nous avons l'avantage de disposer d'innombrables moyens technologiques, telle la possibilité de communiquer avec nos proches.
Mon admiration pour la technologie n'est pas non plus inconditionnelle : elle a amplement favorisé l'extension de la pandémie, par les déplacements en avion. De plus, en Italie puis en France (et certainement dans d'autres pays) les gens les plus riches ont quitté les villes aux premières mesures de confinement, participant largement à la propagation du virus.
There has always been disasters, which one made pay here to the Jews, there to the women, elsewhere to the cats… I hope that this time is past, and I think that in spite of our quite legitimate anxieties, we have the advantage of having countless technological means, such as the possibility of communicating with our loved ones.
My admiration for technology is not unconditional either: it has greatly contributed to the spread of the pandemic, by air travel. In addition, in Italy and then in France (and certainly in other countries) the wealthiest people left the cities at the first containment measures, largely contributing to the spread of the virus.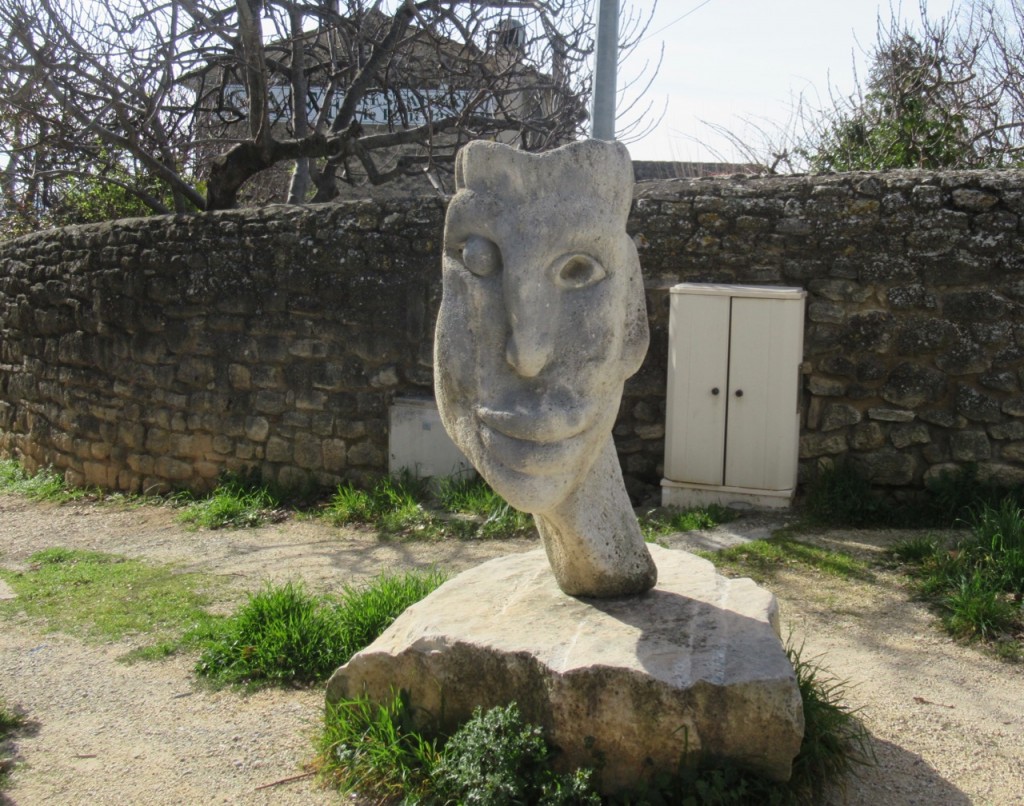 Quant aux plus démunis, s'ils le propagent eux aussi, c'est quand on les contraint à travailler sans appliquer les règles de sécurité. Ce sont eux les plus atteints, comme toujours, trop nombreux dans des logements trop petits.
As for the poorest people, if they spread it too, it is when they are forced to work without applying safety rules. They are the most affected, as always, too many in housing too small.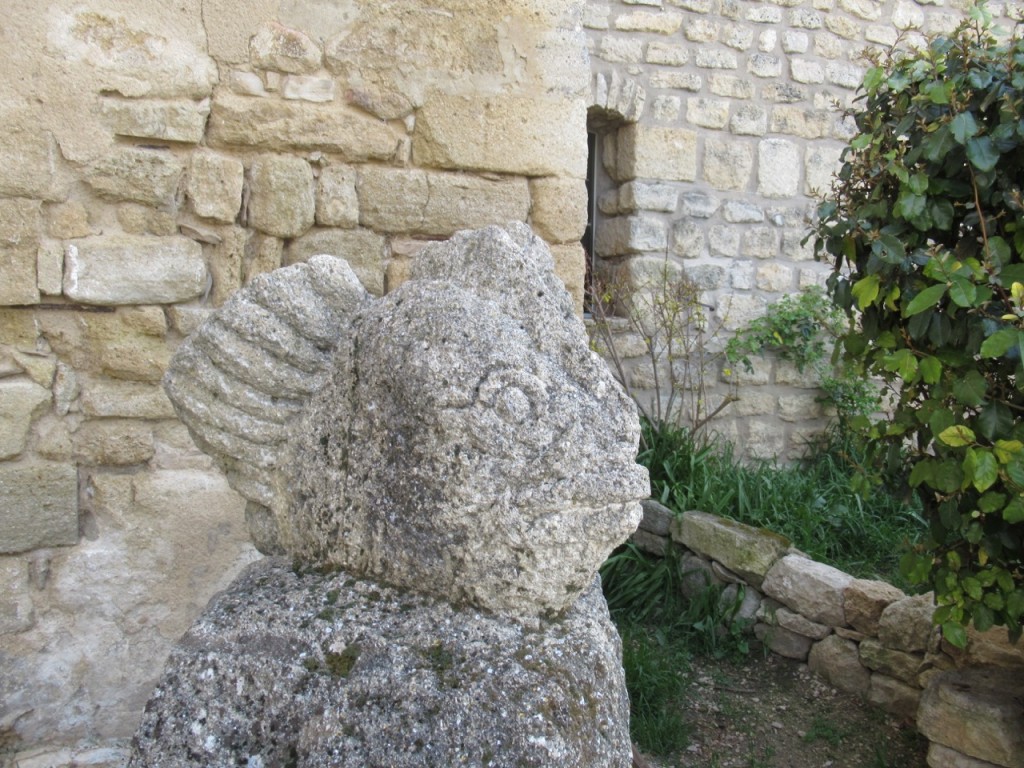 Je suis à la fois triste, presque dépressive, et heureuse. Méfiante et confiante. Effrayée et rassurée.
I am at the same time sad, almost depressed, and happy. Distrustful and confident. Frightened and reassured.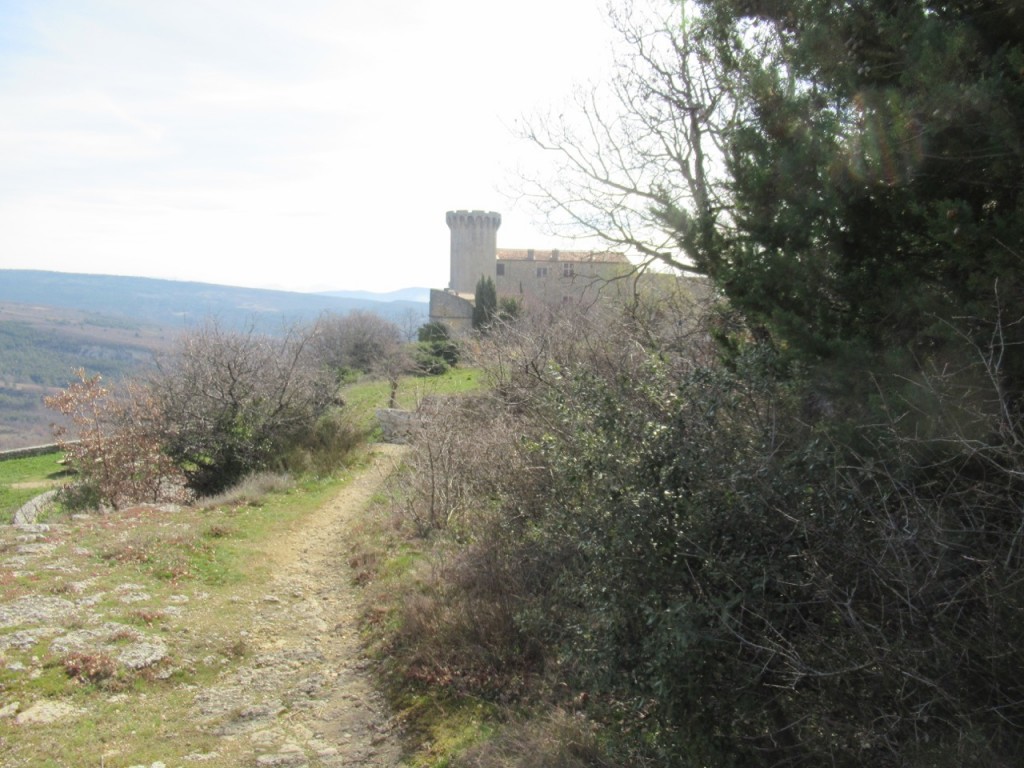 Et si l'humanité toute entière se trouvait dans le même état de détresse psychologique, puisque nous sommes tous dans le même bain ?
Je passe beaucoup plus de temps au téléphone depuis le début du confinement, et on a réveillé Skype. Nous devrions tous prendre des nouvelles des autres, plus que ce que nous faisions, ranimer les liens endormis. Les gens qui chantent tous ensemble sur les balcons dans les villes, ça fait du bien. Cherchons d'autres idées.
What if all of humanity were in the same psychological distress, since we are all in the same bath?
I've been spending a lot more time on the phone since the confinement started, and we woke up Skype. We should all take news from others, more than we did, wake sleeping links. People singing together on balconies in cities, it feels good. Let's look for other ideas.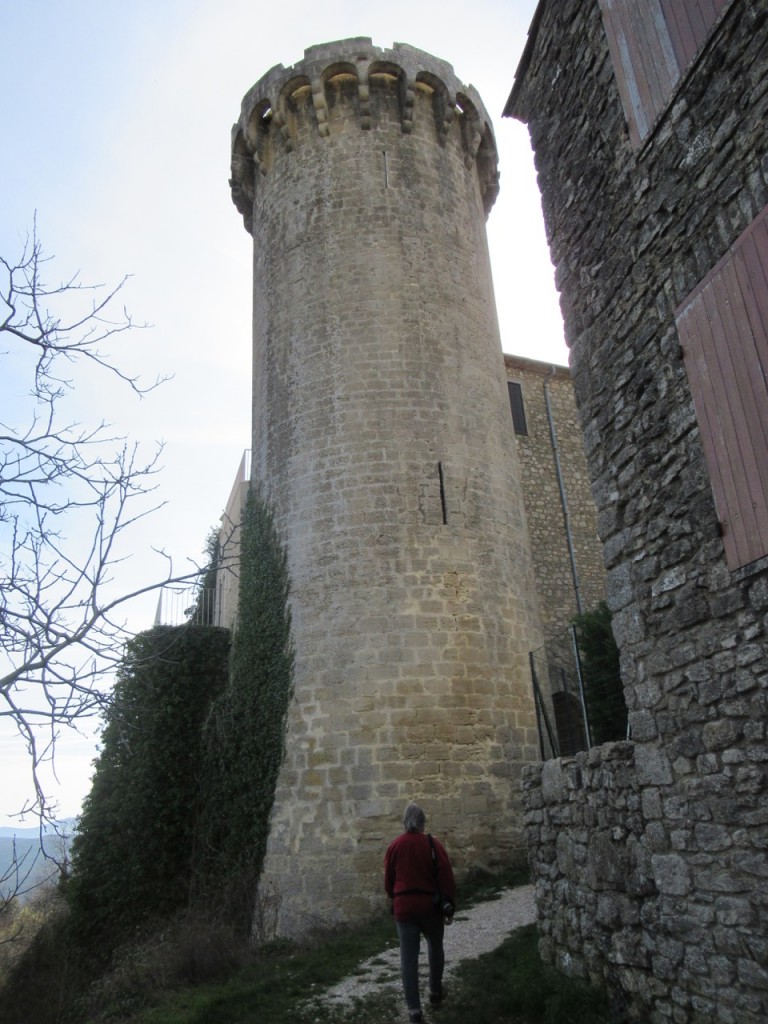 Le présent est noir mais pas seulement. Partout, il y a aussi des gestes de solidarité. Comme tant d'autres fois dans l'histoire, des espoirs fous se lèvent. Certains ont une lourde responsabilité dans la tragédie que nous connaissons, est-ce que ce sera suffisant pour qu'à l'avenir il y ait un changement en profondeur des comportements et des mentalités ? Un refus des actes qui nous sont imposés mais qui sont destructeurs pour la planète ? Mais aussi pour la qualité de l'existence de chacun d'entre nous ? Cette existence unique et si précieuse.
The present is black but not only. Everywhere there are also signs of solidarity. As so many times in history, great hopes arise. Some has a heavy responsibility in the tragedy that we know, will it be enough to get a substantial change in behavior and mentalities in the future? A rejection of the acts that are imposed to us but that are destructive for the planet? But also for the quality of existence of each of us? This unique and precious existence.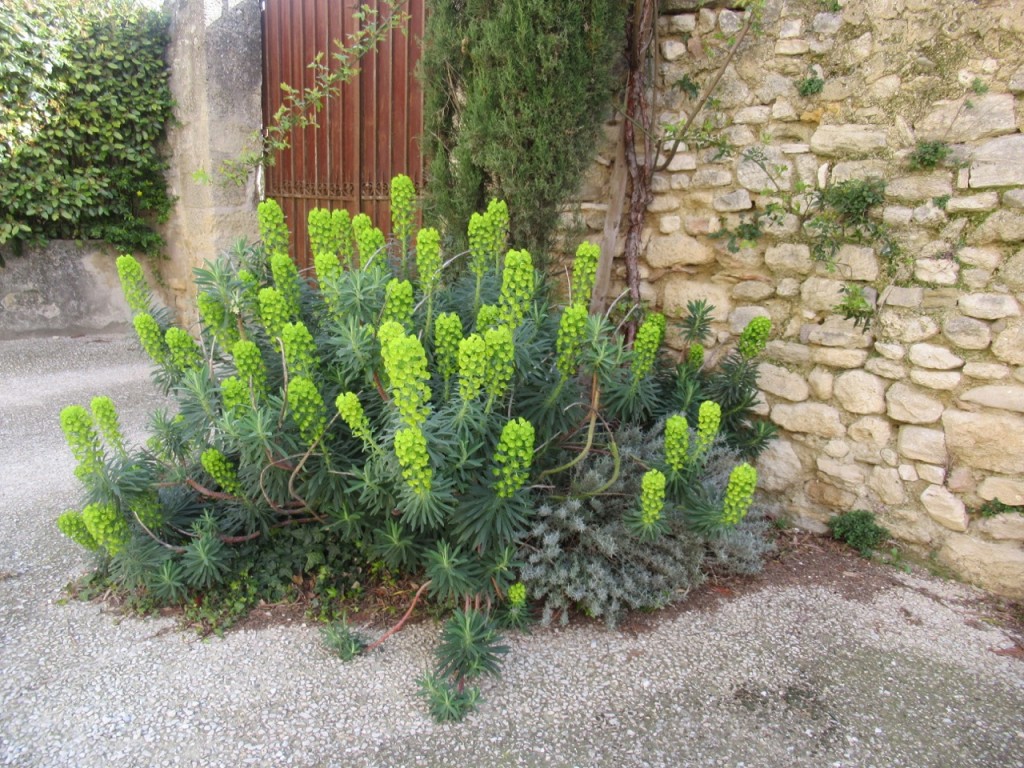 J'accepte les mesures dictatoriales qui nous sont imposées pour des raisons sanitaires. Mais je suis en rage parce que l'on manque toujours de matériel médical alors que l'équipement répressif ne fait pas défaut, bien au contraire : c'est la CGT qui a fait ce rapprochement. Et je suis très inquiète pour la sortie de la crise sanitaire : et si nos dirigeants  oublient ce jour-là de nous rendre nos libertés ?
I accept the dictatorial measures imposed on us for health reasons. But I'm in a rage because there is always a shortage of medical equipment while there is no shortage of repressive equipment, quite the contrary: the union CGT made this connection. And I am very worried about the end of the health crisis: what if our leaders forget that day to give us back our freedoms?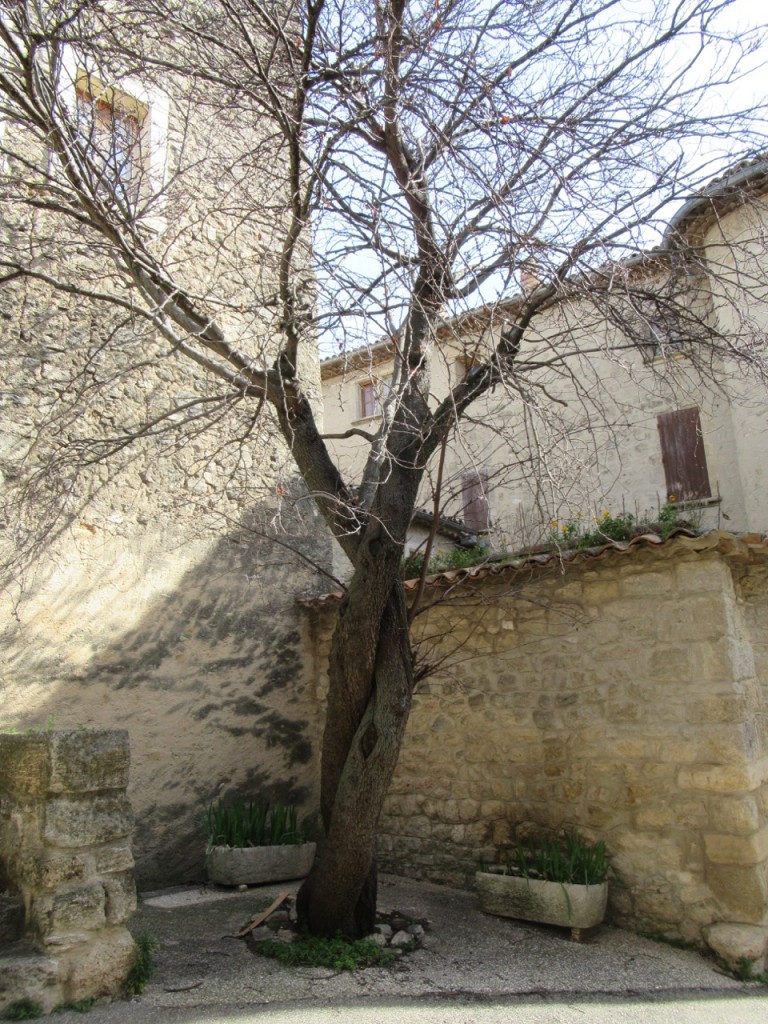 Tiré d'un tract de la CGT :
« La Fédération CGT des Services publics dénonce les choix du gouvernement qui font que ce sont les masques de protection, gel hydroalcoolique et tests médicaux qui manquent alors que jamais les armes de guerre militaire ou anti-manifestant (LBD, gaz…) ne sont en rupture de stock. Terrible traduction des préoccupations et intérêts de l'état et des Capitalistes. » LBD Lanceur de Balles de Défense
From a CGT leaflet:
« The CGT Federation of Public Services denounces the government's choices which mean that it is the protective masks, hydroalcoholic gel and medical tests that are missing while never the weapons of military war or anti-demonstrator (LBD, gas …) are in sold out. Terrible translation of the concerns and interests of the state and the Capitalists. » LBD Lanceur de Balles de Défense — Defense Ball Launcher

Quel sera le coût médical et social du confinement ? Je suis persuadée que si nous étions testés, si n'étaient confinées que les personnes positives, la vie pourrait être bien plus normale. Et les personnes positives ne seraient jamais confinées aussi longtemps que nous le sommes tous par ignorance de notre état !
What will be the medical and social cost of confinement? I am convinced that if we were tested, if only the positive people were confined, life could be much more normal. And positive people would never be confined as long as we are all out of ignorance of our condition!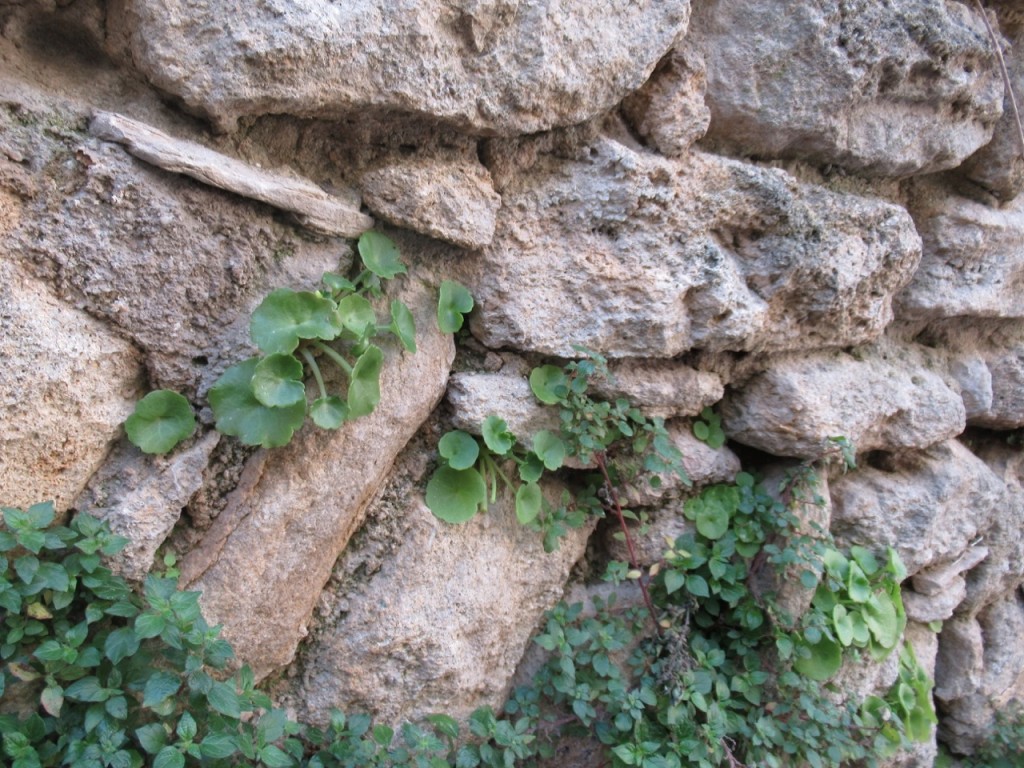 Notre escapade en Luberon n'est pas très loin dans le temps, mais il s'est passé tant de choses qu'elle brille dans nos souvenirs comme un passé très lointain. Je continue le récit de nos petites aventures ordinaires et la publication de tonnes de photos — paradis perdu. Provisoirement.
Our getaway in the Luberon is not very far back in time, but so much has happened that it shines in our memories like a very distant past. I continue the story of our little ordinary adventures and the publication of tons of photos – lost paradise. Provisionally.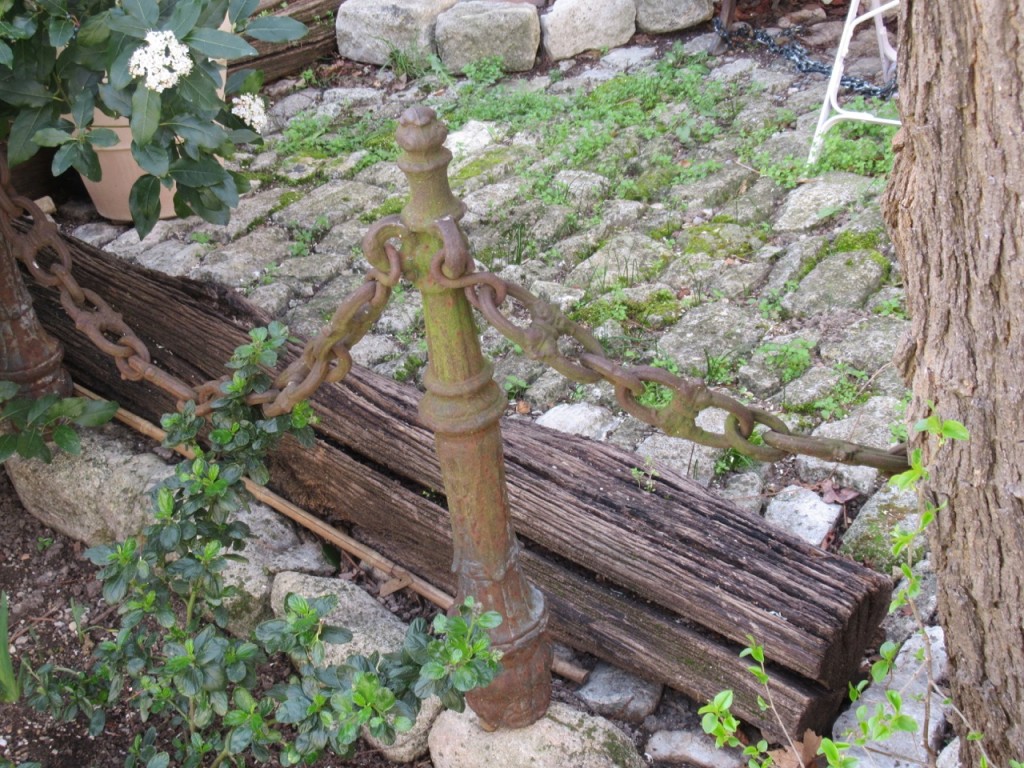 C'est à peine si j'ai évoqué nos visites de Caseneuve et Viens, le 12 mars.
I barely mentioned our visits to Caseneuve and Viens on March 12.
Le zoom de mon Canon est vraiment fantastique, il me permet d'identifier Saignon, son église semblable à une tour défensive, alors que nous nous trouvons sur le versant d'en face, à plusieurs kilomètres, à Caseneuve.
The zoom of my Canon is really fantastic, it allows me to identify Saignon, its church evoking a defensive tower, while we are on the hill opposite, several kilometers away, in Caseneuve.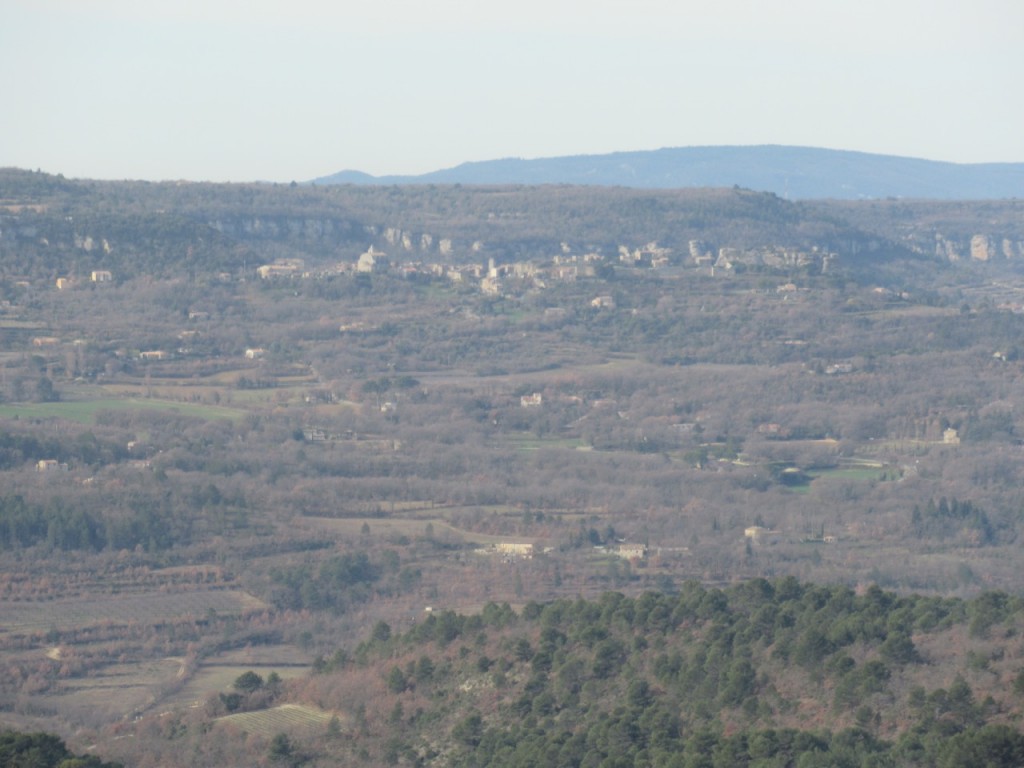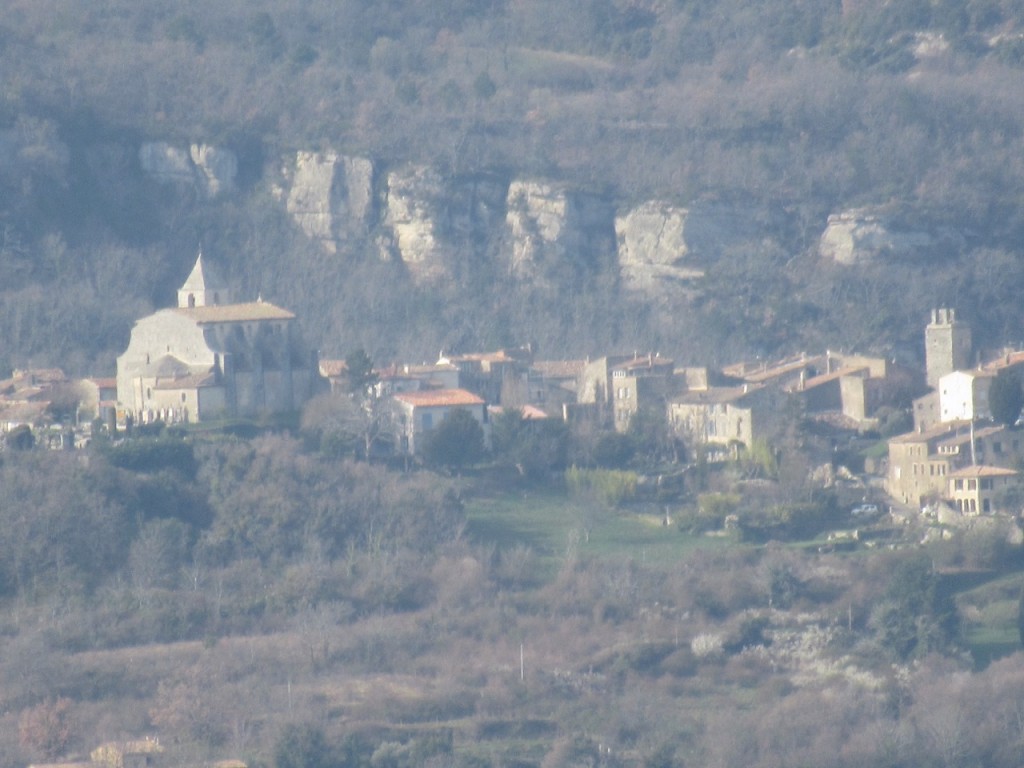 Un arbre fantôme disparaît dans la pierre.
A ghost tree disappears in the stone.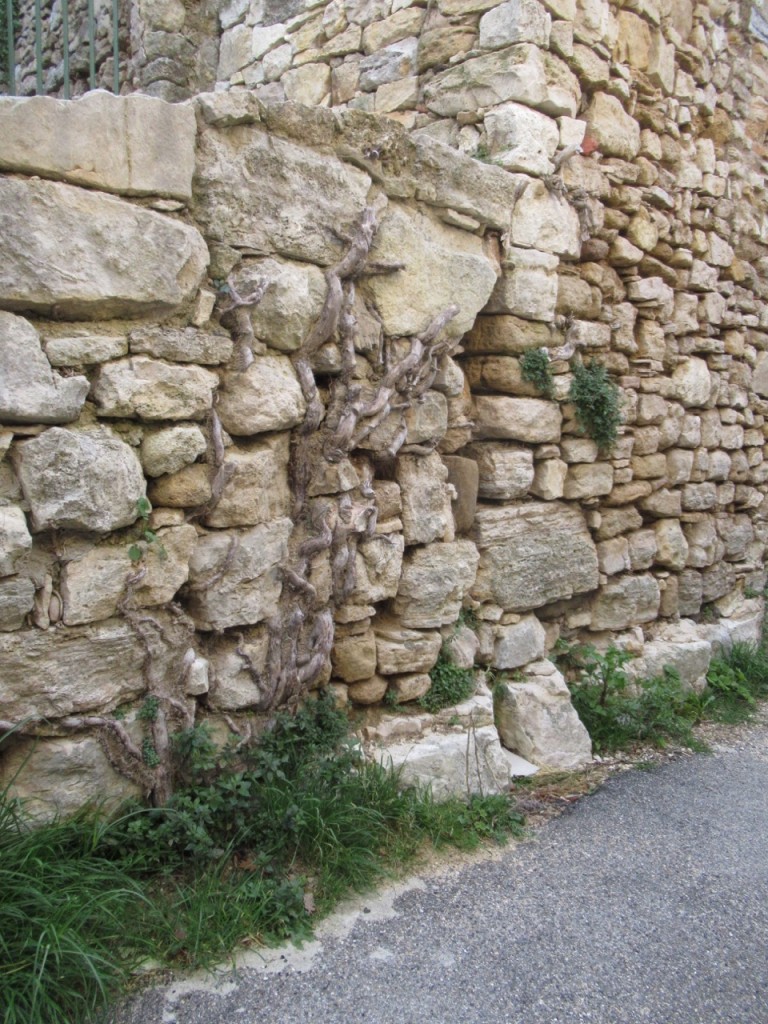 Et puis Badette, confinée à Grenoble, m'écrit qu'elle connaît Viens où elle va depuis de nombreuses années. Son amie y est présidente des « Amis de Viens ». Paul se rappelle alors la boîte aux lettres que j'avais photographiée pour son caractère militant, « nous voulons des coquelicots » : un appel à la résistance pour l'interdiction de tous les pesticides, refus des compteurs linky…
And then Badette, who is confined at Grenoble, writes me that she knows Viens where she has been going for many years. Her friend is president of the « Amis de Viens ». Paul then remembers the mailbox I had photographed for its militant character, « we want poppies »: a call to resistance for the ban on all pesticides, refusal of linky electric meters …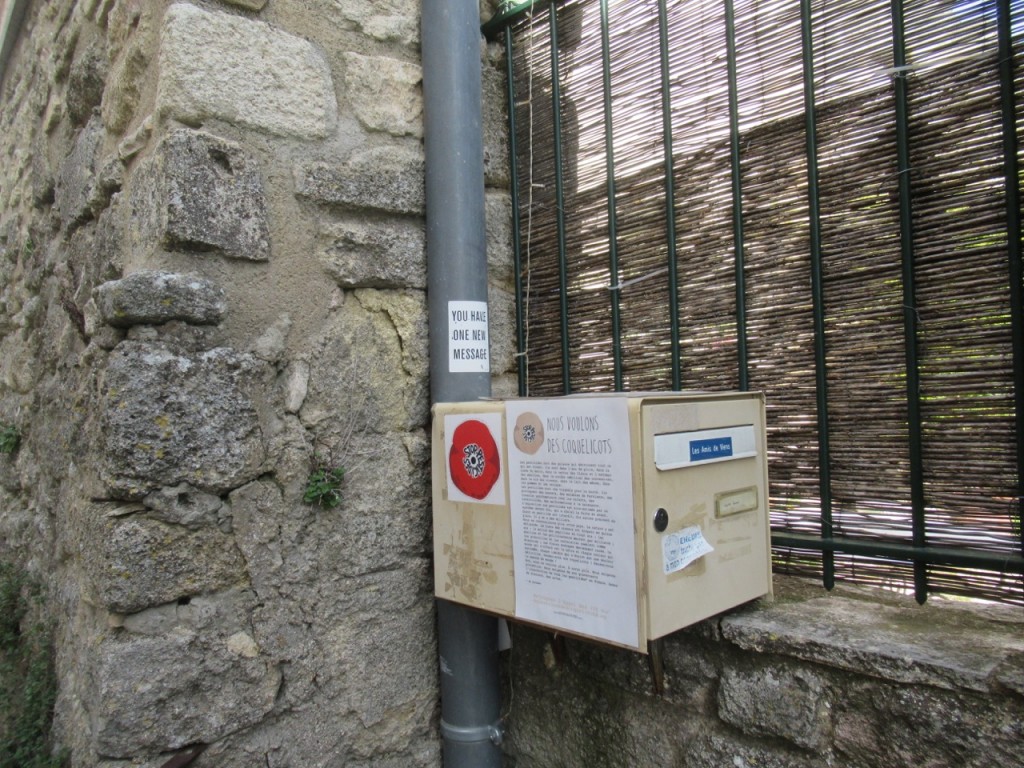 Salut à toi, Huguette ! Dans ton village paisible à quelques pas de chez toi le soleil égaie ce petit bout de jardin. Un drap sèche sur un fil. Prunus et mimosa sont fleuris – ah, le parfum du mimosa !
Hi to you, Huguette! In your peaceful village a few steps from your home, the sun brightens up this little piece of garden. A bed sheet dries on a wire. Prunus and mimosa are in bloom – ah, the fragrancy of mimosa!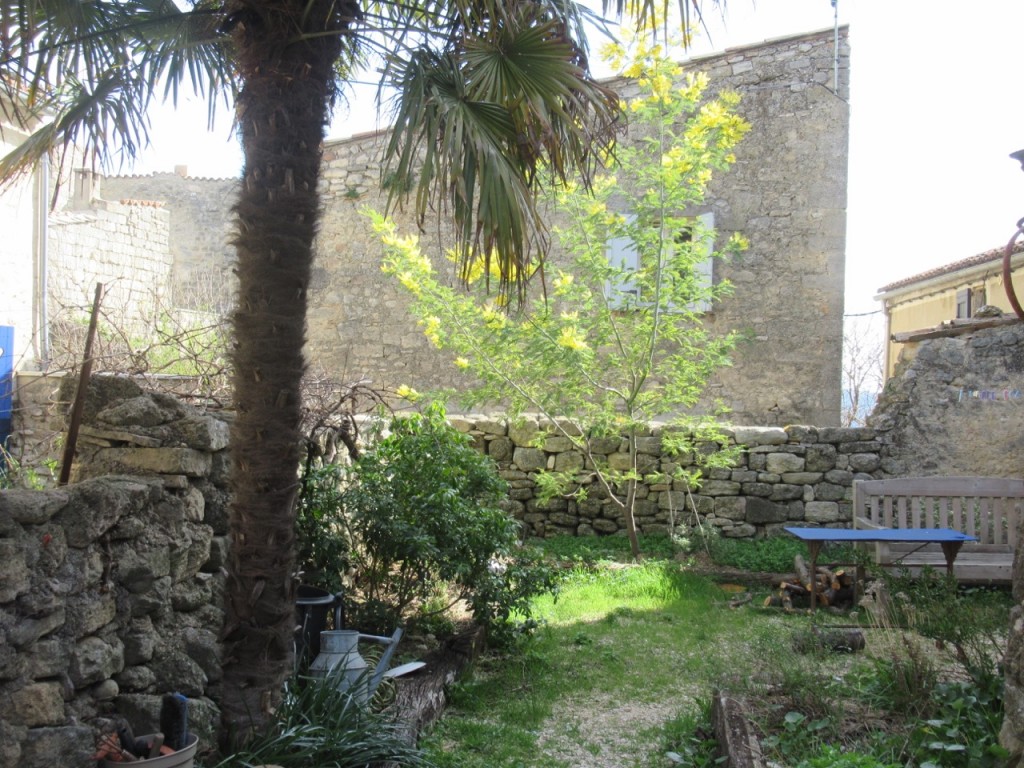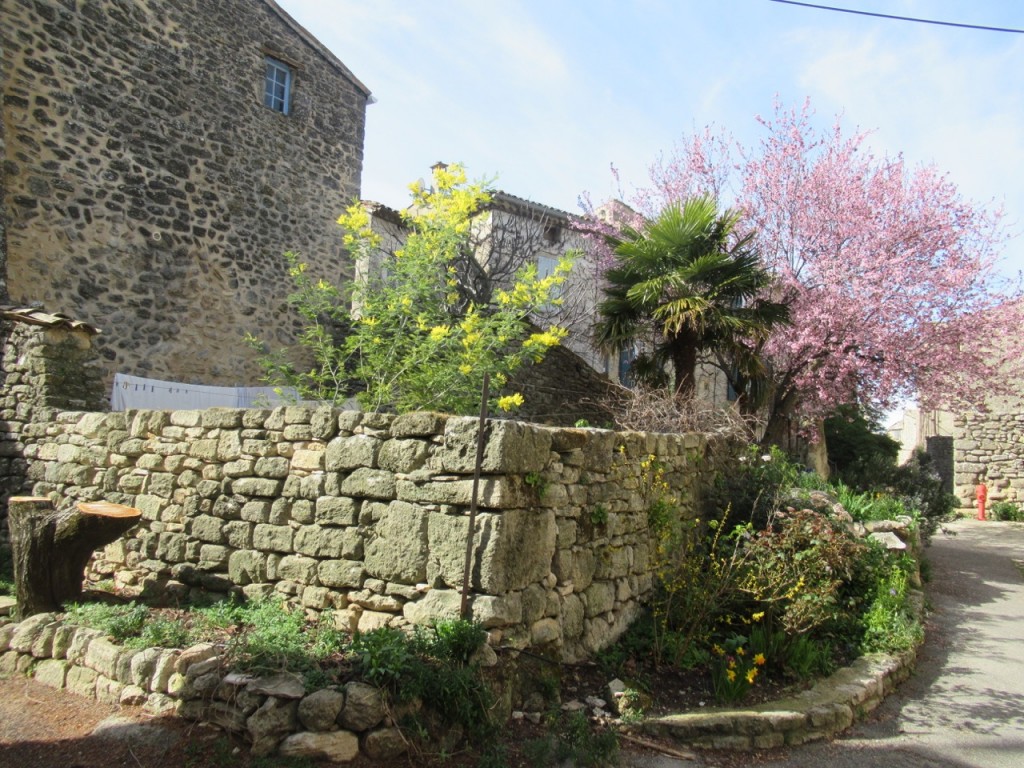 Un vélo en pré-retraite n'attend plus de passager. Si l'on regarde bien, il est couvert de chaînes,  contre quels voleurs ?, il ne va pas se sauver sur ses pneus vénérables. Bientôt sans doute un jardinier fera pousser des fleurs dans ce pot-ci et quelqu'un mettra une bougie dans celui-là. La petite dynamo pour l'éclairage, j'ai toujours adoré, plus tu vas vite mieux tu y vois.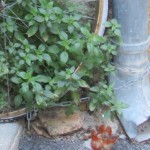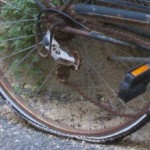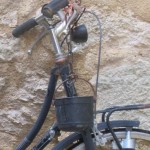 A pre-retirement bicycle no longer waits for passengers. If you look closely, it is covered with chains, against which thieves? It is not going to run away on his venerable tires. No doubt soon a gardener will grow flowers in this pot and someone will put a candle in that one. The little dynamo for lighting, I always loved, the faster you go the better you see.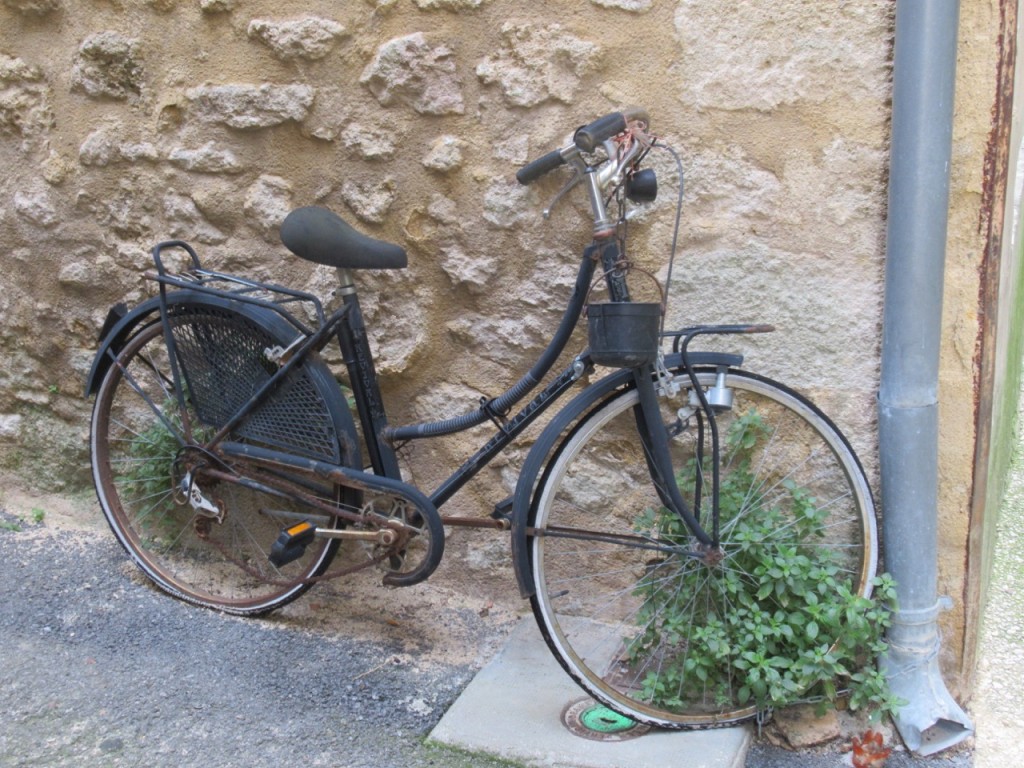 Deux chiens veillent au grain tandis que des poissons remontent le courant.
Two dogs are on guard while fish go upstream.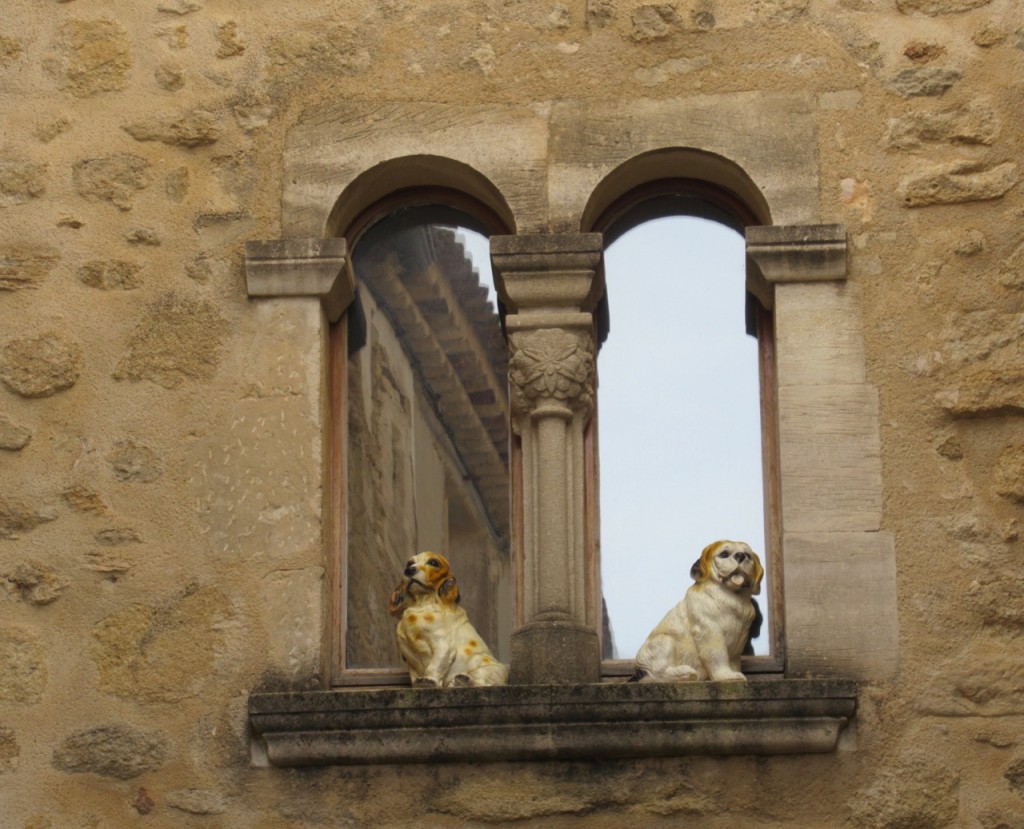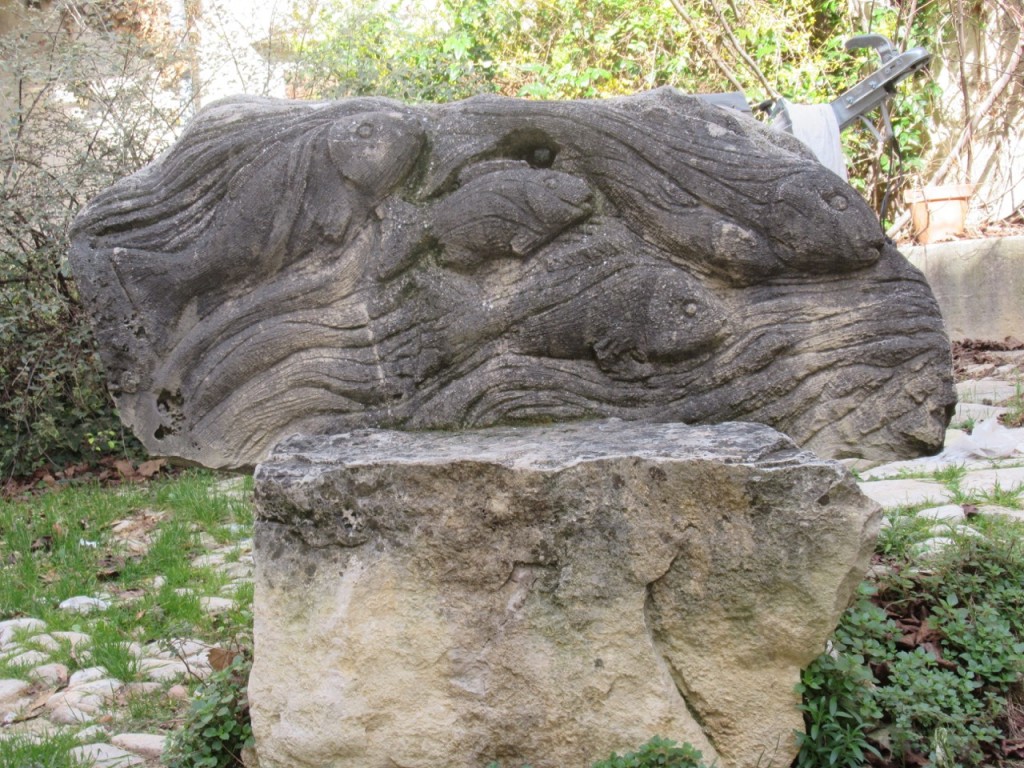 Les livres gratuits, maintenant on en trouve partout, mais parfois en triste état. Ici la boîte à lire est toute pimpante et bien rangée.
Free books are now everywhere, but sometimes they're deteriorated. Here the reading box is very neat and tidy.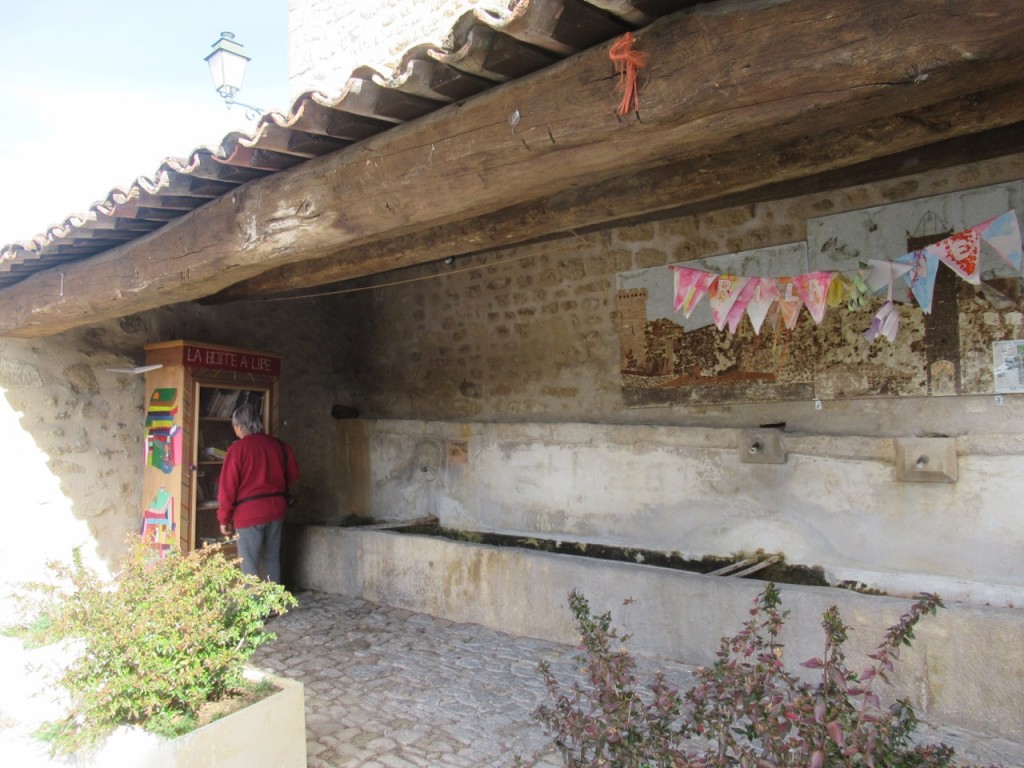 Après avoir arpenté ces ruelles jusqu'à épuisement, nous avons suivi le chemin des cèdres que j'ai déjà évoqué.
After having surveyed these alleys until exhaustion, we followed the path of the cedars which I already mentioned.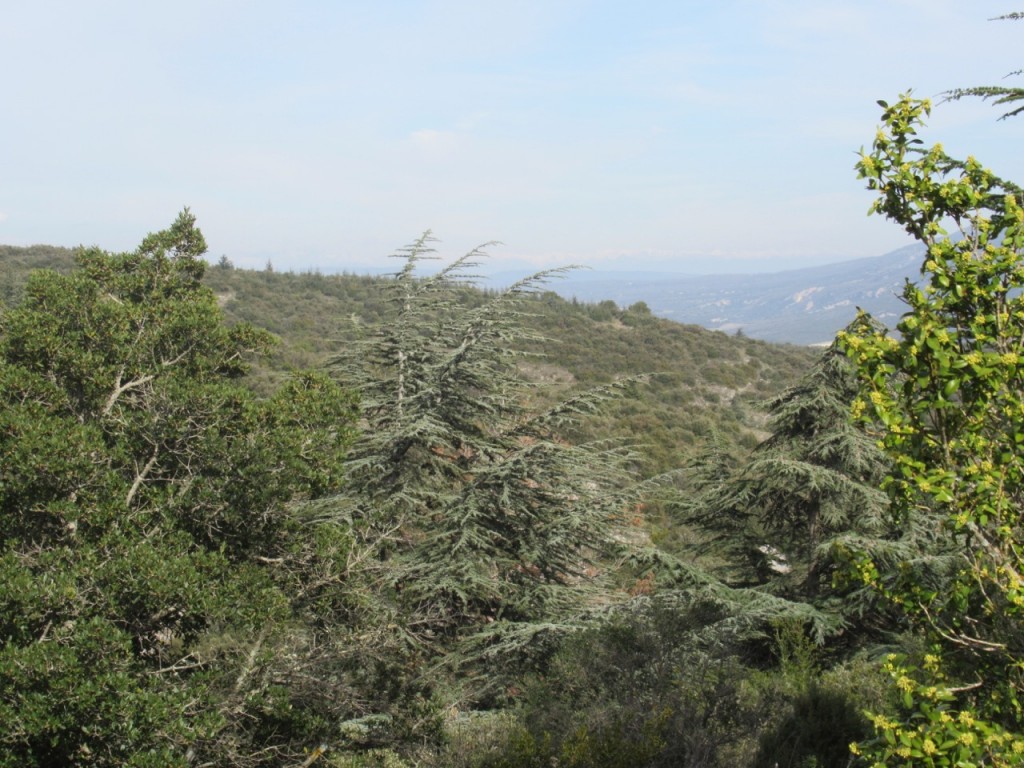 La difficulté pour le jour suivant, c'était de ne pas nous trouver sur le passage du Paris-Nice. Cette compétition cycliste s'est  d'ailleurs terminée le samedi, un jour plus tôt que prévu, l'arrivée à Nice aurait rassemblé beaucoup trop de personnes : on commençait à envisager timidement le confinement, mais, quand même, pas avant les élections municipales. Après avoir étudié le parcours de la course (qui tournait un peu dans tous les sens autour de chez nous, bloquant la circulation), Paul a repéré le fort de Buoux et c'est comme ça que nous sommes allés dans cette vallée à l'écart.
The difficulty for the next day was not being on the passage of Paris-Nice. This cycling competition also ended on Saturday, a day earlier than expected, the arrival in Nice would have gathered too many people: we were starting to shyly consider confinement, but, all the same, not before the municipal elections . After having studied the course of the race (which turned a little in all directions around our home, blocking the traffic), Paul spotted the fort of Buoux and that's how we went in this valley apart.

Il fait bien frais, un peu humide, dans ce vallon.
It is very cool, a bit humid, in this valley.
Ce mauvais chemin, accessible, passé le fort, seulement à des véhicules tout terrain, tenait autrefois une position stratégique importante nous dit un panneau : c'était « une des plus anciennes voies permettant de franchir le Luberon depuis la vallée de la Durance et d'envahir la ville d'Apt. »
This path in poor condition, accessible only for all-terrain vehicles past the fort, held an important strategic position in the past, a sign says: it was « one of the oldest ways to cross the Luberon from the Durance valley and to invade the town of Apt. »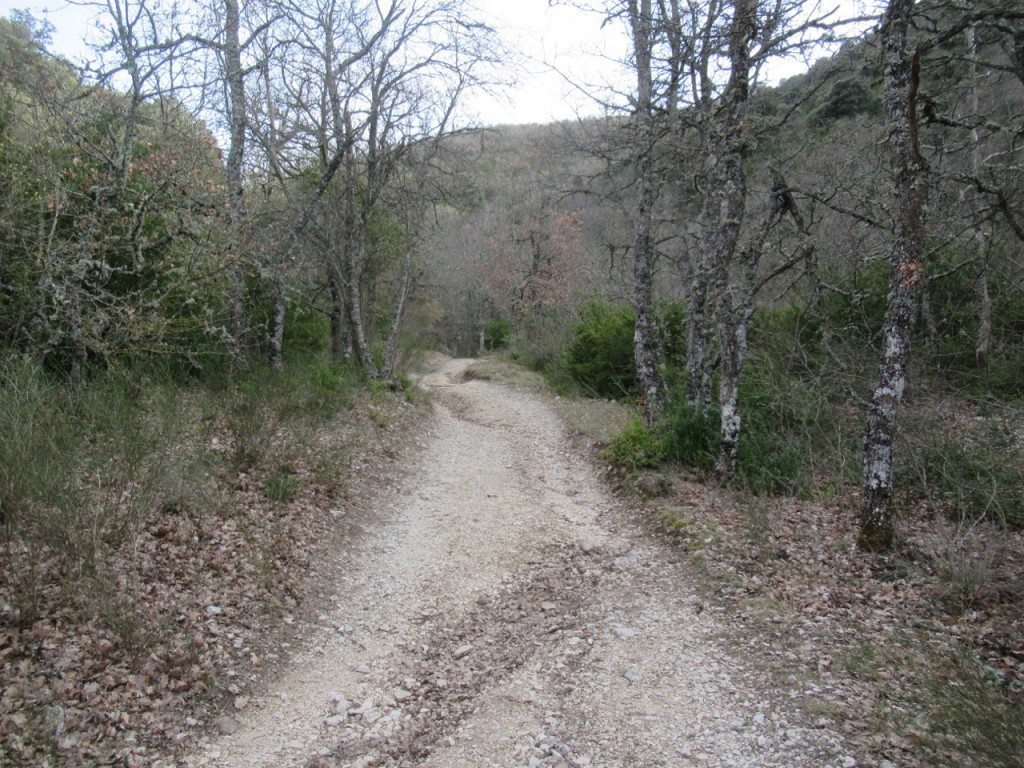 Nous passons sous un gigantesque abri sous roche qui a été occupé sans doute par des pré-Néandertaliens, occupation très ancienne donc.
We pass under a gigantic rock shelter which was probably occupied by pre-Neanderthals, very old occupation therefore.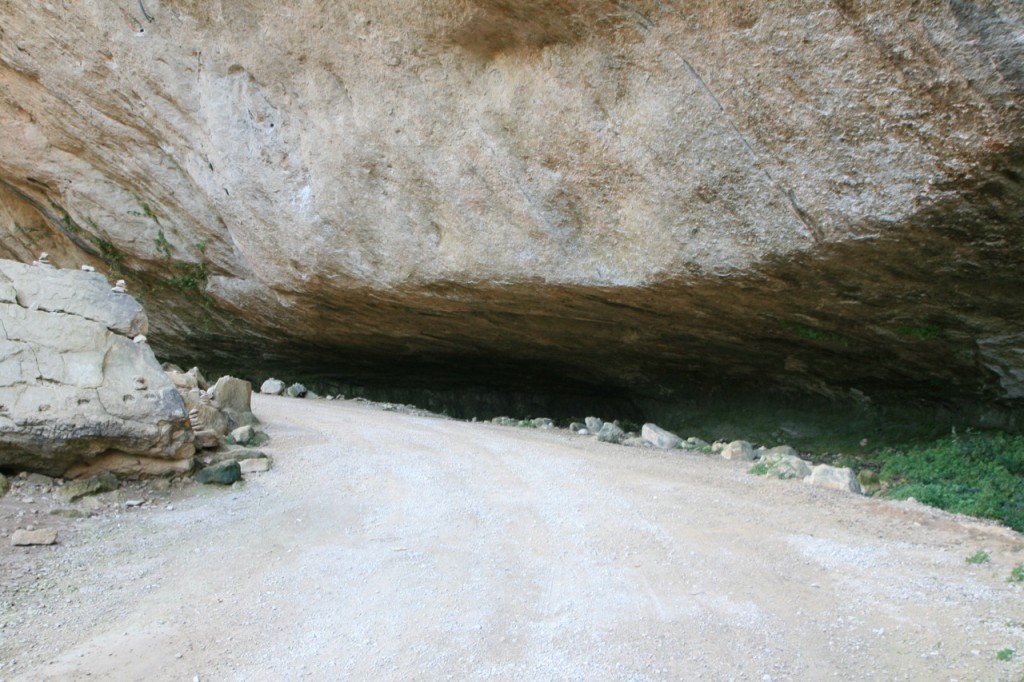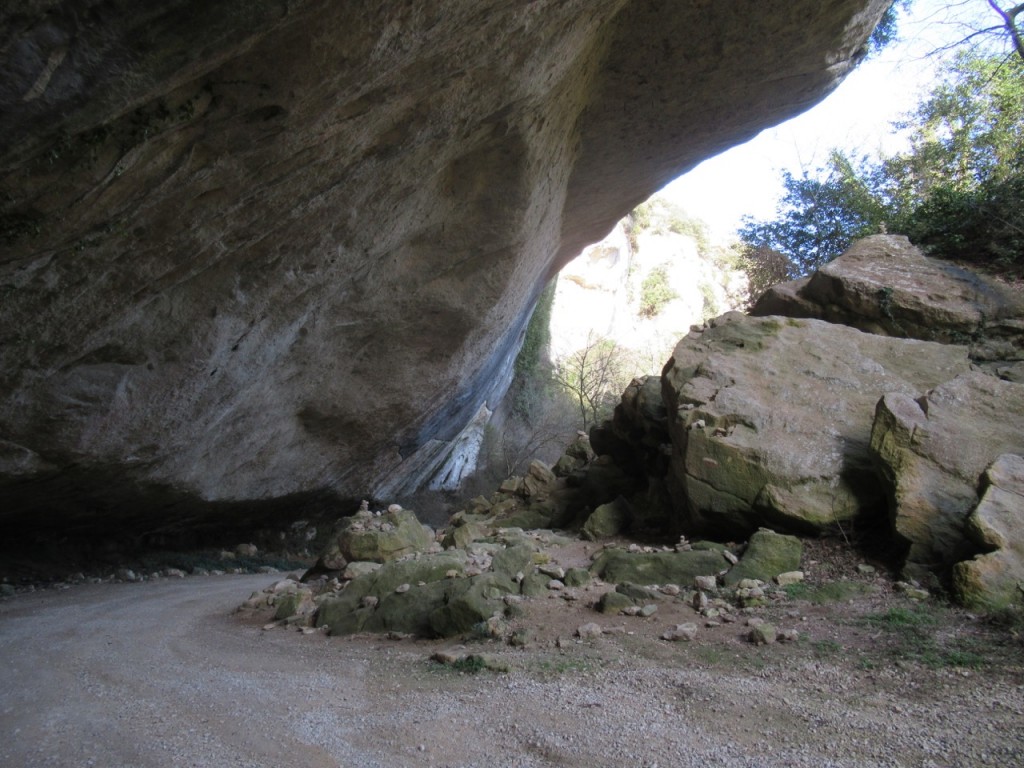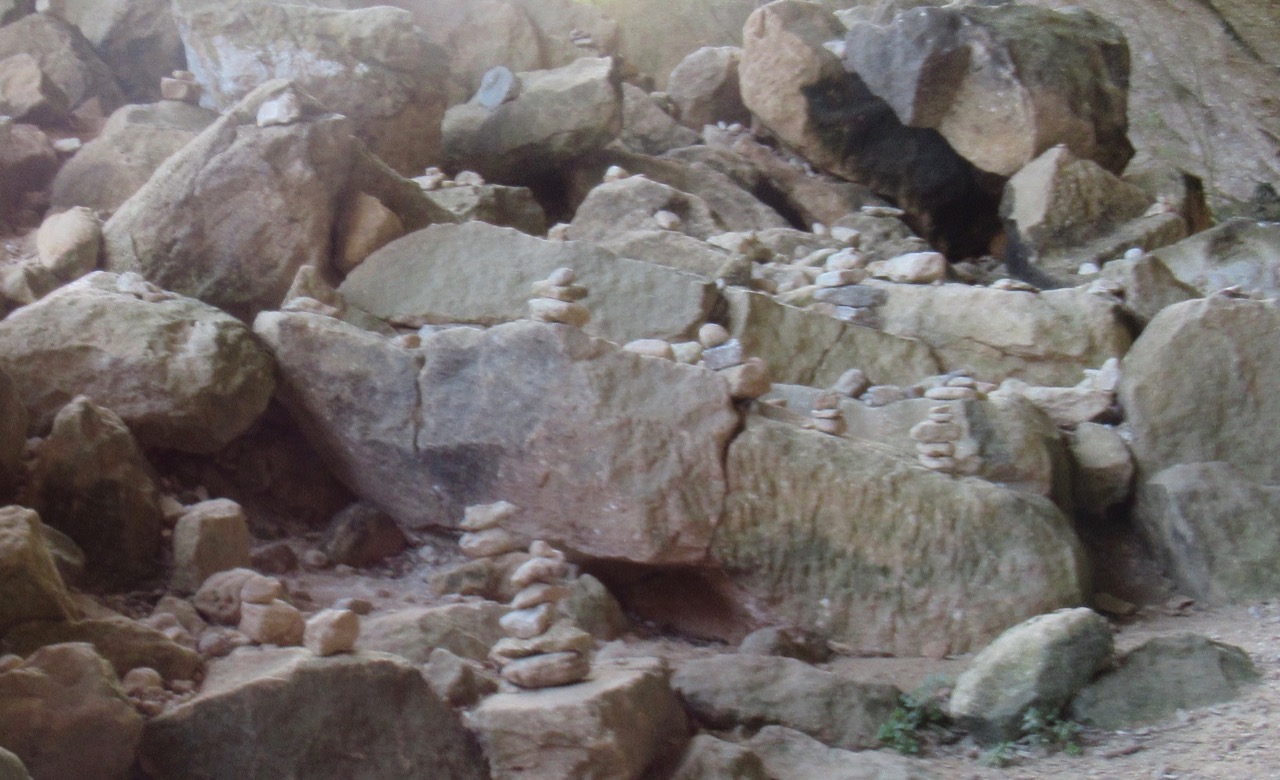 Sur le site (multilingue) concernant le fort de Buoux, accessible ici, vous cliquez sur « Les premiers hommes du Luberon » pour en savoir plus : il y a quelques pages passionnantes sur la vie de nos lointains ancêtres. Ce site vous propose aussi des vues que je ne peux faire, prises depuis drone ou avion…
On the (multilingual) site concerning the fort of Buoux, accessible here, you click on « The first men of Luberon » to find out more: there are some fascinating pages on the life of our distant ancestors. This site also offers you views that I cannot do, taken from a drone or a plane…
Nous suivons le chemin jusqu'à l'entrée du fort où une dame nous aurait volontiers gardés toute la journée pour égayer sa solitude.
We follow the path to the entrance to the fort where a lady would gladly have kept us all day to brighten up her solitude.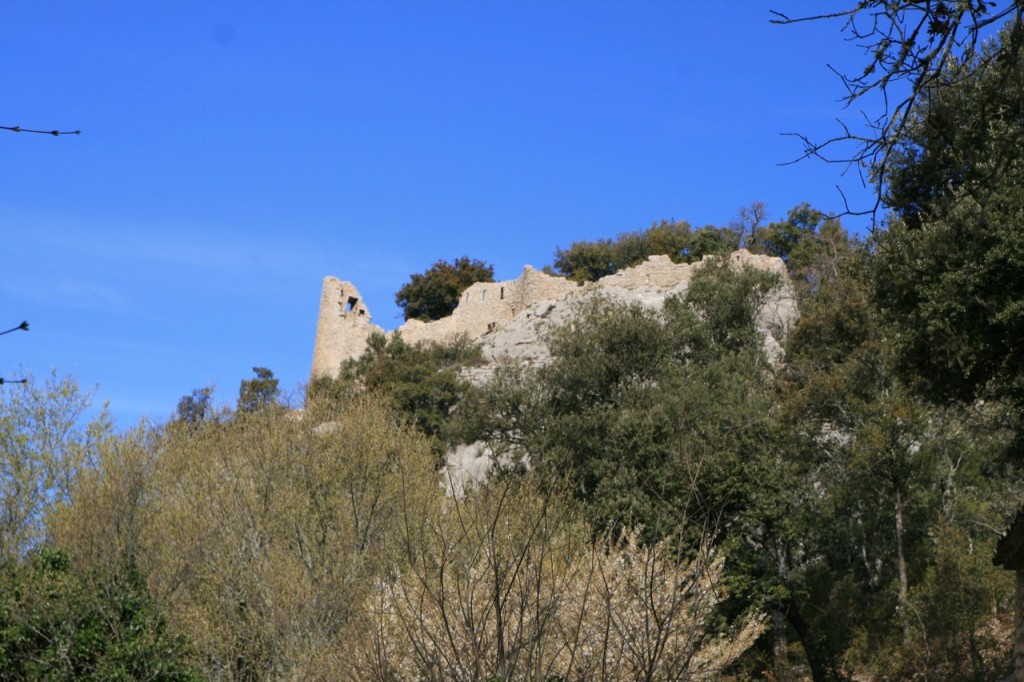 Quand on commence à fouiner dans les vieilles pierres, on sait quand ça commence…
When you start snooping around in old stones, you know when it starts…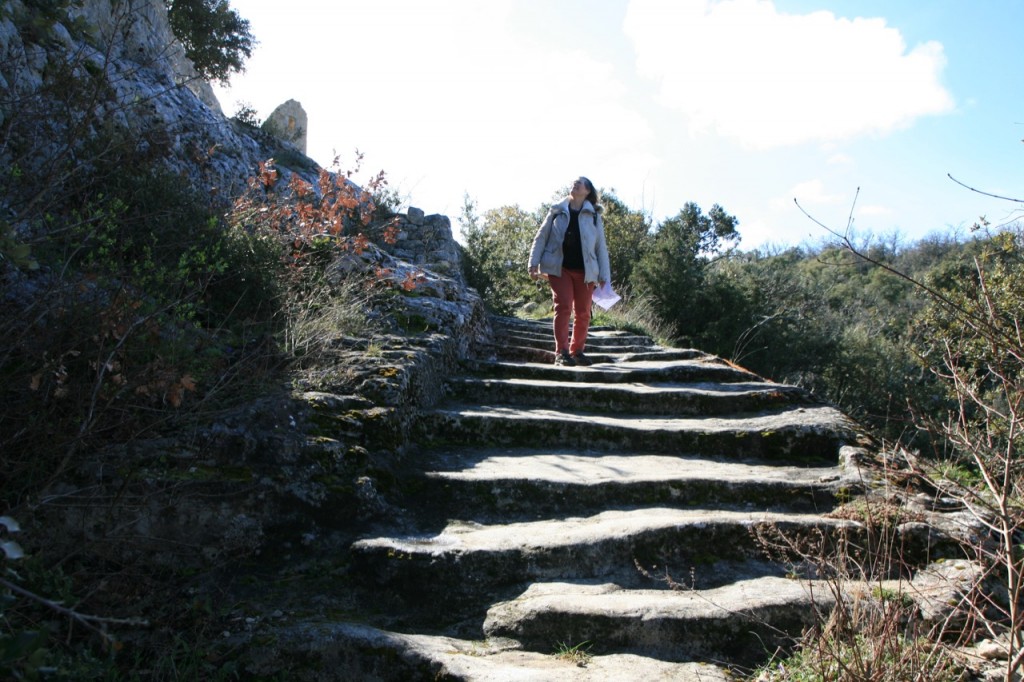 Les guerres de religions ont laissé des souvenirs terribles dans le sud de la France. Le fort de Buoux a été pris et repris à plusieurs reprises par catholiques et protestants. Ici, nous essayons de comprendre la raison des murs grossiers de cette église qui doublent une muraille d'une autre facture.
The wars of religion have left terrible memories in the south of France. Fort de Buoux was taken and taken back several times by Catholics and Protestants. Here we are trying to understand why the walls of this church are surrounded by another coarse wall that has a very different style.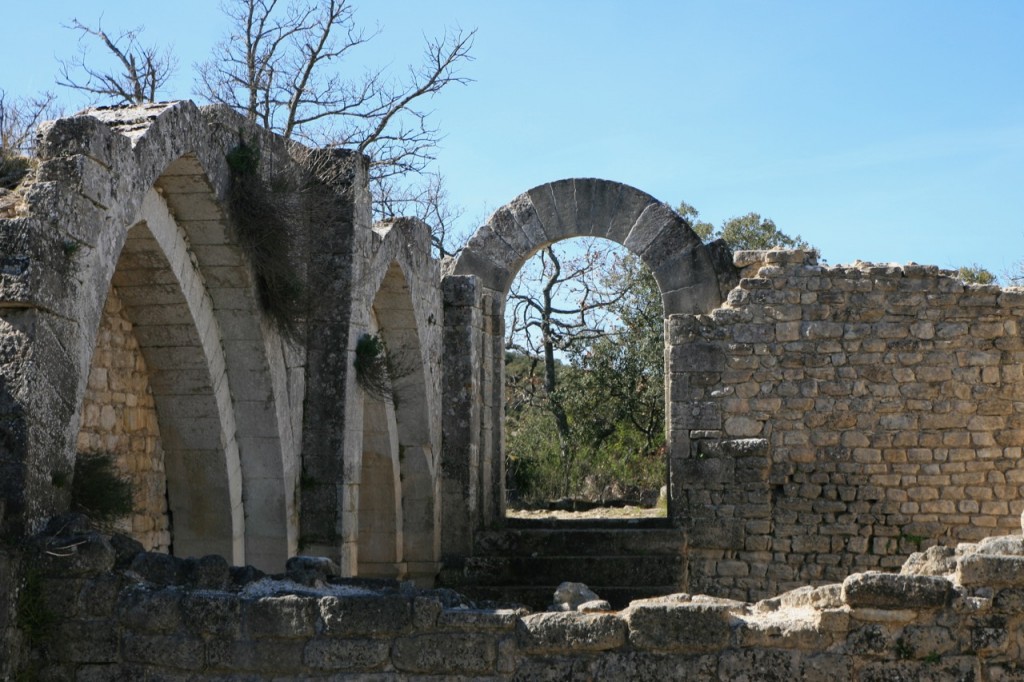 Les silos ont peut-être été creusés à l'époque protohistorique, ils seraient d'origine celto-ligure, mais cette opinion est contestée. Le travail de creusement de ces silos, bien plus long que la construction d'un bâtiment, est sans doute choisi pour son efficacité : pas un rongeur ne va réussir à rentrer là-dedans aussi longtemps que les couvercles (certainement rendus étanches, par exemple avec du tissu) seront en place.
The silos may have been dug during the protohistoric era, their origin could be Celtic-Ligurian, but this opinion is disputed. The digging work of these silos, much longer than the construction of a building, is undoubtedly chosen for its efficiency: not a rodent will manage to get in there as long as the covers (certainly sealed, for example with fabric) will be in place.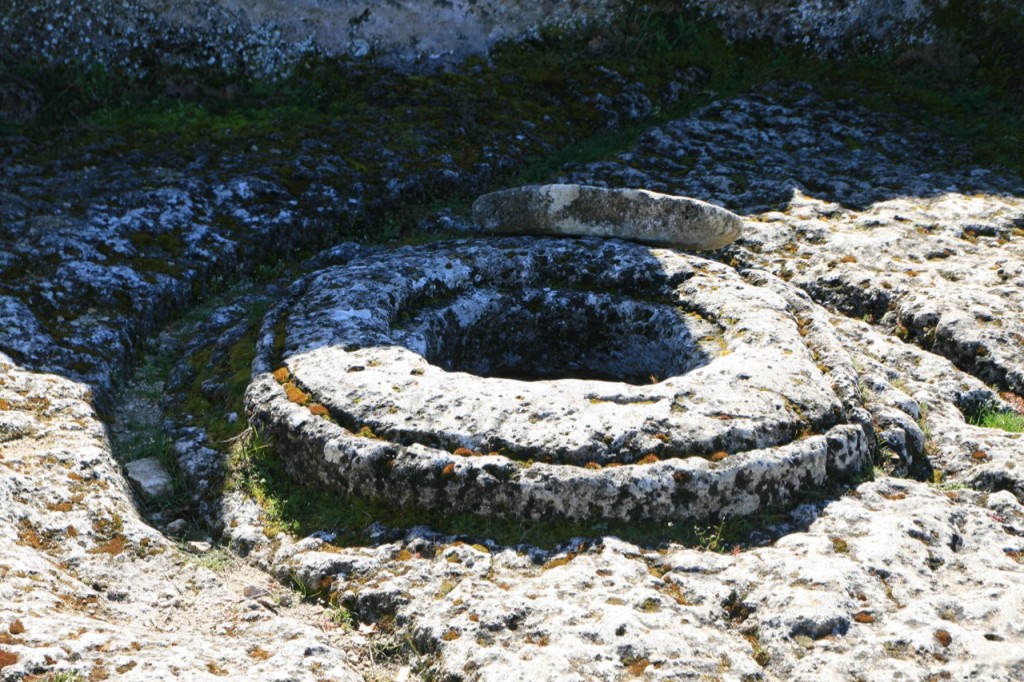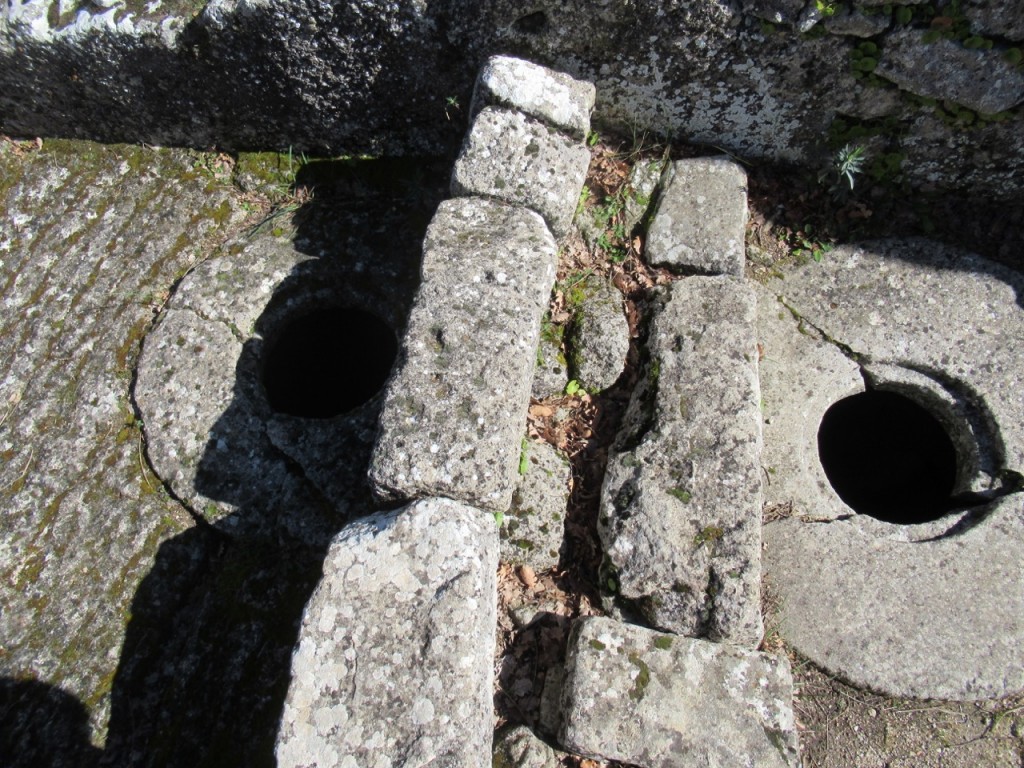 Le site occupe tout le haut d'une colline légèrement en pente : nous dominons maintenant le plateau.
The site occupies the entire top of a slightly sloping hill: we now dominate the plateau.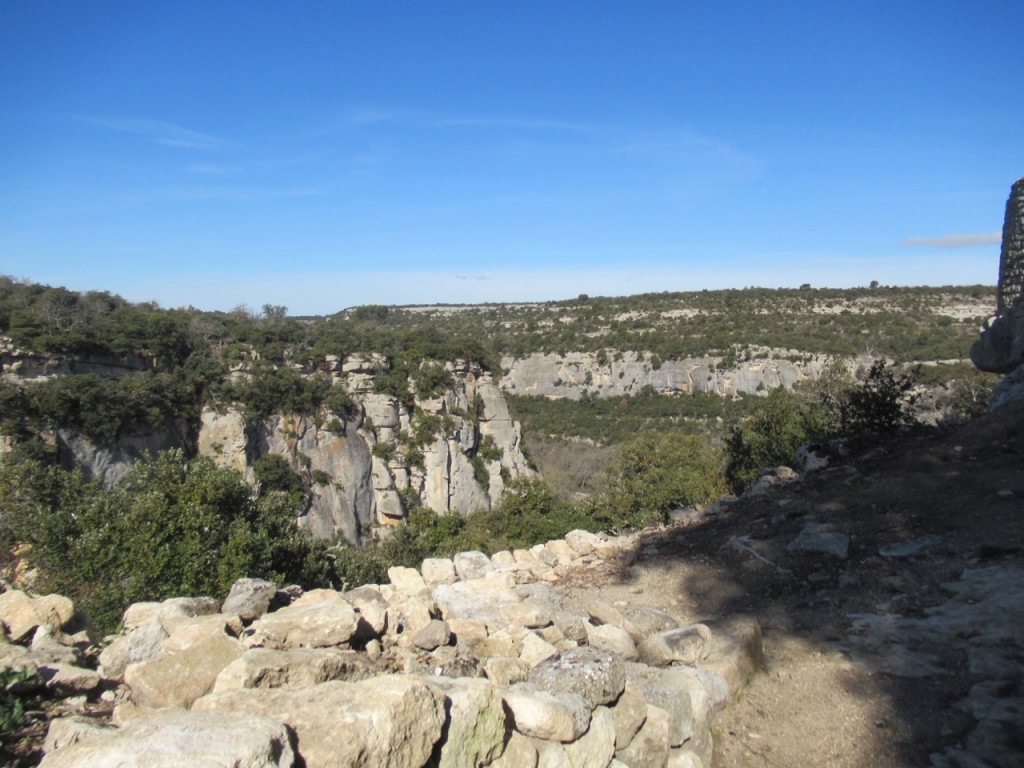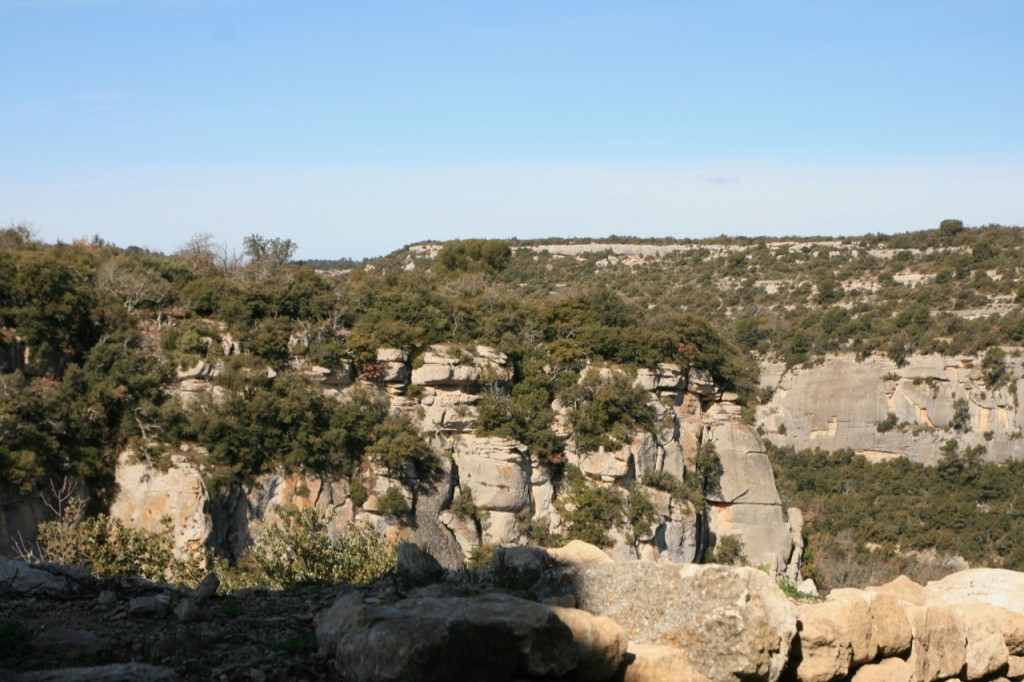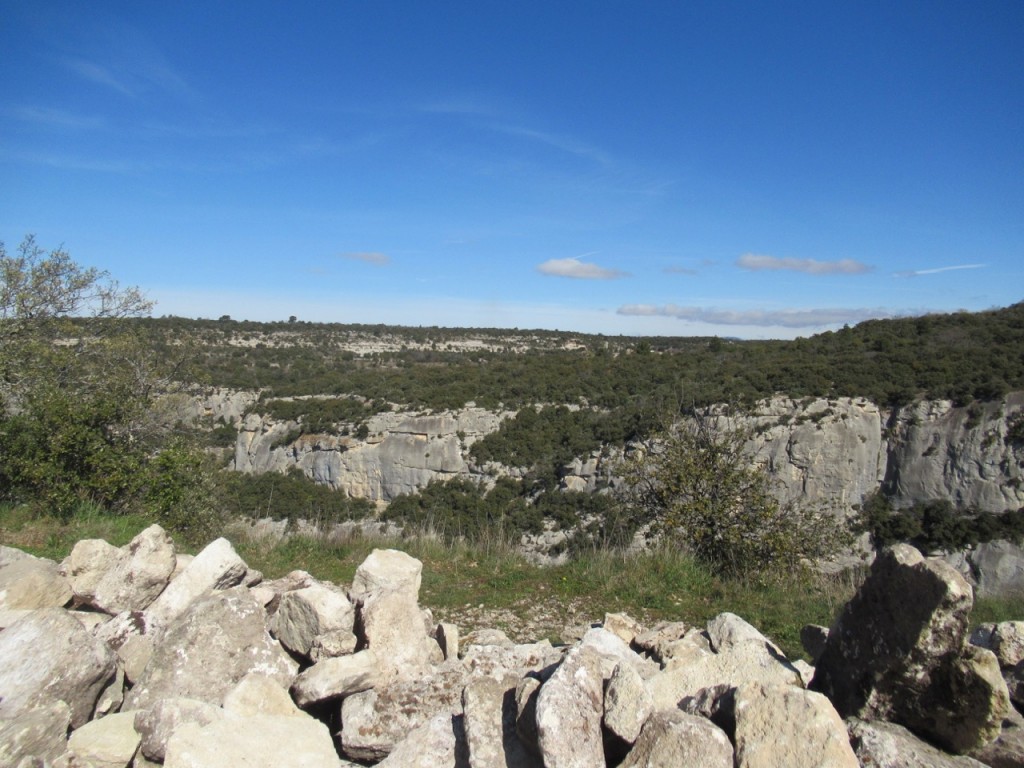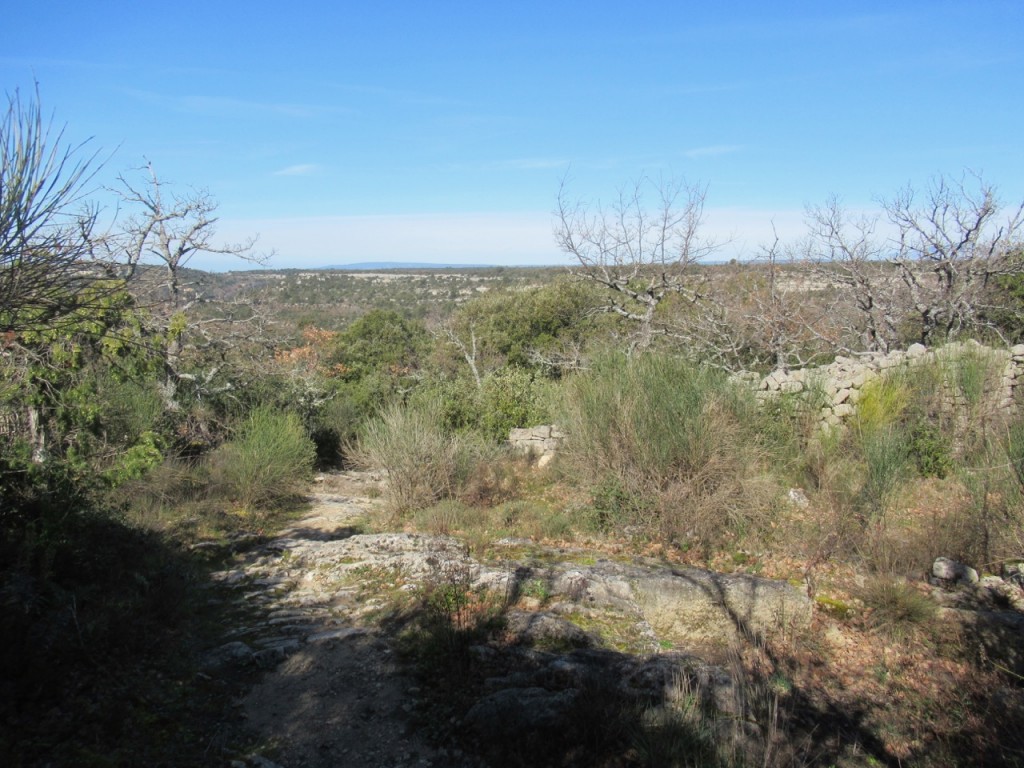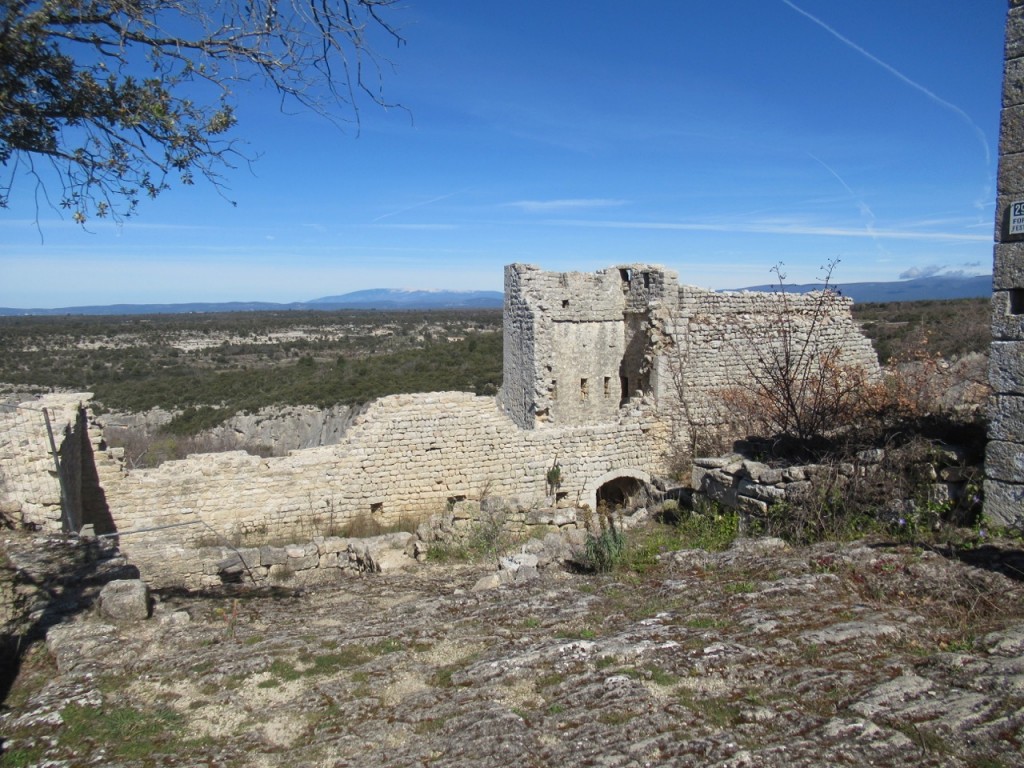 La course cycliste va passer tout là-bas !
The cycling race will pass over there!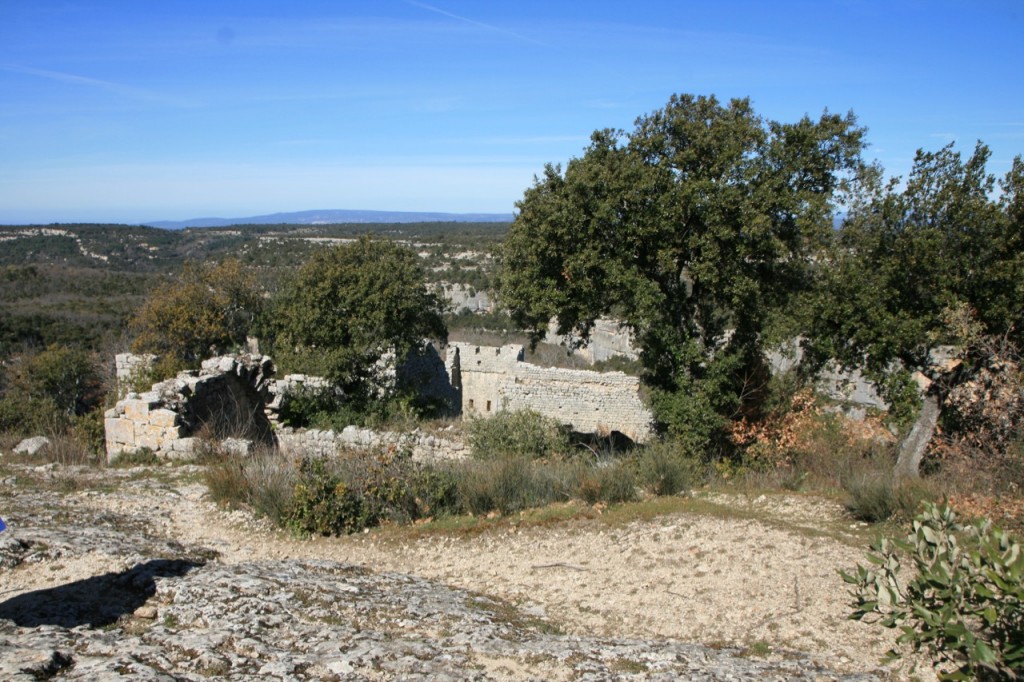 Ce rocher serait le roc de l'aigle.
This rock could be le roc de l'aigle.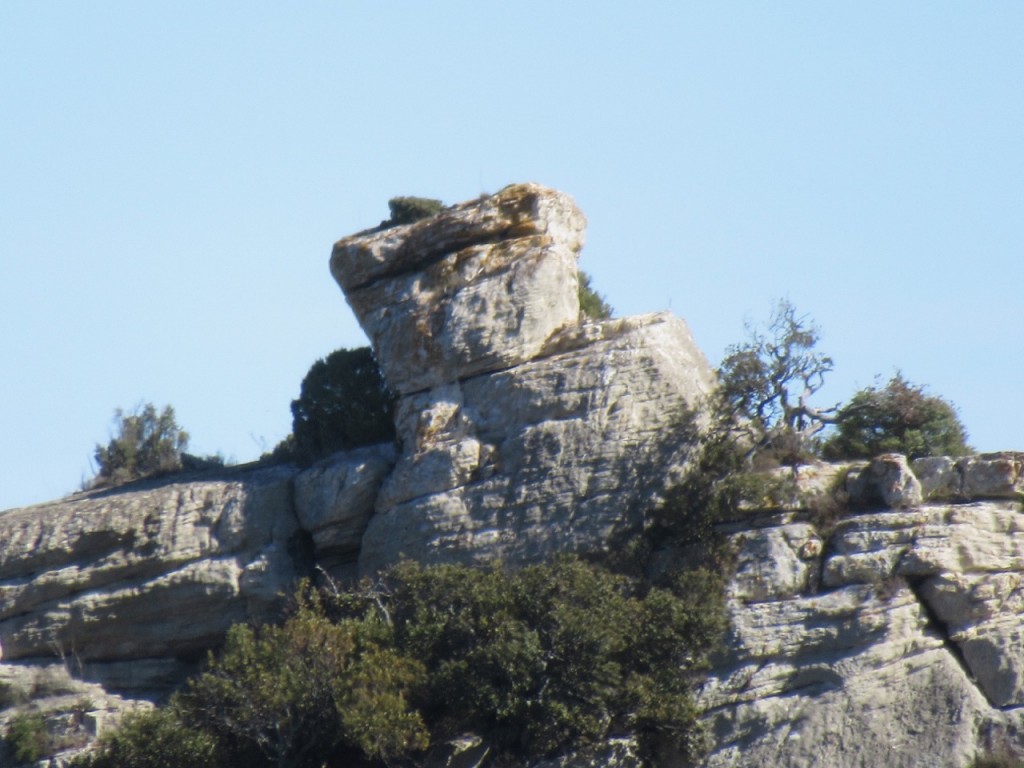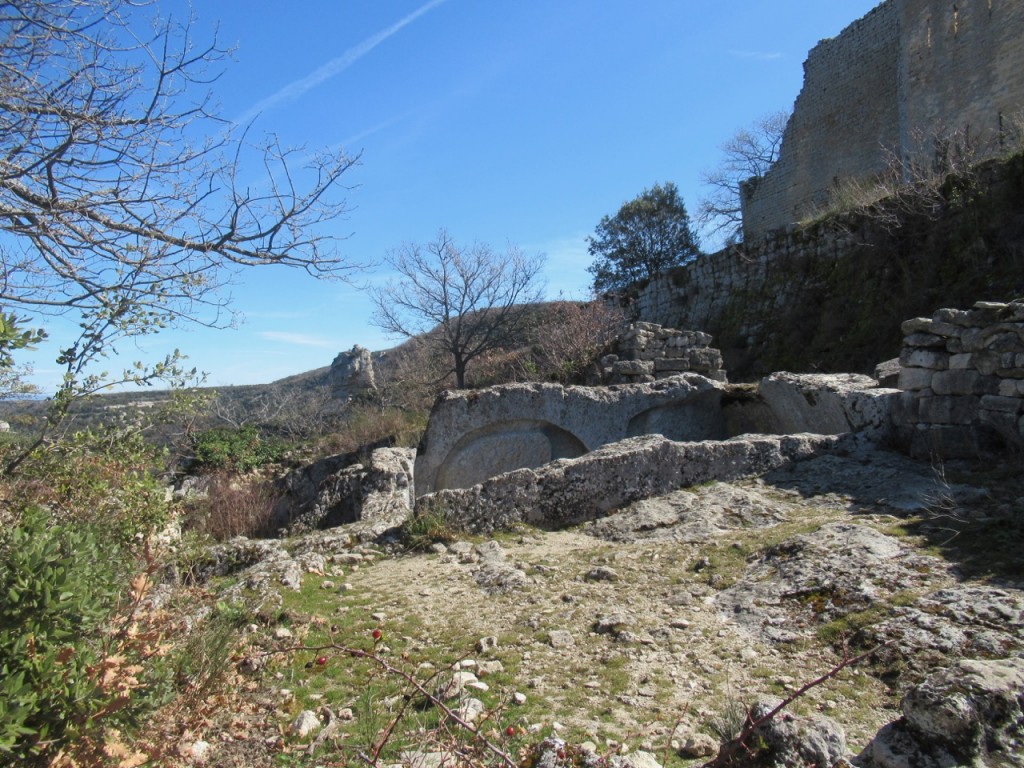 Quand on commence à fouiner dans les vieilles pierres, on sait quand ça commence…
…et quand ça finit on s'aperçoit qu'on a passé au moins deux heures à explorer ce site étonnant !
D'en haut, on avait repéré cette ancienne ferme, devenue restaurant. La dame à l'entrée du fort nous a décrit avec enthousiasme les menus que l'on peut déguster ici. Nous arrivons tard, affamés. Quelques personnes sont attablées en terrasse.
When you start snooping around in old stones, you know when it starts…
… and when it ends we realize that we have spent at least two hours exploring this amazing site!
From above, we had spotted this old farm, now a restaurant. The lady at the entrance to the fort enthusiastically described the menus that can be enjoyed here. We arrive late, hungry. A few people are seated on the terrace.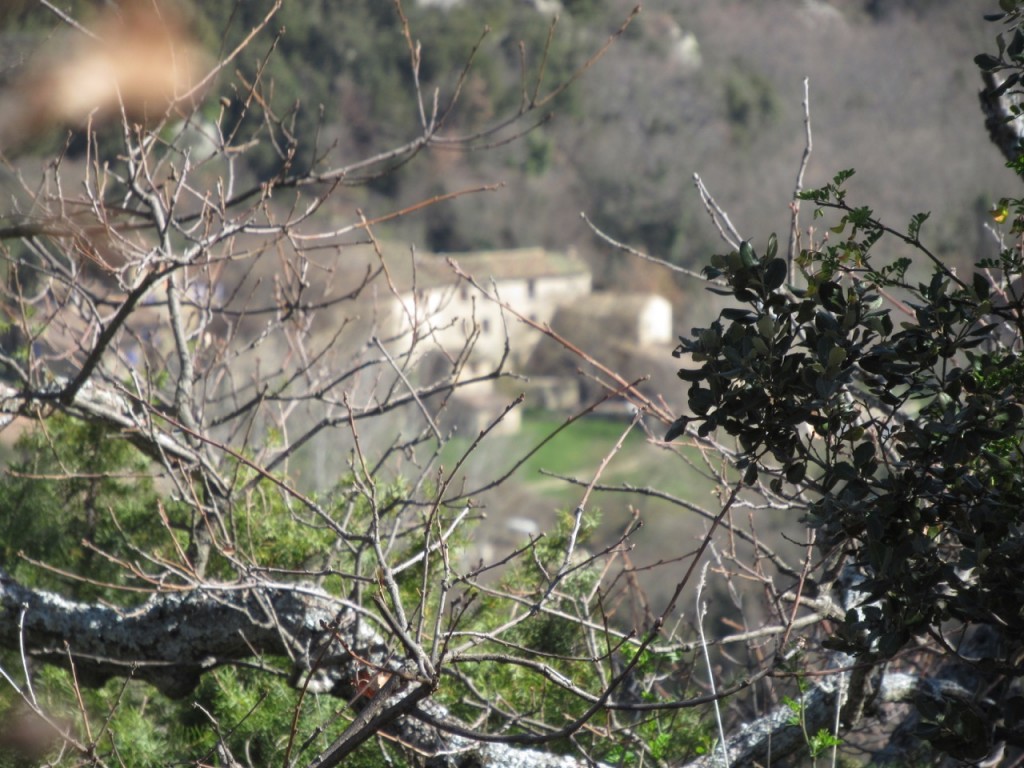 Non, les menus alléchants ne sont pas encore disponibles, mais la serveuse nous propose très aimablement une salade, de la charcuterie et du fromage, le tout arrosé d'une bière locale… Il y aura même une pâtisserie maison. Quand elle voit que nous n'avons pas fini de manger la deuxième tomme, elle propose une tartine de pain supplémentaire, et… nous ne laissons rien, enchantés de ce repas en plein air.
No, the enticing menus are not yet available, but the waitress very kindly offers us a salad, cold meats and cheese, accompanied with a local beer … There will even be a homemade pastry. When she sees that we have not finished eating the second tomme, she offers an extra slice of bread, and … we leave nothing, delighted with this meal in the open air.

L'après-midi, muni de nos livres, nous partons en direction de Sivergues par un chemin balisé.
In the afternoon, with our books, we leave in the direction of Sivergues by a marked path.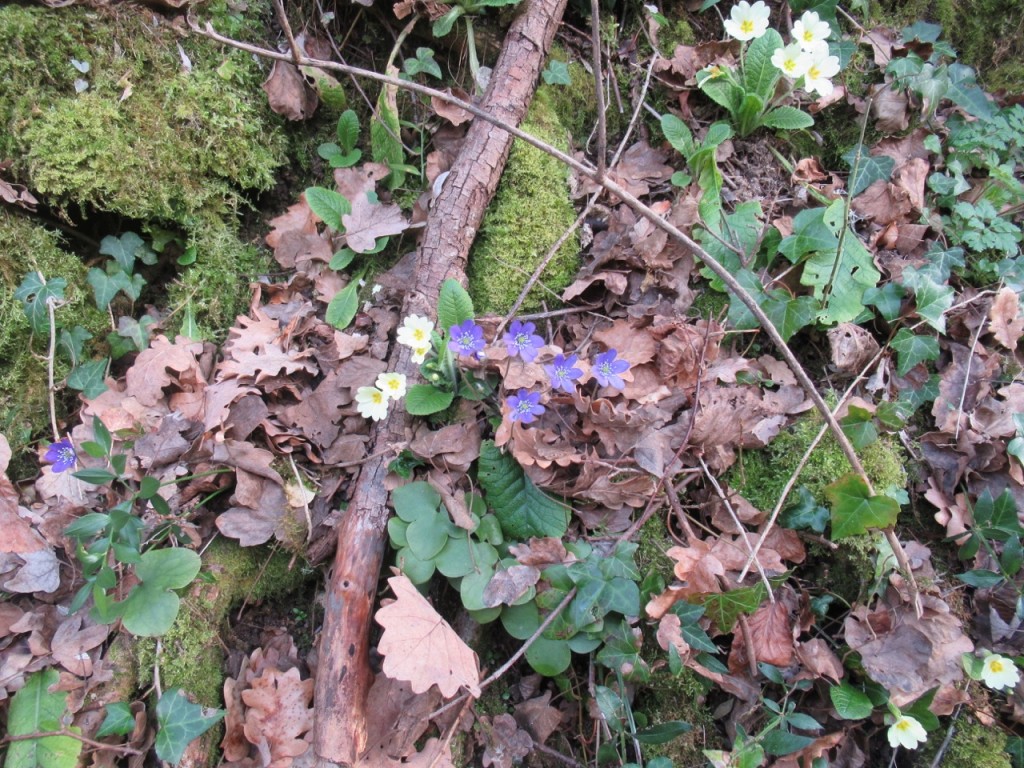 Il y a une araignée humaine, j'agrandis la photo et vous finirez par la distinguer sur la paroi. Je ne peux la quitter des yeux, fascinée par l'aisance avec laquelle elle grimpe. Sur la photo, elle se repose, ou bien elle étudie la suite, posée sur son baudrier. Je la vois faire le grand écart en passant son pied plus haut que son épaule. On dirait qu'elle est en surplomb presque en permanence.
There is a human spider, I will enlarge the photo and you will end up distinguishing it on the wall. I can't take my eyes off her, fascinated by the ease with which she climbs. In the photo, she is resting, or else she is studying the rest, placed on her harness. I see her doing the splits by passing her foot higher than her shoulder. It looks like it is overhanging almost constantly.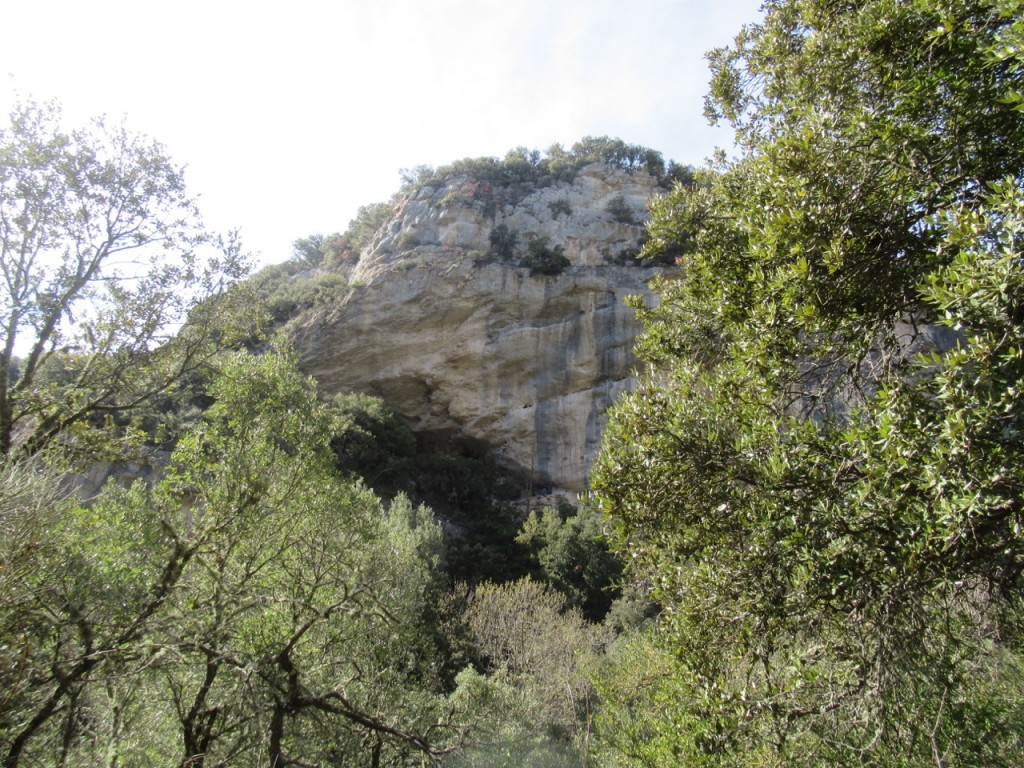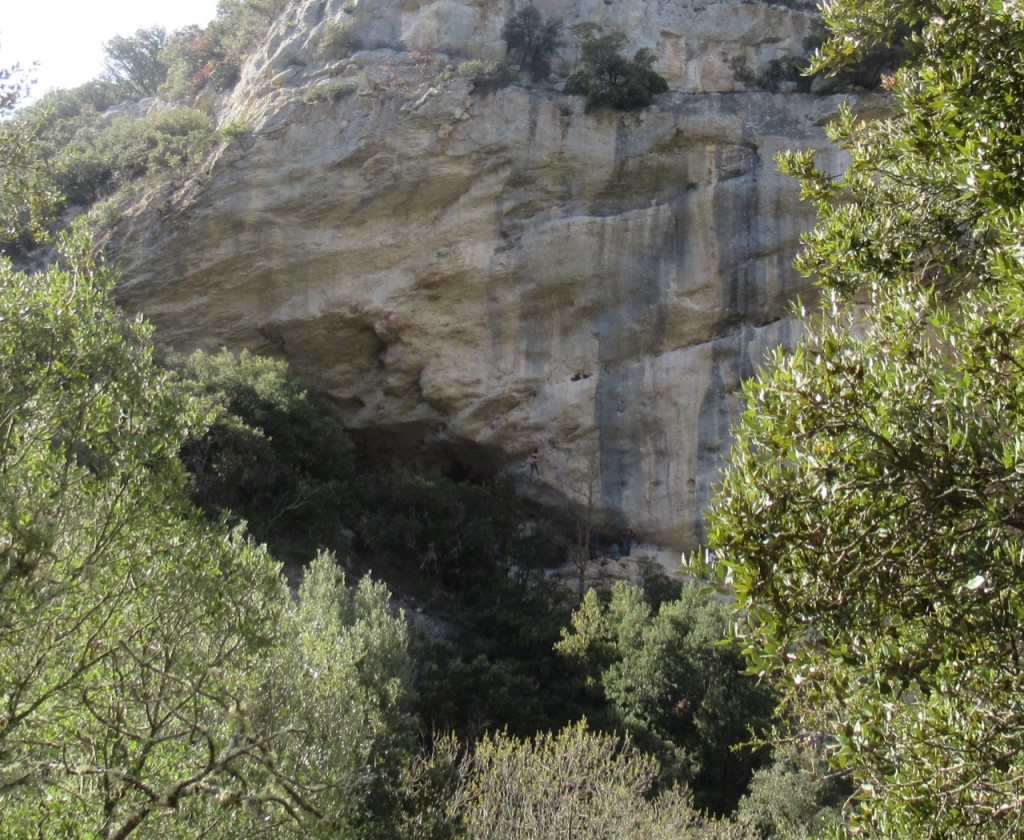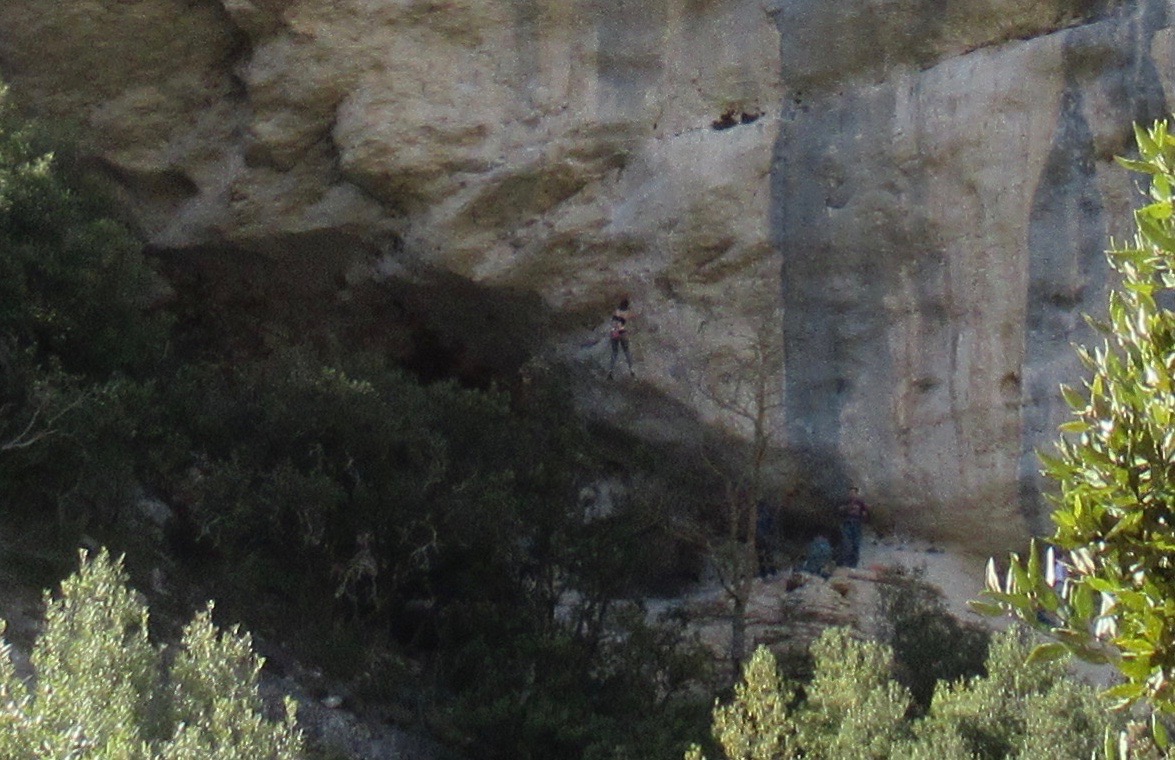 Nous faisons quelques pauses de lecture paresseuse, mais nous arrivons finalement à Sivergues, beau petit village endormi. La batterie de mon Canon est à plat, vous n'aurez pas droit à des milliers de photos : sur google-map, il y en a assez pour se faire une idée. J'ai cependant presque réussi celle-ci, qui montre les étranges soubassements de cette maison, construite par-dessus un renfoncement.
We take a few lazy reading breaks, but we finally arrive in Sivergues, a beautiful sleepy little village. My Canon's battery is blank, you won't get thousands of photos: on google-map, there's enough to get an idea. However, I almost succeeded in this one, which shows the strange foundations of this house, built over a recess.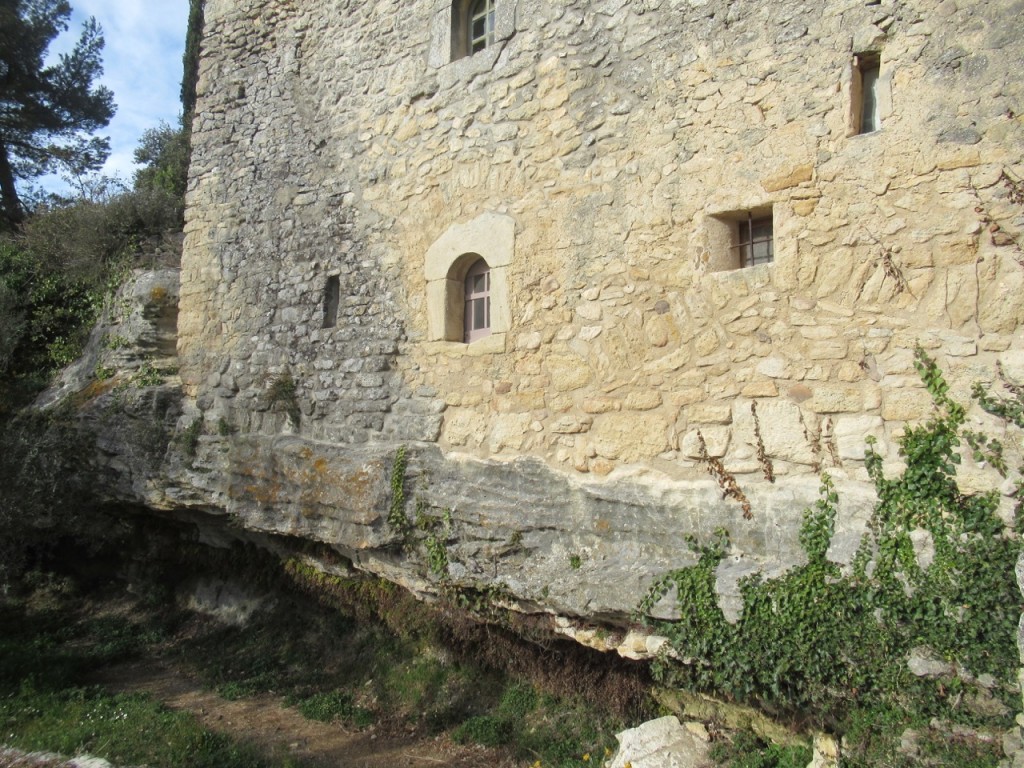 Au retour, c'est un homme maintenant qui escalade la paroi : il a les jambes verticales, pieds en haut, et il est plié en deux — vous me suivez ?
On the way back, it is a man now who climbs the wall: he has vertical legs, feet up, and he is folded in half – you follow me?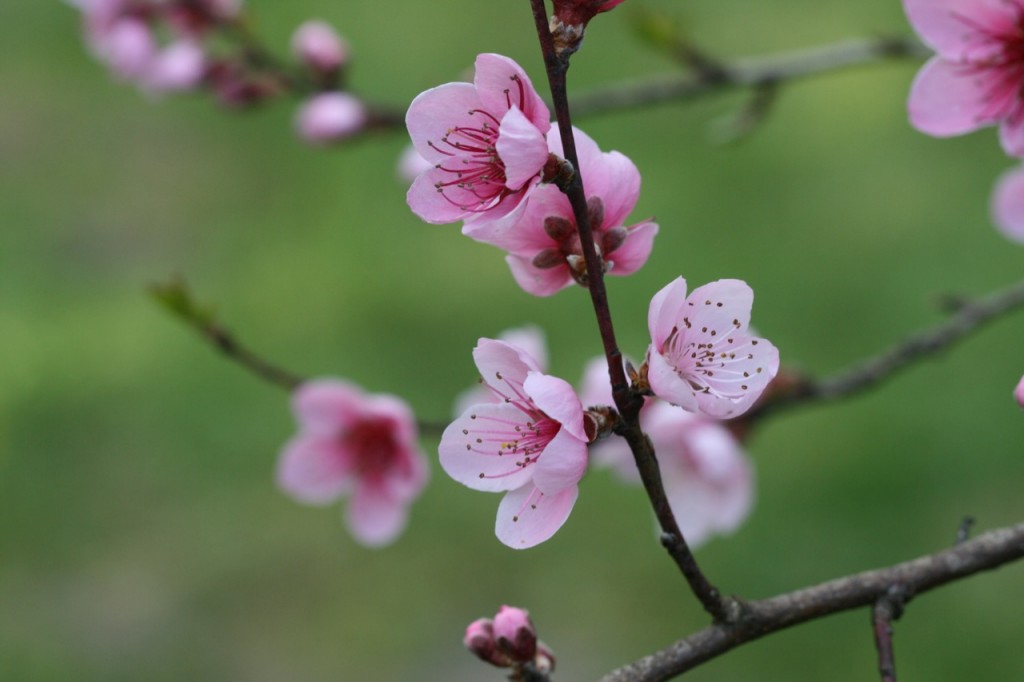 Comme tout ça ne m'a pas l'air facile, je fais une recherche et je découvre que le site de Buoux est un site majeur d'escalade. Vous pouvez en savoir plus, ici.
Since all this does not seem easy to me, I do a research and I discover that the Buoux site is a major climbing site. You can find out more here.
Ou regarder cette vidéo.
Or watch this video.
Sur le chemin du retour, je photographie cet arbre courageux, encore un, qui survit dans de difficiles conditions.
On the way back, I photograph this courageous tree, another one, which survives in difficult conditions.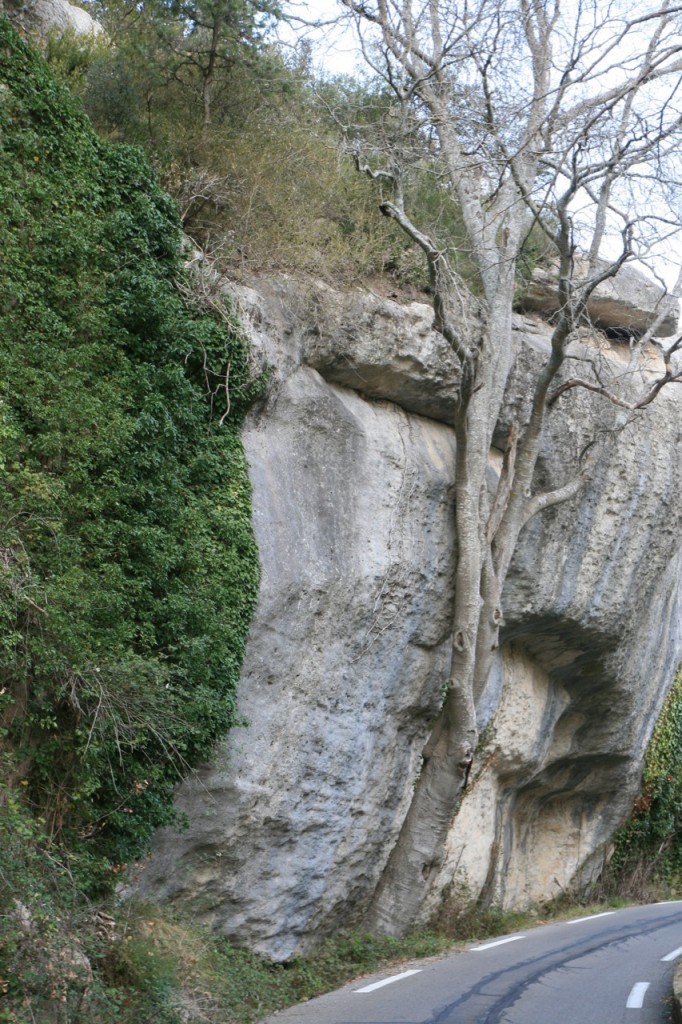 Nous retrouvons avec plaisir le beau village de Saignon au soleil couchant…
We are pleased to find the beautiful village of Saignon at sunset…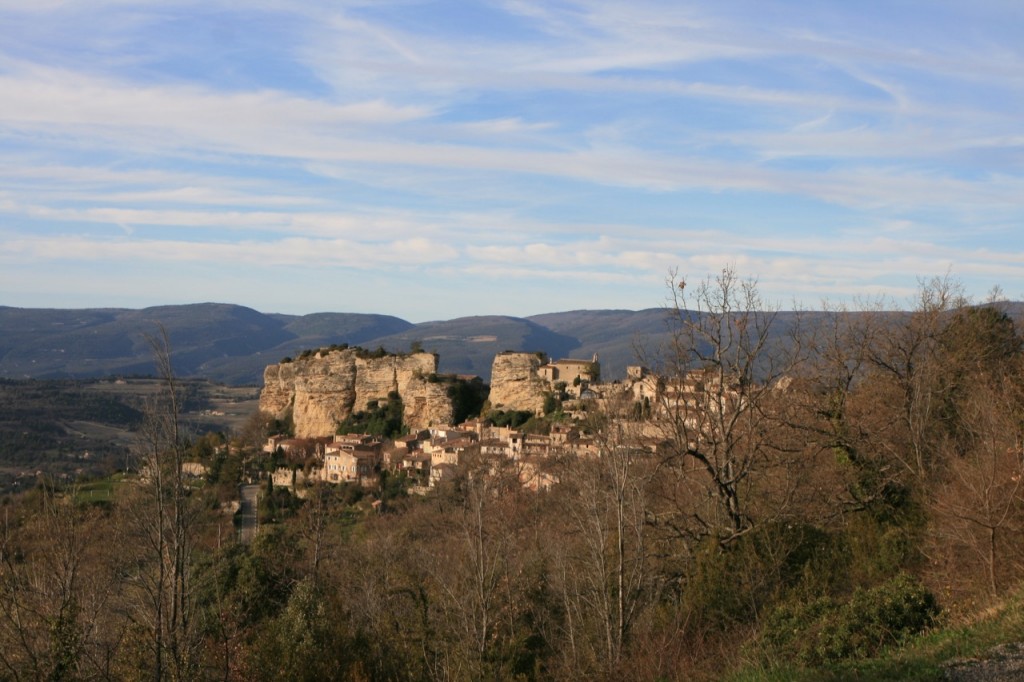 Un symbole… mais de quoi ?
A symbol … but of what?
 Merci à ceux qui m'ont écrit après ma précédente publication
Thank you to those who wrote to me after my previous publication