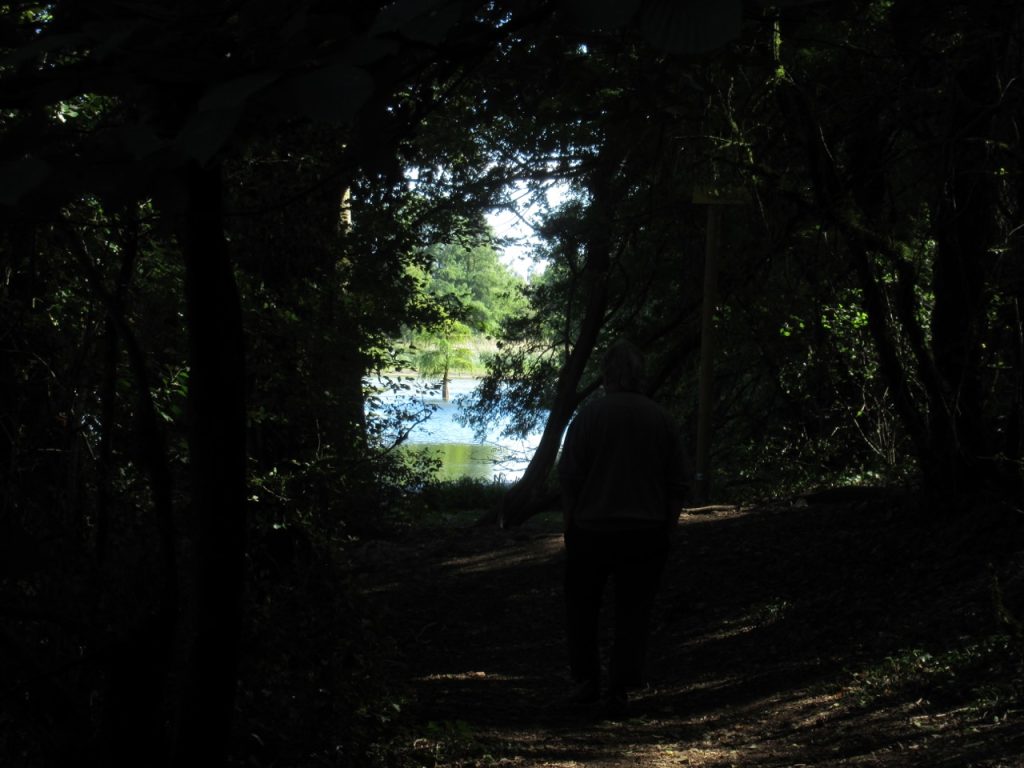 En plus des vagabondages déjà évoqués, il y a eu une balade vers la cascade de la Roche totalement asséchée et les cyprès chauves qui en temps normal ont les pieds dans l'eau. Spectacle de désolation, que nous n'aurions pas vu de près si nous avions remarqué la pancarte interdisant l'accès.
In addition to the wanderings already mentioned, there was a walk to the completely dry Roche waterfall and the bald cypresses which normally have their feet in the water. Spectacle of desolation, which we would not have seen up close if we had noticed the sign prohibiting access.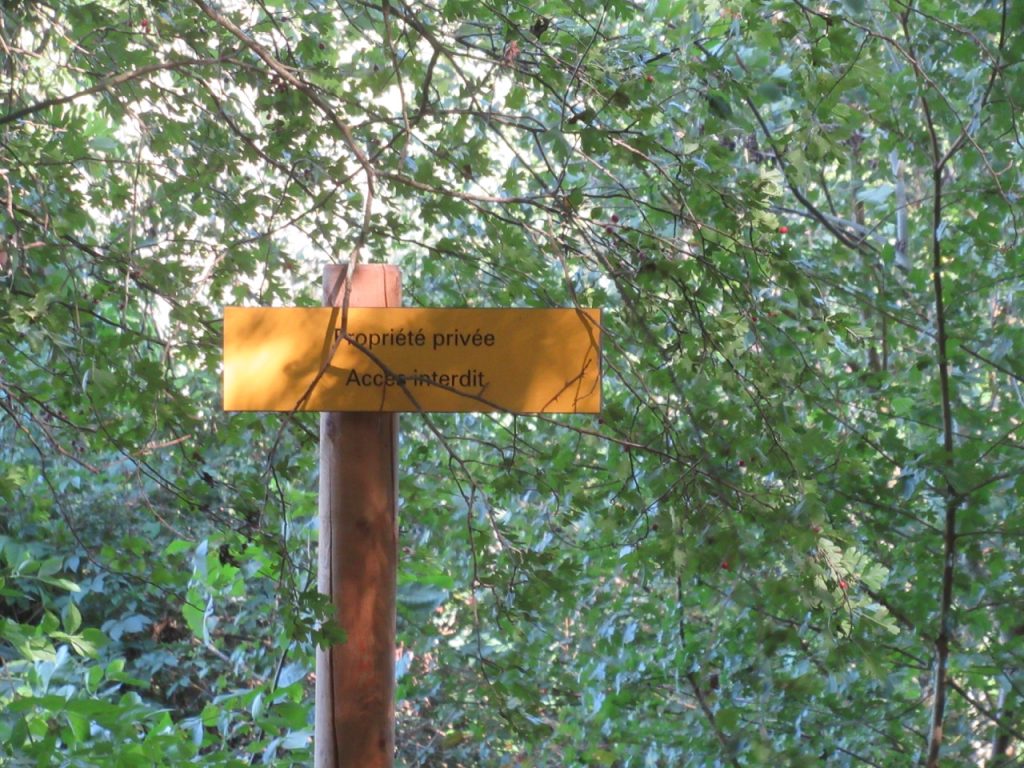 Une fois rentrée à la maison, je fais une recherche concernant la nivéole de printemps que l'on peut confondre avec le perce-neige, nous dit Wikipédia. Eh bien oui, je reconnais cette fleur que j'ai déjà vue par ici, en effet, au printemps, et qui ressemble beaucoup au perce-neige.
Once back home, I do research on spring snowflake, which can be confused with snowdrops, Wikipedia tells us. Well yes, I recognize this flower that I have already seen around here, indeed, in spring, and which looks a lot like snowdrops.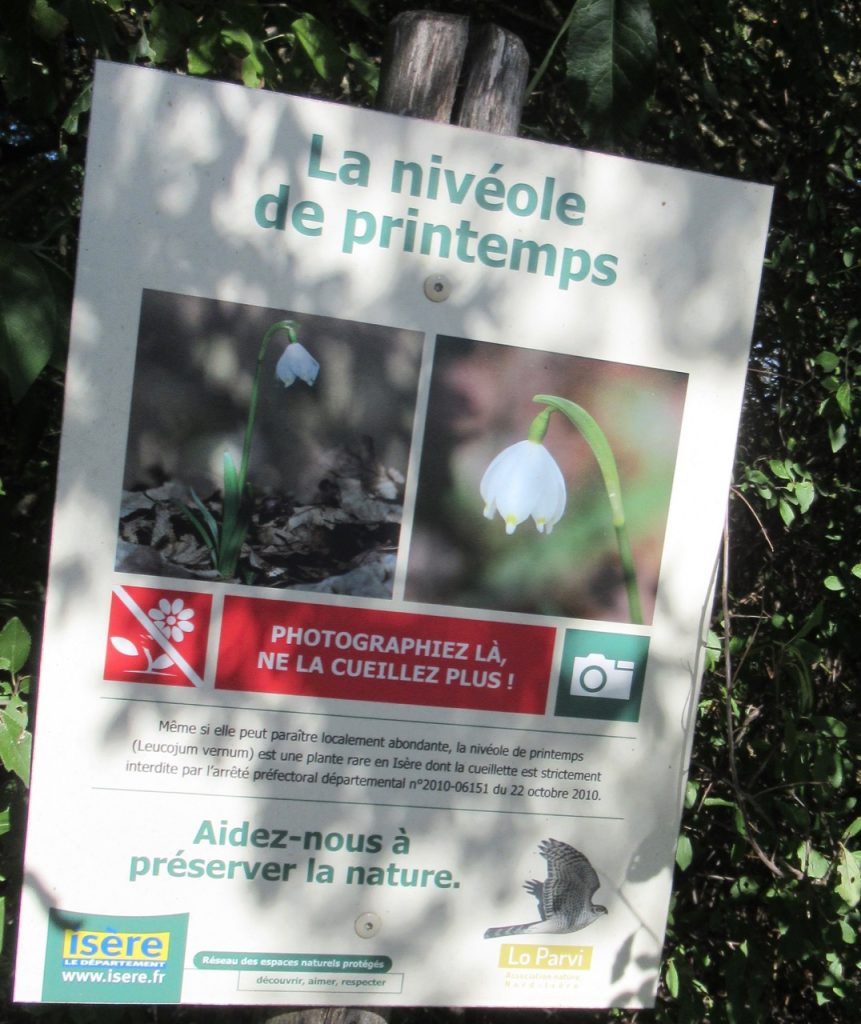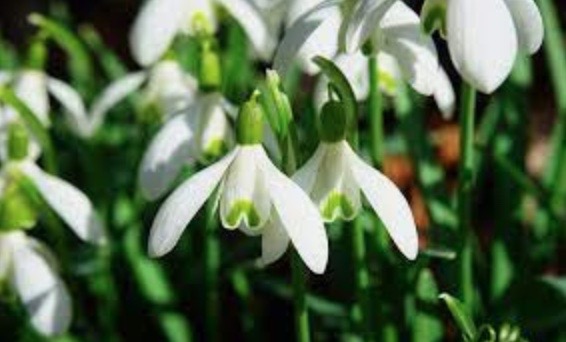 Le lendemain, je propose à Paul d'aller à Tirieu pour parcourir à nouveau ces chemins plaisants. C'est l'occasion de voir le Mont Blanc disparaître derrière les collines proches, et de saluer les canards sur ce joli petit étang. C'est l'occasion aussi de vérifier que nous retrouvons assez d'énergie et de force pour marcher sur de plus grandes distances.
The next day, I suggest Paul go to Tirieu to walk these pleasant paths again. This is an opportunity to see Mont Blanc disappear behind the nearby hills, and to greet the ducks on this pretty little pond. It is also an opportunity to check that we regain enough energy and strength to walk longer distances.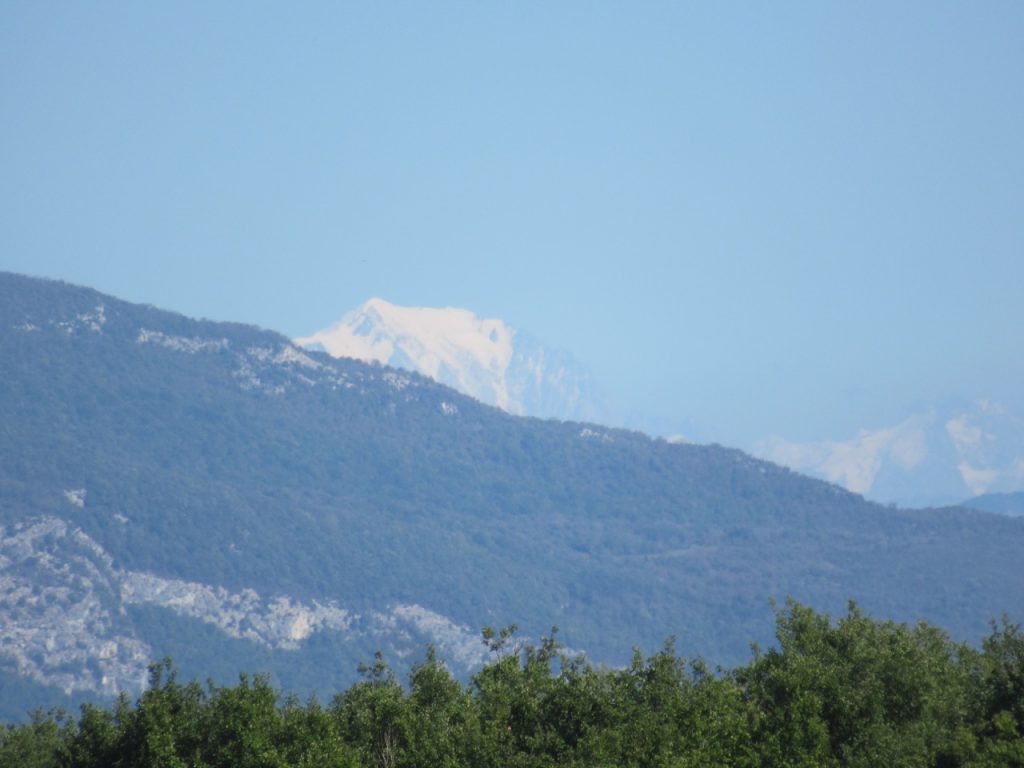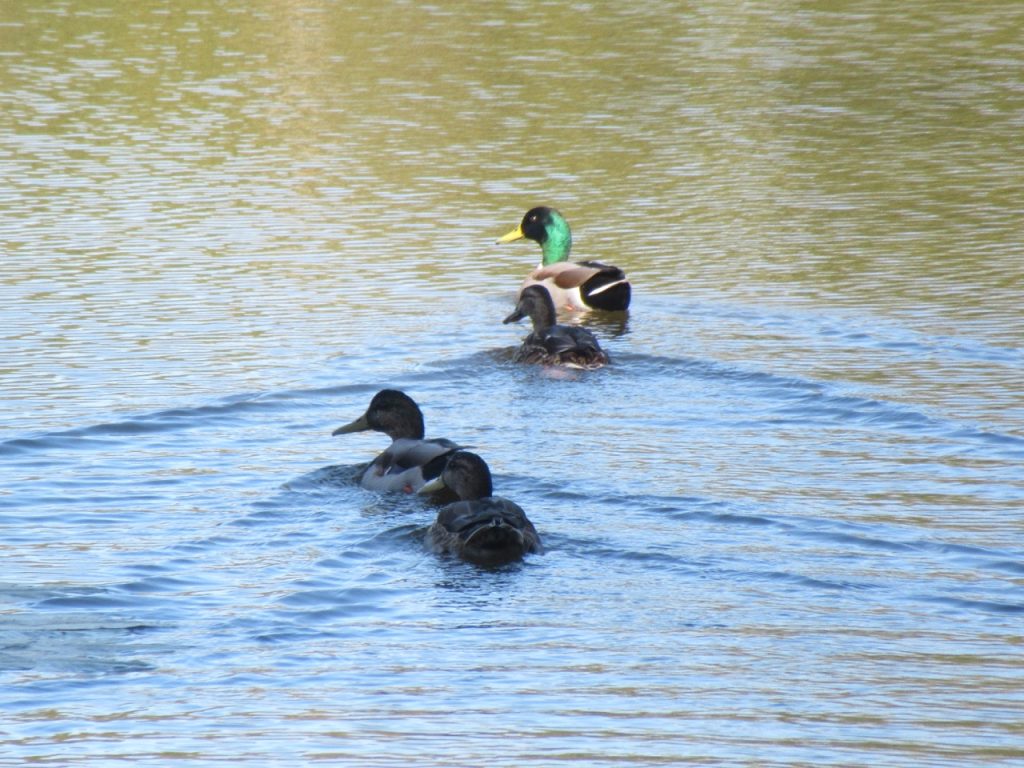 Ceci nous motive pour une virée à Crémieu, moitié voiture, moitié vélo. Crémieu, petite cité, compte deux belles librairies, deux styles différents, chacune proposant un choix intéressant de livres : c'est ainsi que je découvre le roman historique « Et ils dansaient le dimanche » de Paola Pigani. Dans les années 1930, Szonja quitte sa Hongrie pour venir à Lyon où beaucoup d'usines embauchent. Pour elle, il s'agit de travailler dans la viscose.
This motivates us for a trip to Crémieu, half car, half bike. Crémieu, a small city, has two beautiful bookstores, two different styles, each offering an interesting choice of books: this is how I discovered the historical novel « Et ils dansaient le dimanche », « And they danced on Sunday » by Paola Pigani. In the 1930s, Szonja left Hungary to come to Lyon, where many factories were hiring. For her, it's about working in viscose.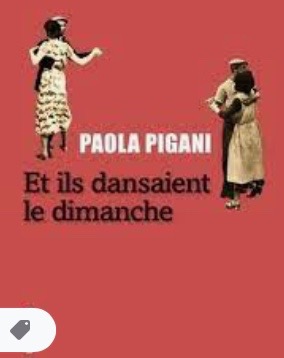 C'est ce type de roman que tu as du mal à poser même s'il est tard et que tes yeux se ferment. C'est très bien écrit, très documenté, et l'auteur nous fait pénétrer dans l'intimité de Szonja, partager ses espoirs et ses désillusions. Je trouve intéressant de vous parler de ce livre avant de l'avoir fini – priorité au blog !
It's this type of novel that you have difficulty in putting down even if it's late and your eyes are closing. It is very well written, very well documented, and the author takes us into the intimacy of Szonja, sharing her hopes and her disappointments. I find it interesting to tell you about this book before I finish it – blog priority!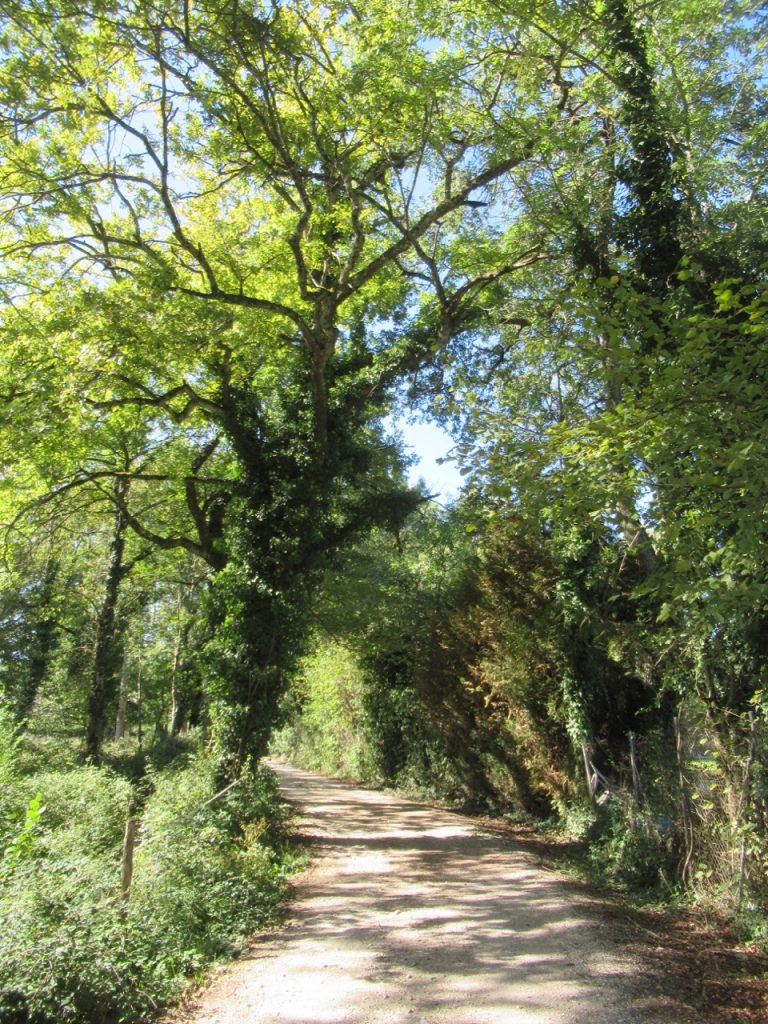 La lecture peut se prolonger par une découverte de l'usine Tase, encore grâce à Wikipédia. L'usine où le travail est dur, sans compter en plus les vapeurs toxiques, mais où les ouvriers sont encore heureux de ne pas mourir de faim, d'avoir un logement (dont le loyer est prélevé sur le salaire) et de garder leur dignité. Cependant, la situation se dégrade lentement et la colère ouvrière monte. L'auteur excelle dans sa description de la lente évolution au cours de laquelle les ouvriers soumis au patronat et à l'église finiront par descendre dans la rue.
The reading can be extended by a discovery of the Tase factory, again thanks to Wikipedia. The factory where the work is hard, not to mention the toxic fumes, but where the workers are still happy not to starve, to have housing (the rent of which is deducted from their wages) and to keep their dignity. However, the situation is slowly deteriorating and worker anger is rising. The author excels in her description of the slow evolution during which the workers subjected to the bosses and the church will end up taking to the streets.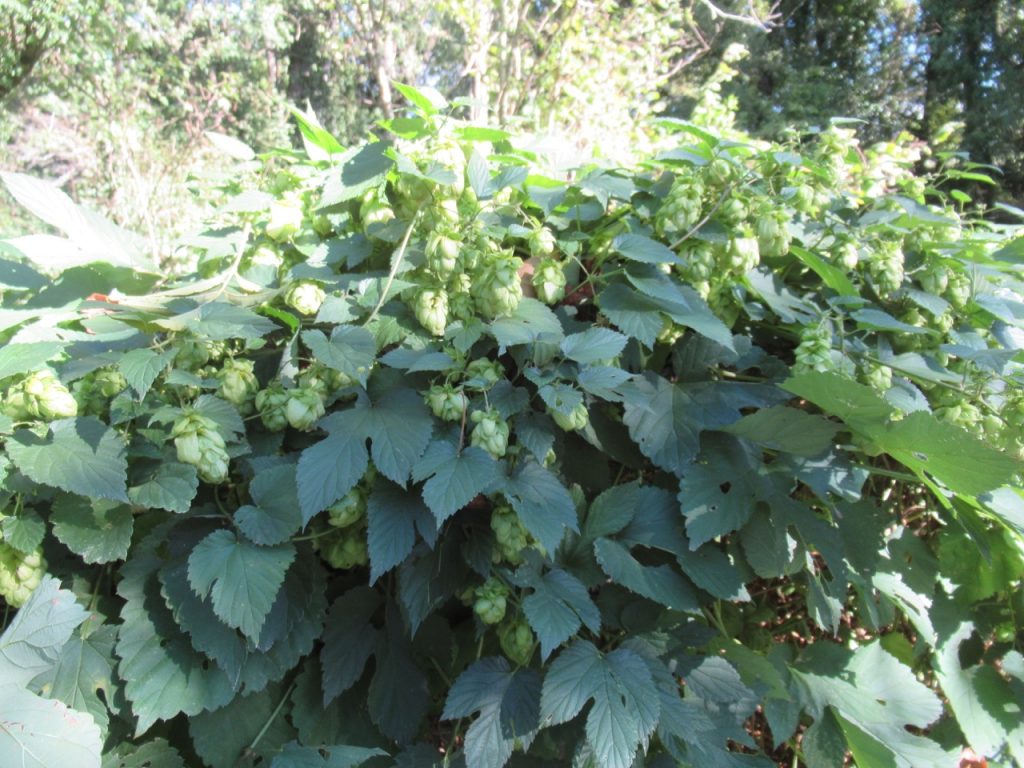 Chaque fois que nous passons en vélo sur la voie ferrée désaffectée dans les environs de Crémieu, j'ai une pensée pour la maman de Paul qui suivait ce trajet, mais en train ! La ligne de l'Est Lyonnais se scindait en deux à Sablonnières, une voie vers Montalieu, une vers Passins. Mais où donc se trouve l'embranchement, le Y de Sablonnières ? Paul se plonge dans un livre* et ne tarde pas à trouver la réponse : là où la route dessine un S, elle franchissait les deux voies autrefois, j'y ai été arrêtée par le passage d'un train à la fin des années 80. La grande esplanade, devenue parking, jusqu'au carrefour en direction de Bourgoin, c'était un entrelacement de voies devant la gare.
Every time we cycle on the disused railway line around Crémieu, I have a thought for Paul's mother who followed this route, but by train! The East Lyonnais line (La ligne de l'Est Lyonnais) split in two at Sablonnières, one track towards Montalieu, one towards Passins. But where is the junction, the Y of Sablonnières? Paul digs into a book* and doesn't take long to find the answer: where the road draws an S, it used to cross the two lanes, I was stopped there by a passing train in the late 80s. The large esplanade, which became a car park, up to the crossroads in the direction of Bourgoin, was an interlacing of tracks in front of the station.
*« le chemin de fer de l'est de Lyon », de Henri Domengie, Yves Alquati, Marc Moulin et Bernard Rose, éditions du Cabri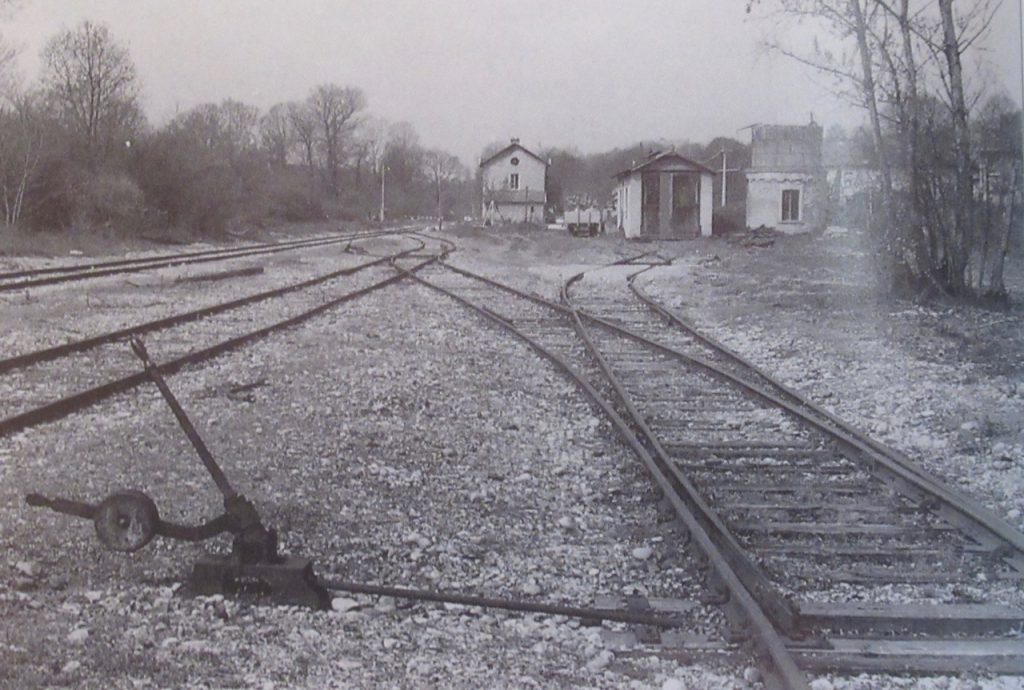 J'apprécie de pédaler sur ces chemins plats ou de faible déclivité, pourtant j'aurais préféré que le train continue de circuler par ici. C'est un moyen de transport idéal, sûr, moins polluant que d'autres, avec une emprise réduite. Parfois il est question de rétablir la ligne depuis Lyon jusqu'à Crémieu, mais c'est un choix politique que personne ne fait et c'est regrettable.
I enjoy pedaling on these flat or gently sloping paths, yet I would have preferred the train to continue to circulate here. It is an ideal means of transport, safe, less polluting than others, with a reduced footprint. Sometimes it is a question of restoring the line from Lyon to Crémieu, but it is a political choice that nobody makes and it is regrettable.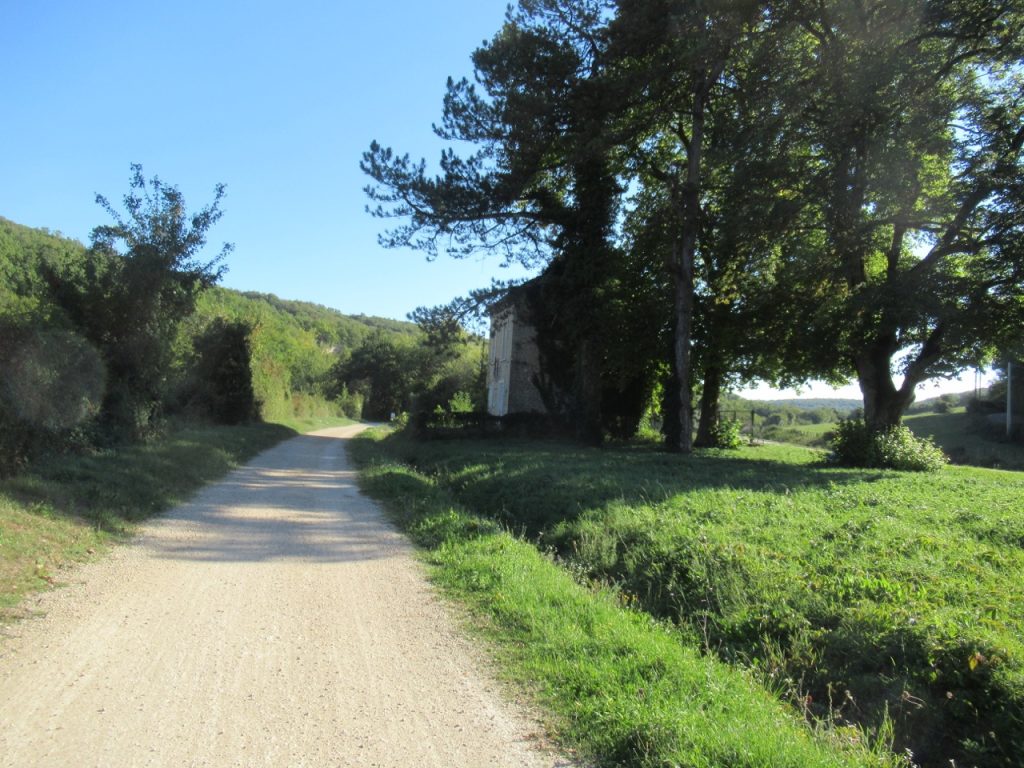 Un autre jour, Geneviève, perdue de vue depuis longtemps, me téléphone et d'une chose à l'autre nous passons un long moment à bavarder. Je suis tellement contente de son appel !
Another day, Geneviève, long out of touch, calls me and from one thing to another we spend a long time chatting. I'm so happy with her call!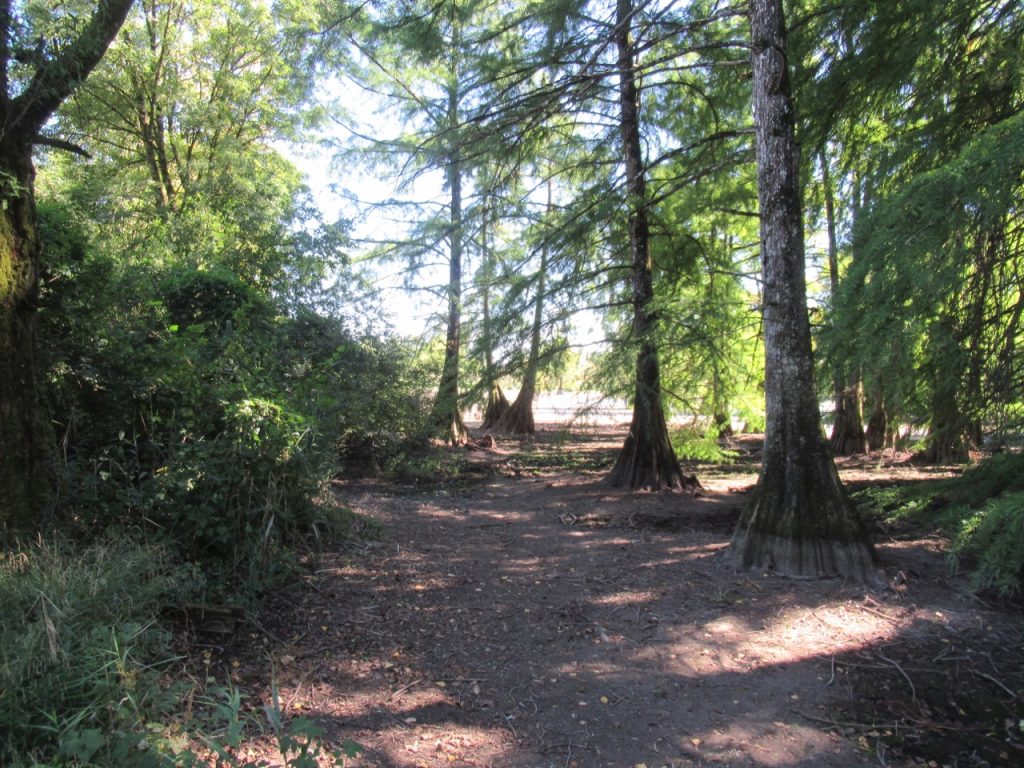 Elle connaît bien Sablonnières, elle y laisse sa voiture quand elle fait du co-voiturage, elle ignorait qu'elle se trouve là sur l'emplacement des rails. Elle habite assez près de Montalieu : quand elle était enfant, elle voyait de chez elle passer le train. Le trafic des voyageurs a été abandonné dans les années d'après guerre, celui des marchandises plus tard : les cimenteries Vicat à Montalieu ont beaucoup utilisé ce moyen de transport, aussi bien pour le charbon comme combustible dans un sens que pour le ciment qu'elles fabriquaient dans l'autre.
She knows Sablonnières well, she leaves her car there when she carpools, she did not know that she was there on the location of the rails. She lives quite close to Montalieu: when she was a child, she saw the train go by from her house. Passenger traffic was abandoned in the post-war years, that of goods later: the Vicat cement works in Montalieu used this means of transport a lot, both for coal as energy source in one direction and for the cement that they manufactured in the other.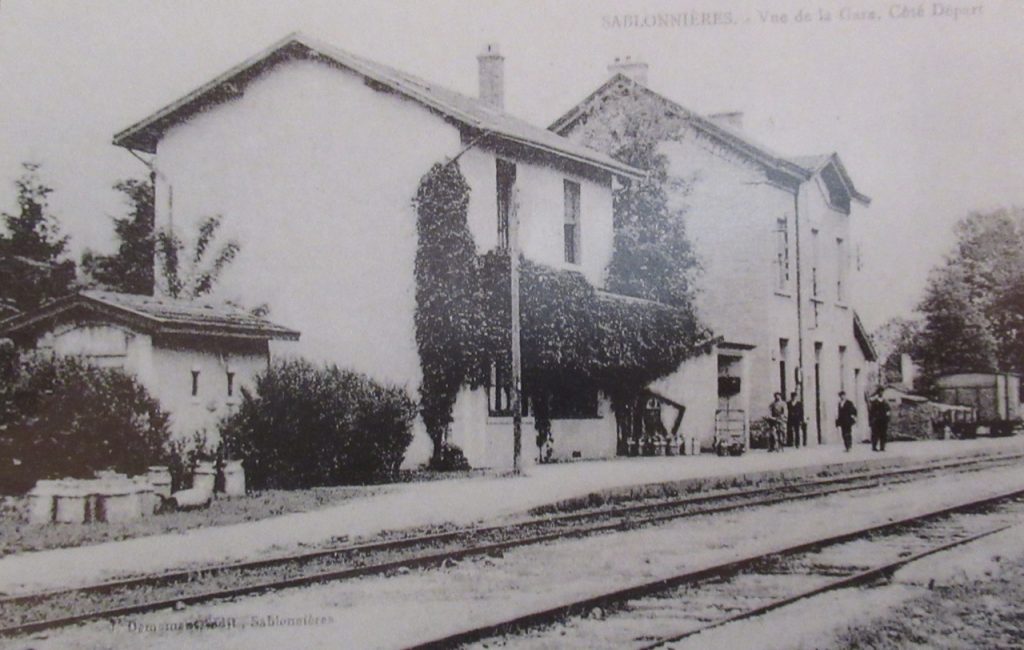 Nous essayons toutes les deux de mesurer combien un paysage peut changer, et comment les indices du passé disparaissent peu à peu. Je trouve passionnant d'en chercher, d'essayer de deviner quelle était la vocation ancienne de tel ou tel bâtiment.
We both try to measure how much a landscape can change, and how the clues of the past are gradually disappearing. I find it fascinating to look for them, to try to guess what the former vocation of such and such a building was.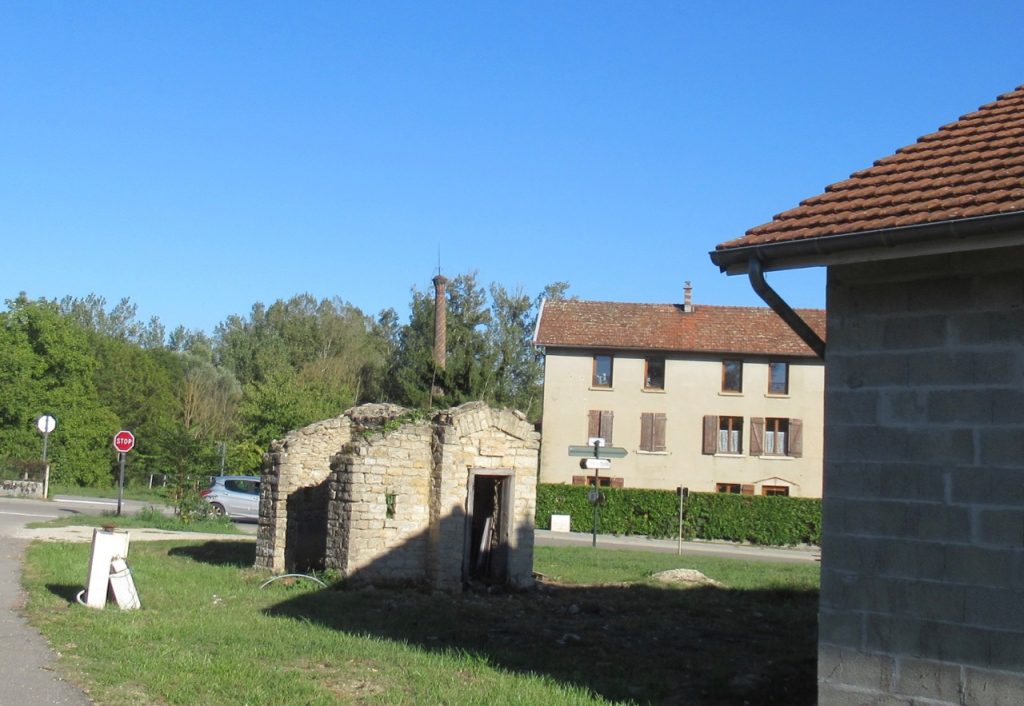 Le soir arrive, je n'ai plus beaucoup de courage, on décide de regarder un film et notre choix se fait sur « Marguerite ». Ce film est inspiré de l'histoire vraie de Florence Foster Jenkins, qui se croyait chanteuse mais n'était capable de chanter ni juste ni en rythme. Aussi incroyable que cela soit, personne ne le lui a révélé sauf à la fin de sa vie. Et c'est peut-être ce qui a provoqué la crise cardiaque fatale. « Marguerite » raconte une histoire semblable : Marguerite Dumont est française, fort riche, et personne de son entourage n'ose lui dire qu'elle ne chante pas, elle braille. Le rôle est interprété par Catherine Frot que j'ai toujours admirée. Je n'apprécie pas plus que ça l'opéra, que ce soit chanté par les autres, juste, ou affreusement faux par elle : j'ai trouvé l'histoire un peu longue. Mais le talent de Catherine Frot est immense, elle est Marguerite, elle a une énergie peu commune, elle joue avec naturel le rôle de cette femme et de sa passion dévorante pour le chant.
The evening arrives, I don't have much courage, we decide to watch a movie and our choice is made on « Marguerite ». This film is inspired by the true story of Florence Foster Jenkins, who believed herself to be a singer but was unable to sing neither in tune nor in rhythm. As incredible as it is, no one revealed it to her except at the end of her life. And that may have been what caused the fatal heart attack. « Marguerite » tells a similar story: Marguerite Dumont is French, very rich, and no one around her dares tell her that she doesn't sing, she bawls. The role is played by Catherine Frot, whom I have always admired. I don't appreciate opera any more than that, whether it's sung by others, right, or horribly wrong by her: I found the story a bit long. But Catherine Frot's talent is immense, she is Marguerite, she has an unusual energy, she naturally plays the role of this woman and her devouring passion for singing.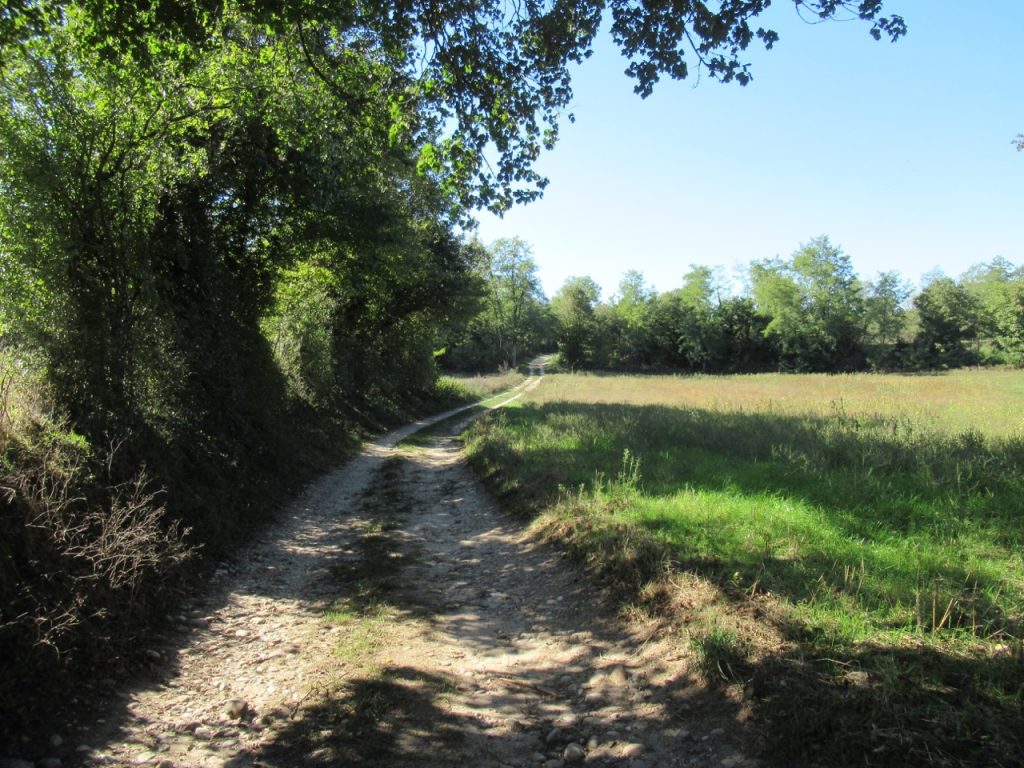 Cela me donne envie de regarder le film de Stephen Frears, librement inspiré de Florence Foster Jenkins et au titre éponyme. Toutes les deux, Marguerite l'inventée et Florence personnage réel, sont tuées par la révélation de leur absence de talent, c'est tout au moins très probable dans le cas de Florence – et tant pis si je dévoile la fin de l'histoire. Le film « Marguerite » s'articule autour de ce mensonge permanent, chacun le gérant à sa façon, chacun souhaitant que quelqu'un d'autre se charge de lui faire connaître cette tragique vérité.
It makes me want to watch Stephen Frears' film, freely inspired by Florence Foster Jenkins and with the eponymous title. Both, Marguerite the invented and Florence real character, are killed by the revelation of their lack of talent, it is at least very probable in the case of Florence – and too bad if I reveal the end of the story . The movie « Marguerite » revolves around this permanent lie, each dealing with it in their own way, each wishing someone else would take charge of telling them this tragic truth.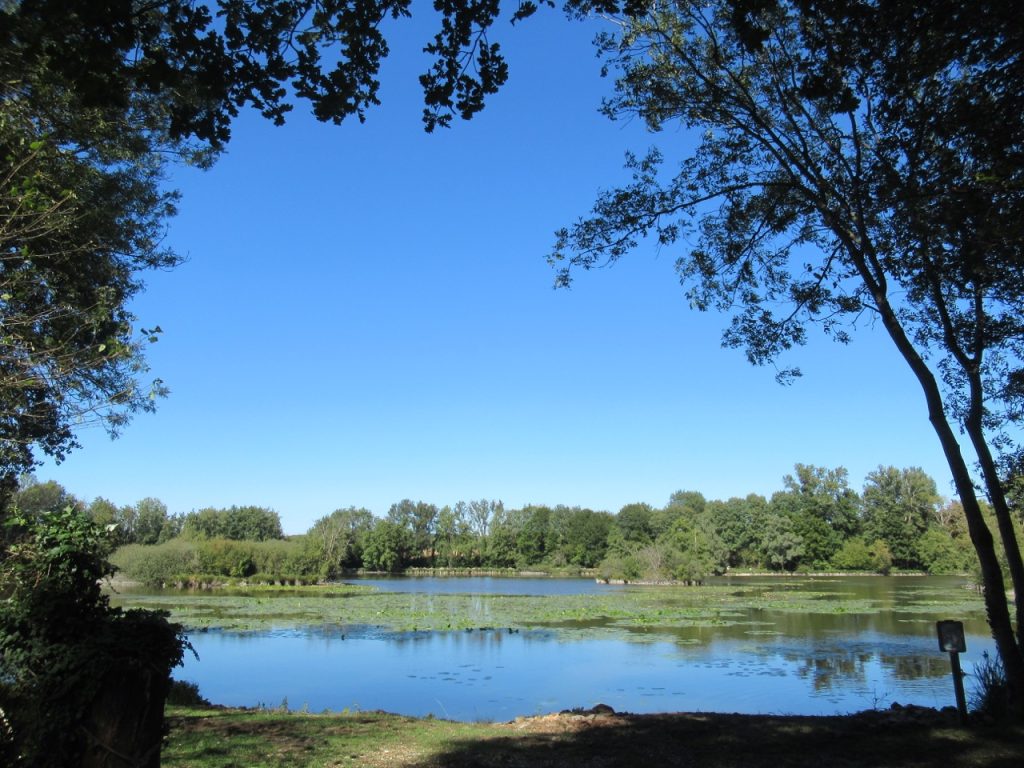 Notre voix vient de l'intérieur de nous, pour cette raison nous ne sommes pas capables de l'entendre vraiment. D'entendre ce que les autres entendent. Si tu chantes au micro, ta voix passe par l'ampli, tu peux l'entendre autrement. Et si ta voix est enregistrée, tu peux écouter exactement ta voix de l'extérieur en différé. Si Marguerite avait pu s'écouter dès le début, elle aurait su ce qu'on lui a caché… Mais je trouve stupéfiant qu'elle ait pu être chanteuse toute sa vie, approuvée par tous, tout simplement parce qu'elle vivait dans un cocon doré. C'est d'ailleurs pour ça que je préfère éviter les applaudissements, signe machinal de politesse, un moyen pauvre de faire connaître une approbation plus ou moins simulée.
Our voice comes from within us, for this reason we are not able to really hear it. To hear what others hear. If you sing at the microphone, your voice goes through the amp, you can hear it otherwise. And if your voice is recorded, you can listen to your exact voice from the outside offline. If Marguerite had been able to listen to herself from the start, she would have known what was hidden from her… But I find it amazing that she could have been a singer all her life, approved by everyone, simply because she lived in a golden cocoon. This is also why I prefer to avoid applause, a mechanical sign of politeness, a poor way of conveying a more or less simulated approval.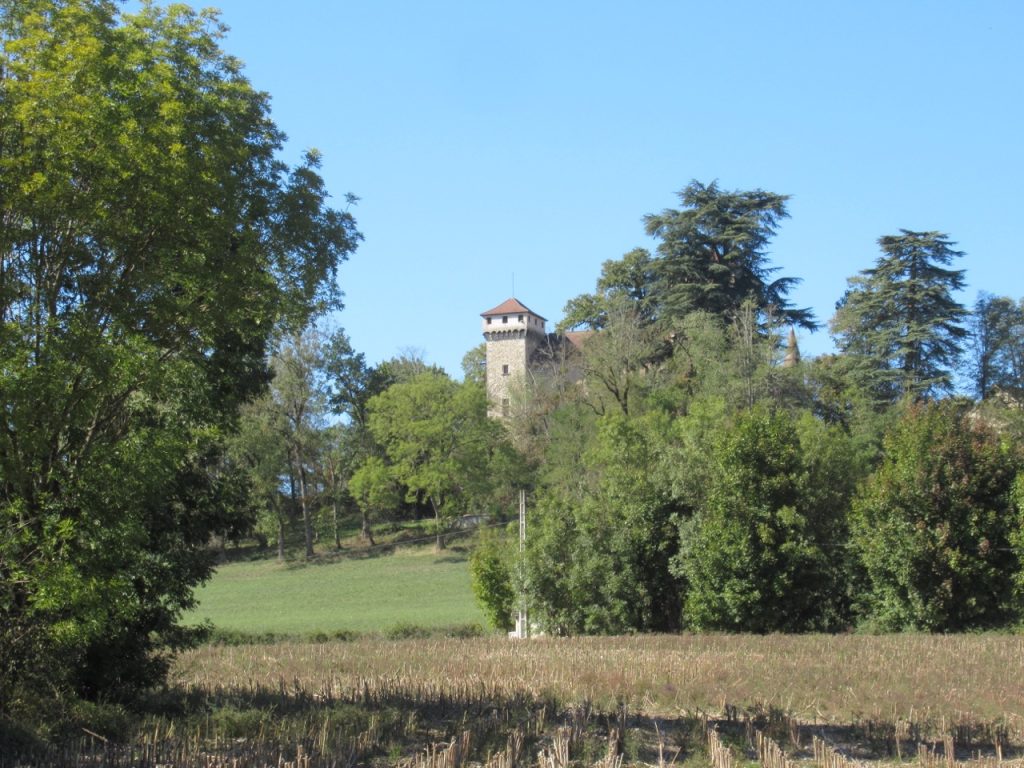 J'ai trouvé des quantités d'exemples dramatiques de mensonges révélés au mauvais moment (parmi d'autres, tu apprends que ton père n'est pas ton père ou que tu es un enfant adopté, ou que ton bien aimé fait partie de ces groupes d'assassins qui ont exterminé ta famille), ce genre de choses qui demandent préparation et accompagnement. Ces exemples sont innombrables, de personnes qu'on croit protéger en leur cachant la vérité. Cela me fait penser à la formule du mariage anglo-saxon, « Si quelqu'un a quelque raison que ce soit de s'opposer à ce mariage, qu'il parle maintenant, ou se taise à jamais. » Parler maintenant ou se taire à jamais me semble une bonne formule. Le film montre que pour Marguerite, la vérité est venue trop tard.
I found plenty of dramatic examples of lies being told at the wrong time (among others, you learn that your father is not your father or that you are an adopted child, or that your beloved is one of those groups of assassins who exterminated your family), this kind of thing that requires preparation and accompaniment. These examples are countless, of people who are believed to be protecting by hiding the truth from them. It reminds me of the Anglo-Saxon marriage formula, « If anyone has any reason to oppose this marriage, speak now, or forever hold your peace. » Speak now, or forever hold your peace seems to me a good formula. The film shows that for Marguerite, the truth came too late.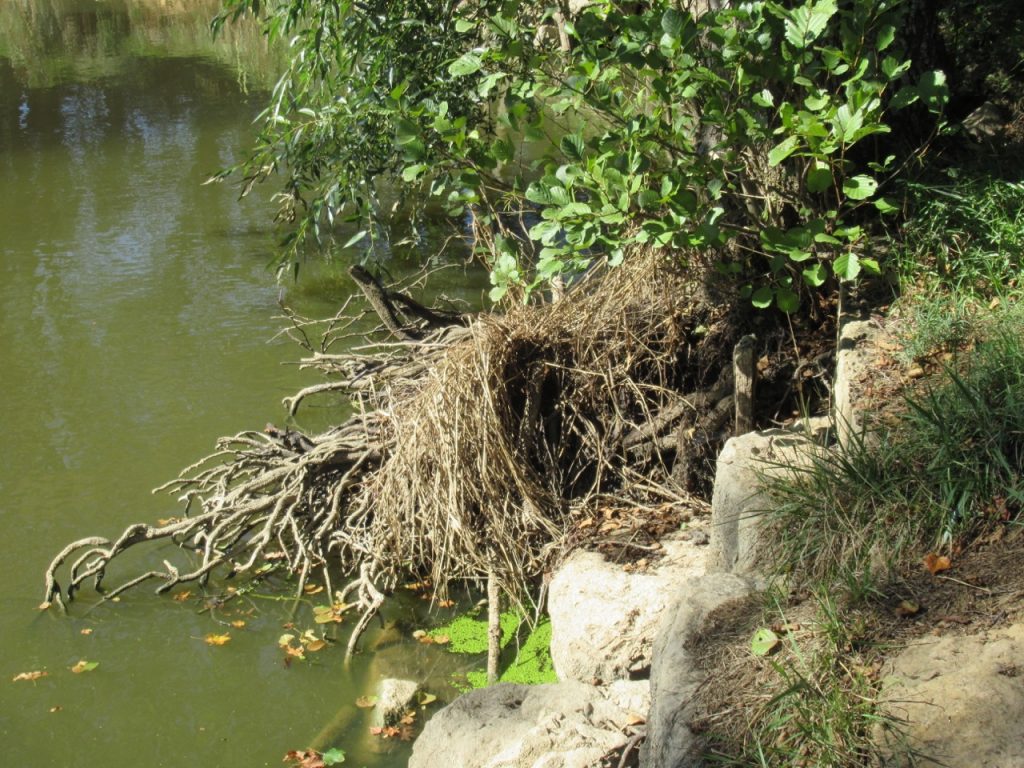 PETIT (TOUT PETIT) COURS D'INFORMATIQUE
Certains de mes lecteurs sont à l'aise avec leur machine comme des poissons dans l'eau, d'autres pas du tout ! Survolez donc ces quelques mots, vous aurez vite vu s'ils présentent pour vous le moindre intérêt.
La plupart d'entre vous recevez par « Sendinblue » mon envoi pour vous dire que je viens de publier ma nouvelle chronique (ci-dessous c'est une copie d'écran, vous ne pouvez rien activer en cliquant) :
SMALL (VERY SMALL) COMPUTER COURSE
Some of my readers are comfortable with their machine like fish in water, others not at all! Hover over these few words, you will quickly see if they are of any interest to you.
Most of you receive by « Sendinblue » my mailing to tell you that I have just published my new column (below is a screenshot, you cannot activate anything by clicking):
En cliquant sur l'adresse https://www.pasassezdetemps.com, vous arrivez directement sur la dernière page publiée.
By clicking on the address https://www.passsezdetemps.com, you arrive directly on the last published page.
Dans mes chroniques, j'envoie souvent des liens qui apparaissent en bleu, comme la nivéole de printemps ci-dessus, si vous cliquez dessus vous allez là aussi directement sur le site concerné. Vous ne devez cliquer en aucun cas quand le message que vous avez reçu est suspect, qui vous parle d'une dépense de 800 euros que vous n'avez pas faite ou encore d'un gain d'un million d'euros, dans ces cas-là on détruit le message au plus vite !
Et si vous prenez peur, le plus simple c'est certainement de quitter l'application et de la rouvrir.
Dernier détail : avez-vous remarqué que les photos sont plus grandes si vous cliquez dessus ? Certaines sont assez belles pour mériter ce temps d'arrêt.
In my columns, I often send links that appear in blue, like the spring snowflake above, if you click on them you will also go directly to the site concerned. You must not click under any circumstances when the message you have received is suspicious, telling you of an expense of 800 euros that you have not made or of a gain of one million euros, in these case just destroy the message as soon as possible!
And if you get scared, the easiest way is to quit the app and reopen it.
Last detail: have you noticed that the photos are larger if you click on them? Some are good enough to deserve this downtime.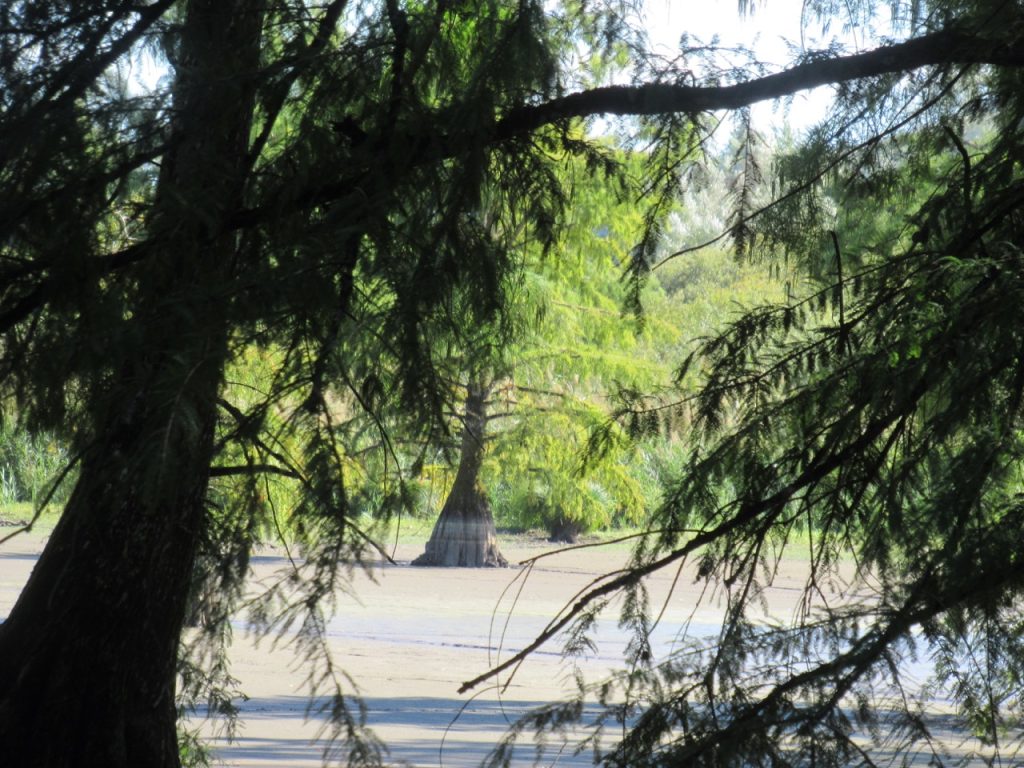 ET J'AI PAS FINI !
Le 19 septembre 2012 je publiais ma première chronique, texte bref avec une seule photo que j'aime toujours autant.
Je vous en aurais parlé la semaine dernière si j'y avait pensé ! Dix ans de publications, j'en compte 255 parmi lesquelles des petites choses sans intérêt, toujours est-il que sur dix ans, j'ai appuyé sur « publier » en moyenne un tout petit peu moins d'une fois par quinzaine.
Mon lectorat reste tout petit mais fidèle. Pour moi, il s'agit d'une discipline à laquelle j'essaie de me tenir.
AND I'M NOT FINISHED!
On September 19, 2012 I published my first column, a short text with a single photo that I still love so much.
I would have told you about it last week if I had thought about it! Ten years of publications, I count 255 among which little things without interest, still it is that over ten years, I pressed « publish » on average a little less than once a fortnight.
My readership remains very small but loyal. For me, it is a discipline that I try to stick to.
Je vous disais :
Je veux que ce blog soit un lien : le Charbinat est un arbre dont toutes les branches sont reliées…
Le blog s'appelle « Pas assez de temps », son nom complet est : « Pas assez de temps pour vous aimer ». J'espère que ce sera une belle histoire d'amitié.
I was telling you:
I want this blog to be a link: le Charbinat is a tree, whose branches are all interconnected…
The blog is called « Not enough time », or « Not enough time to love you » in full. I hope that it will become a great story of friendships.
Je remercie vivement les lecteurs qui m'accompagnent sur ce chemin
I warmly thank the readers who accompany me on this path.