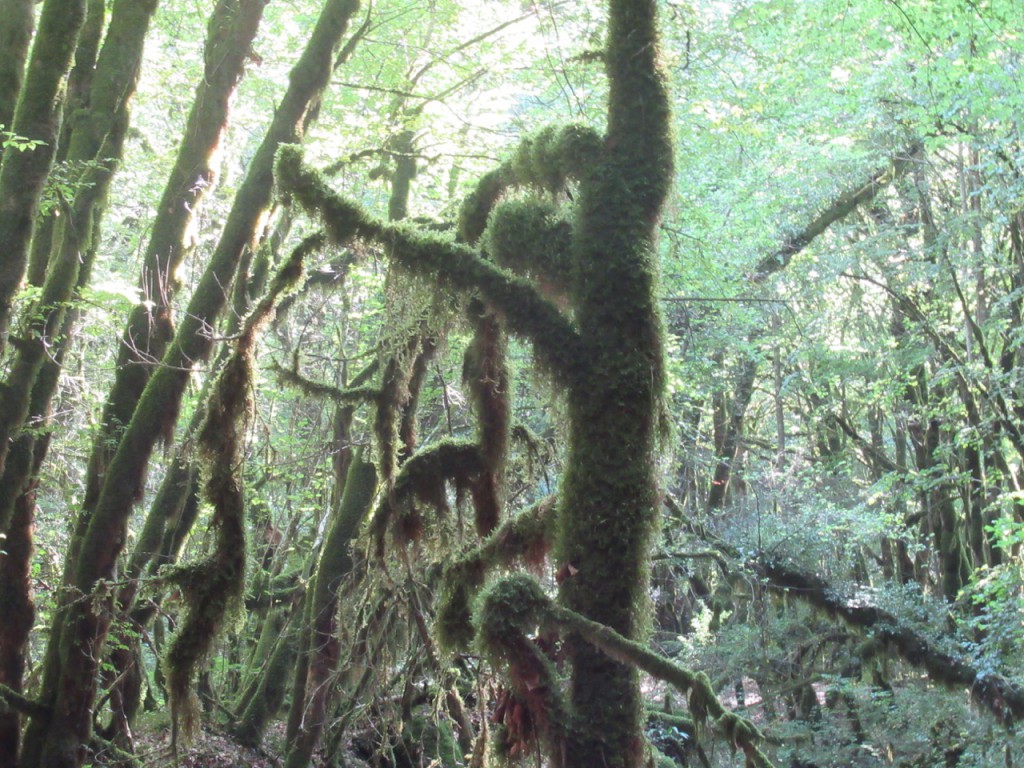 Après cette brève escapade ardéchoise, après une bonne pluie qui a permis le remplissage des cuves, nous voici un peu tranquilles.
After this short escapade in the region of Ardèche, after a good rain which allowed the filling of the tanks, here we are a little quiet.
Sébastien reçoit Charlie qui fait le tour du monde des Tiny House — j'exagère un peu, pas une visite exhaustive en réalité. Charlie a constaté que ces petits maisons sont de plus en plus nombreuses. Et Séb déplore qu'on les appelle « Tiny », « petite », quand elles commencent à prendre beaucoup de place. Lui-même habite dans huit mètres carrés.
Sebastien receives Charlie who goes around the world of Tiny House – I exaggerate a little, not an exhaustive visit in reality. Charlie has found that these little houses are more and more numerous. And Seb deplores the fact that they are called « Tiny, » « little », when they begin to take up a lot of space. He lives in eight square meters.
Je n'aime pas les drônes pour leur côté intrusif et les usages militaires que l'on peut en faire. Mais j'attends impatiemment de recevoir quelques photos prises par Charlie.
I do not like drones for their intrusive side and the military uses that can be made of them. But I'm looking forward to receiving some pictures taken by Charlie.
Dorothée nous a trouvés par workaway. Elle est autrichienne mais elle voyage en France depuis déjà plusieurs semaines. Elle est pleine d'énergie (contagieuse). Elle a un très bon niveau en français, même s'il vaut mieux lui parler un peu plus lentement.
Dorothée found us with workaway. She is Austrian but she has been traveling in France for several weeks now. She is full of energy (contagious). She has a very good level in French, although it is better to speak a little more slowly.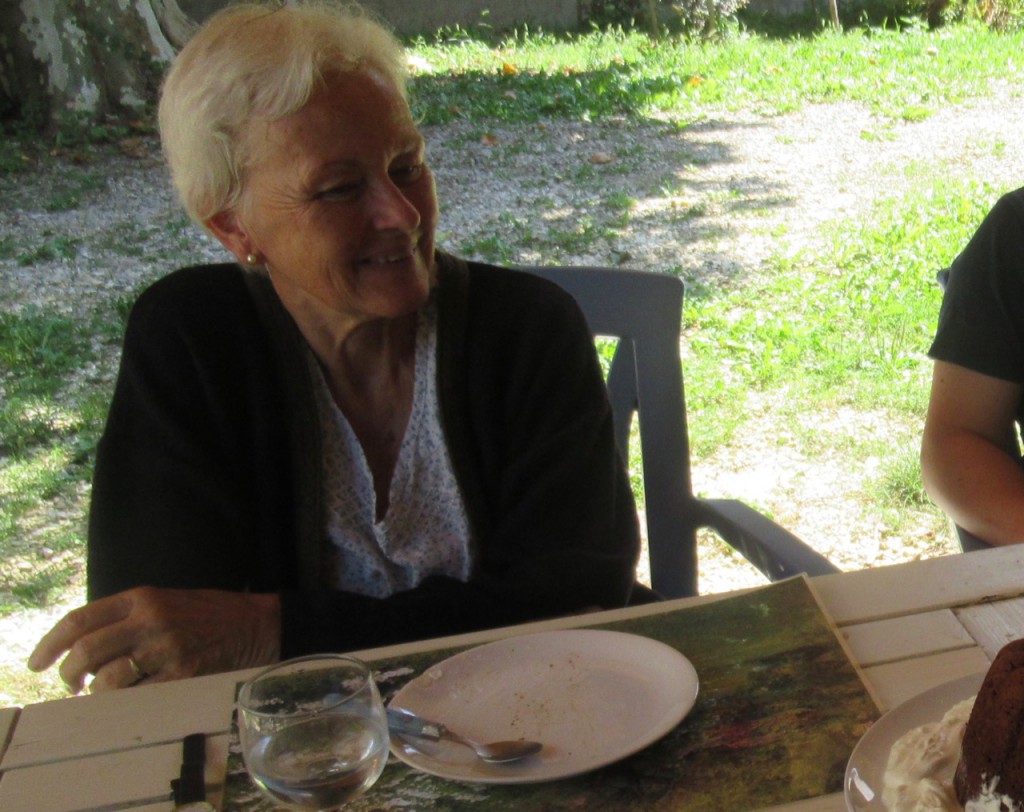 C'est aussi une bonne pâtissière.
She is also a good pastry chef.
Le nègre en chemise (un gâteau au chocolat et amande servi avec de la crème chantilly) est à peine arrivée sur la table qu'on l'a dévoré avant que j'aie pu faire une photo. Pour être politiquement correct, on doit maintenant appeler cette pâtisserie un blanc et noir. Je crains que cela ne contribue malheureusement pas à améliorer la situation des personnes victimes de haine raciale.
The negro in his shirt (a chocolate cake and almond served with whipped cream) is hardly arrived on the table that was devoured before I could make a photo. To be politically correct, we must now call this pastry a white and black. I am afraid unfortunately it does not help to improve the situation of people who are victims of racial hatred.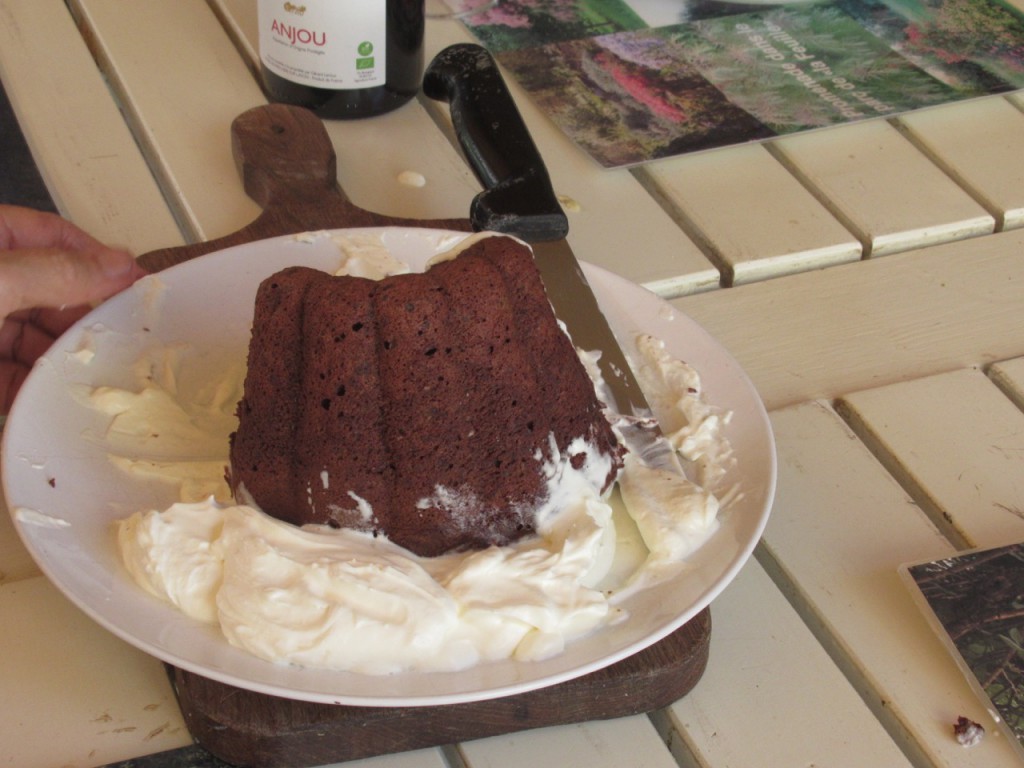 Nous avions fait découvrir la cascade de la Brive à Kristen et David, nous y retournons avec Dorothée.
We had discovered la cascade de la Brive to Kristen and David, we go back with Dorothée.
De nombreuses voitures garées nous font deviner la suite : à la cascade, quinze ou vingt personnes sont installées, dans l'eau ou à côté – regardez les photos de la chronique « cent ! » pour apprécier la différence. Un chien plonge et rapporte inlassablement le bâton qu'on lui jette.
Many parked cars make us guess the following: at the waterfall, fifteen or twenty people are installed, in the water or next – look at the photos of the chronicle « cent ! » to appreciate the difference. A dog plunges and unremittingly reports the stick thrown at him.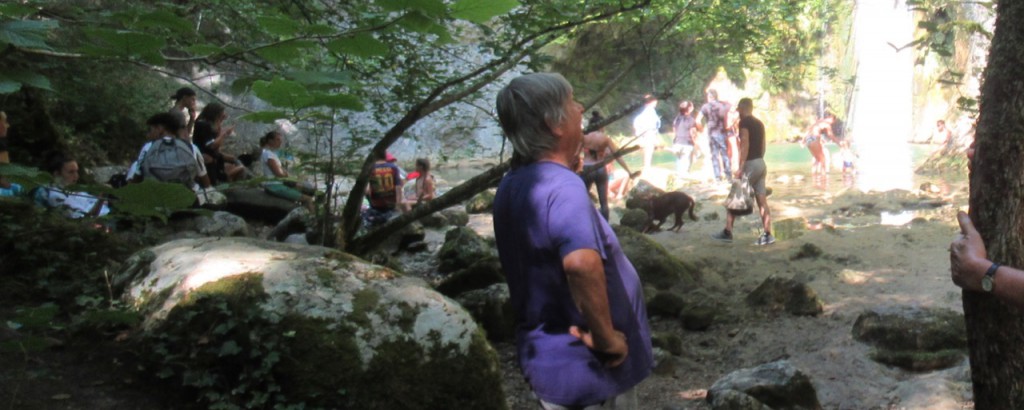 Aujourd'hui il est très facile de garder les pieds au sec.
Today it is very easy to keep your feet dry.
À ma surprise, les prêles ont grandi sans laisser pousser leurs « cheveux ». Cette variété-là n'en a pas… Quand j'étais petite, je les appelais « queue de cheval. »
I'm surprised because the horsetails grew up without letting their hair grow. This variety does not have any … When I was a little girl, I called them « ponytail. »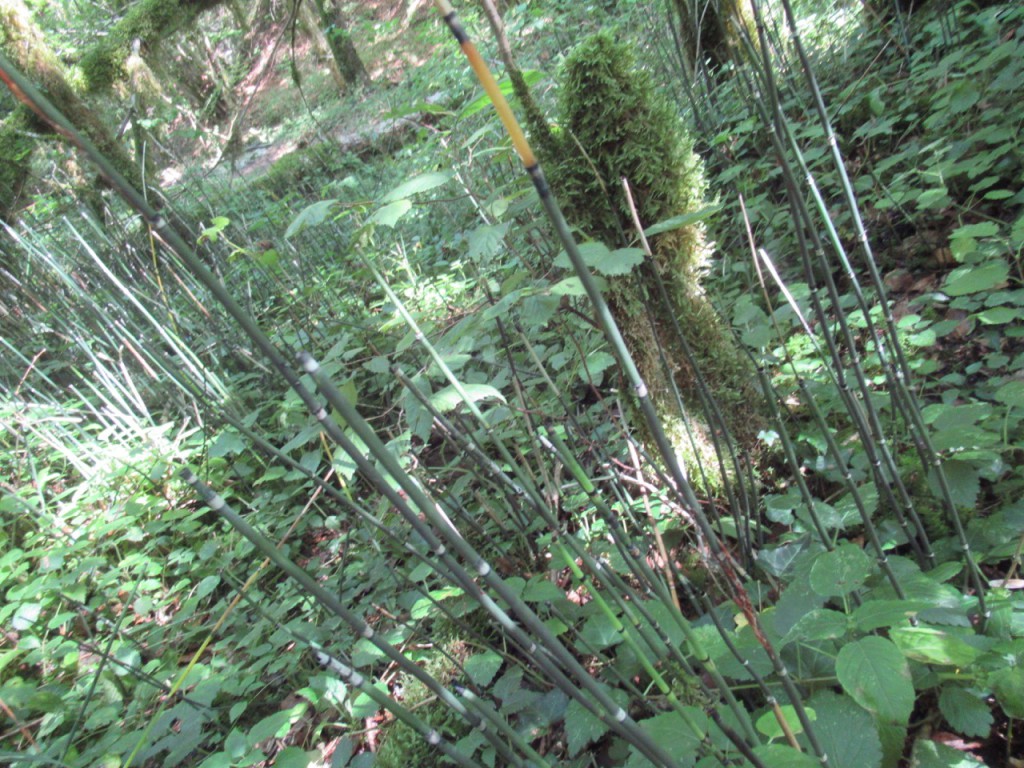 Dorothée prend courageusement un bain de pied, pendant que je monte dans la pente raide pour photographier les grimpeurs après moi.
Dorothée courageously takes a foot bath, while I climb the steep slope to photograph the climbers after me.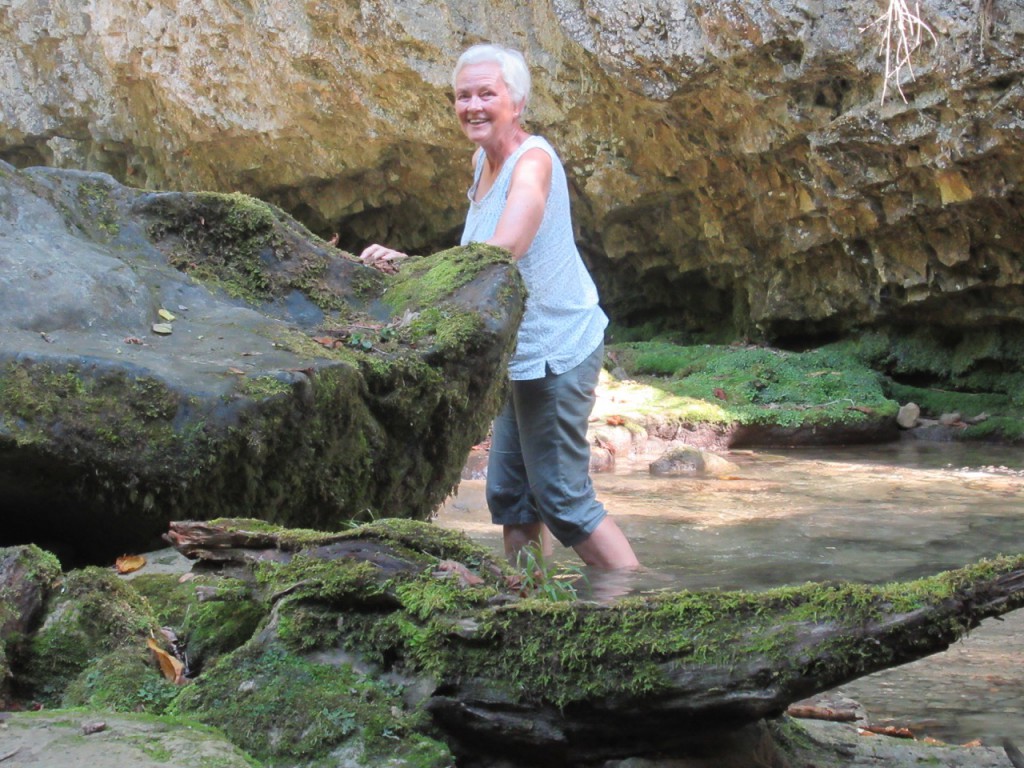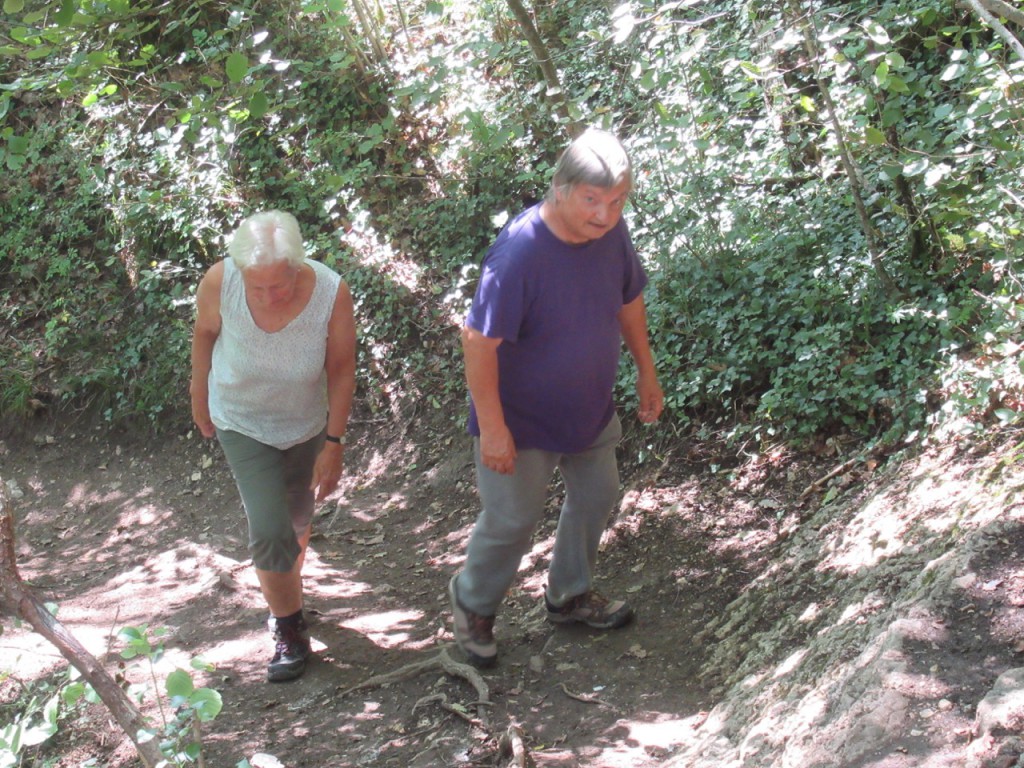 Une petite pause photo, les roues de pierre sont toujours là, n'ont pas fugué.
A little photo break, the stone wheels are still there, did not run away.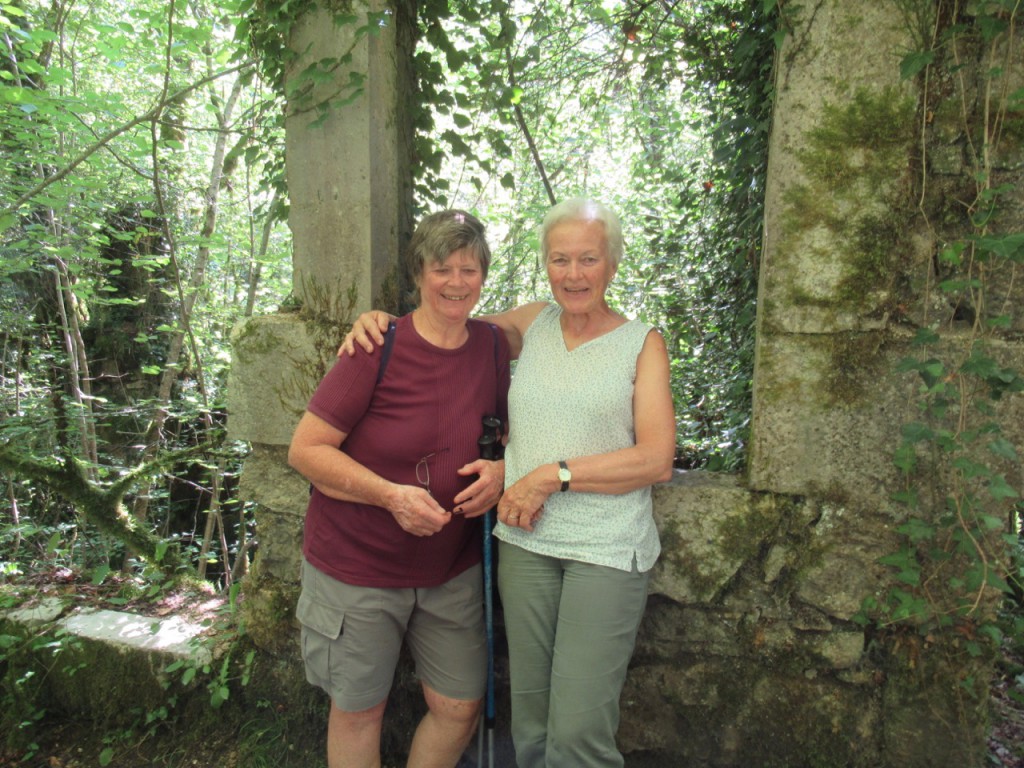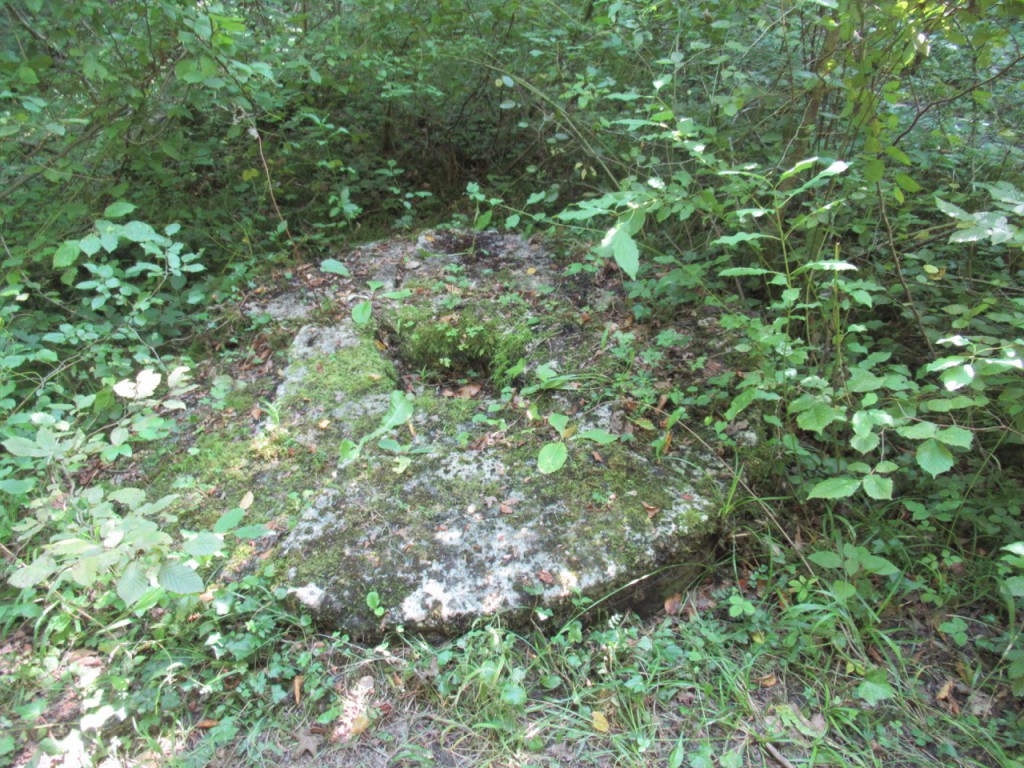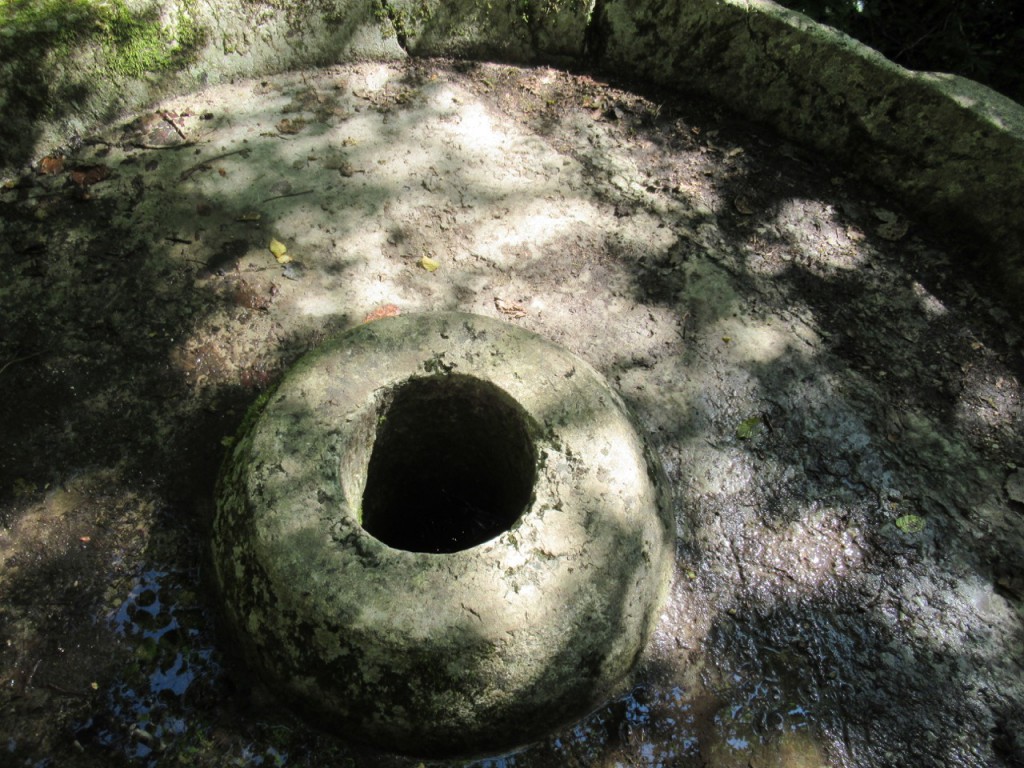 Avec David et Kristen, on est passés près de la noyade. Avec Dorothée, on n'a aucune idée de la dangerosité possible de ces lieux !
With David and Kristen, we were not far from drowning. With Dorothée, we have no idea of the dangerousness of these places!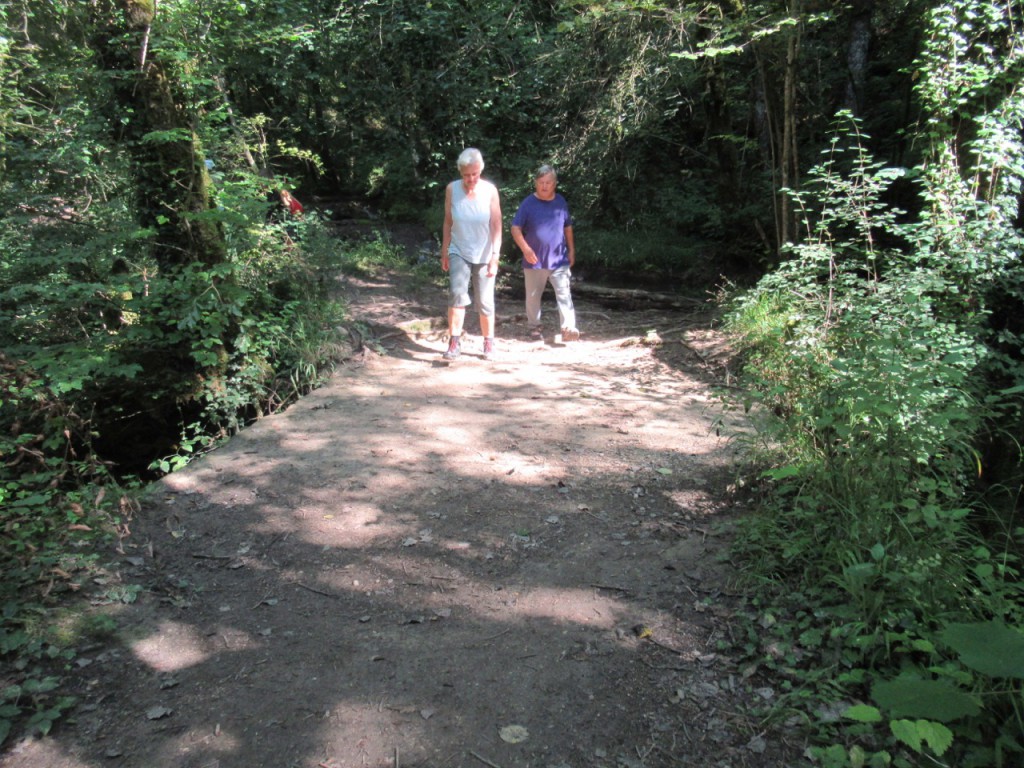 Nous faisons bientôt demi-tour. À la maison, une pile de crêpes cuites par Séb nous attend.
It's time to go home: a stack of crepes cooked by Séb awaits us.
J'espère que Dorothée gardera de bons souvenirs de son séjour. Elle est partie seule en vélo jusqu'à Passins, puis Sermérieu, une autre fois nous partons toutes les deux et bien entendu je l'emmène voir « mes » guêpiers.
I hope Dorothée will have fond memories of her stay. She left alone by bike to Passins, then Sermérieu, another time we both leave and of course I show her « my » bee-eaters.
La saison des récoltes commence, et Paul et Dorothée rapportent des kilos de légumes ou de fruits : mûres, pommes tombées, haricots, fraises. Je fais du coulis ou de la confiture, Dorothée trie la rhubarbe et nous stérilisons des pots de compote. Paul installe sa machine à trier les tomates : il en a vu une dans le film de Martin Esposito, « le potager de mon grand-père » et n'a eu de cesse de se procurer la même chose. C'est très pratique, ça sépare les déchets des parties utilisables, juste en tournant la manivelle !
The harvest season begins, and Paul and Dorothée bring back pounds of vegetables or fruits: blackberries, fallen apples, beans, strawberries. I make coulis or jam, Dorothée sorts rhubarb and we sterilize pots of compote. Paul installs his tomato sorting machine: he saw one in Martin Esposito's movie, « le potager de mon grand-père » and never stopped getting the same thing. It's very convenient, it separates waste from usable parts, just by turning the crank!
Dorothée fait du désherbage dans les fraisiers dont les fruits sont bien plus petits qu'en début de saison. Elle coupe les ronces ici ou là ou la clématite sauvage (la « liane ») très envahissante. Une autre fois, nous lui avons aussi demandé de laver les vitres…
Dorothée is doing weeding in strawberries whose fruits are much smaller than at the beginning of the season. She cuts the brambles here or there, or the wild very invasive clematis (the « liane »). Another time, we also asked her to wash the windows …
Elle nous accompagne chez Rudy qui fête son anniversaire : il y a beaucoup de gens, certains font partie du SEL et nous les connaissons. Nous n'étions jamais encore venus chez Rudy qui habite une jolie maison ancienne à Chatelans.
She accompanies us to Rudy's birthday party: there are many people, some are part of the SEL and we know them. We had never been to Rudy's house, who lives in a pretty old house in Chatelans.
Annabelle trouve que j'ai un bon niveau d'anglais : cela fait plusieurs années que je pratique régulièrement cette langue. Oui mais… ma technique de traduction est curieuse. Pour éviter de taper deux fois les mêmes choses, je copie mon texte sous google translate. J'ai décidé de partir du français et de vérifier la traduction. Et en effet, il y a bien besoin de vérifier ! De cette façon, je peux découvrir des tournures plus anglaises que françaises, cela m'évite le mot à mot et me fait découvrir de nouvelles expressions.
Annabelle thinks I have a good level in English: I have been practicing this language for many years. Yes but … my translation technique is curious. To avoid typing twice the same things, I copy my text under google translate. I decided to leave from French and check the translation. And indeed, there is a need to check! In this way, I can discover turns that are more English than French, it avoids me word for word and makes me discover new expressions.
Je trouve toujours un détour pour m'exprimer, à l'oral ou à l'écrit, je suis donc sans doute capable de rédiger mes chroniques sans traducteur, mais si je le faisais, le style serait alors sans doute très différent.
I always find a detour to express myself, orally or in writing, so I'm probably able to write my columns without translator, but if I did, the style would probably be very different.
Malheureusement, j'ai l'habitude d'écrire mais je n'ai pas une bonne oreille : je parle avec aisance mais le plus souvent je ne comprends rien à ce qu'on me dit ! J'ai des problèmes d'audition, mais surtout je manque de pratique à l'oral, et c'est fort désagréable. Il m'arrive même d'être incapable d'entendre où commencent et où finissent les mots !
Unfortunately, I usually write but I do not have a good ear: I speak with ease but most often I do not understand anything I am told! I have hearing problems, but mostly I lack oral practice, and it is very unpleasant. I even happen to be unable to hear where the words begin and end!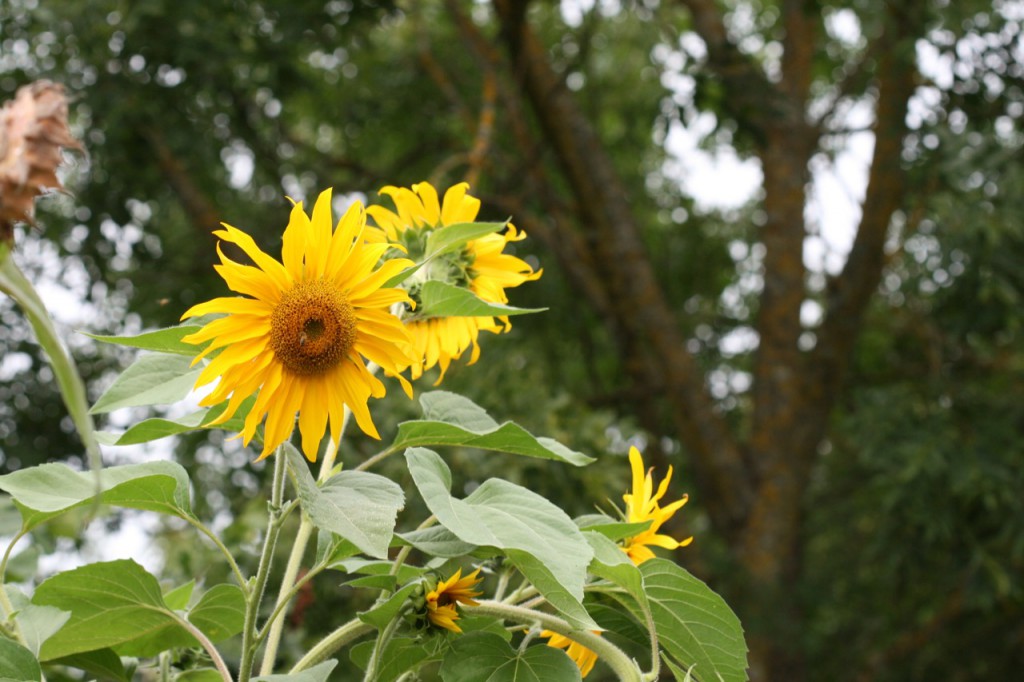 Arrive le dimanche, je me mets en cuisine tôt pour que Paul puisse passer enfin à autre chose. Je vous recommande vivement ma salade de lentilles. Quand elles ont cuit, je coupe en brunoise tout ce qui me tombe sous la main, carottes, poivrons, fromage, deux tonnes de ciboulette coupée aux ciseaux multi-lames, c'est bien pratique : il faut que la garniture se voit, qu'il y en ait beaucoup ! Pour ceux qui aiment la moutarde, pensez à en mettre beaucoup dans la sauce – j'en connais qui n'aiment pas.
Sunday comes, I go into the kitchen early so that Paul can finally move on. I highly recommend my lentil salad. When they are  cooked, I cut everything that comes to hand, carrots, peppers, cheese in very small pieces, two tons of chives cut with multi-blade scissors, it is very practical: it is necessary that the filling is seen, that there is many! For those who love mustard, think about putting a lot in the sauce – I know some who do not like.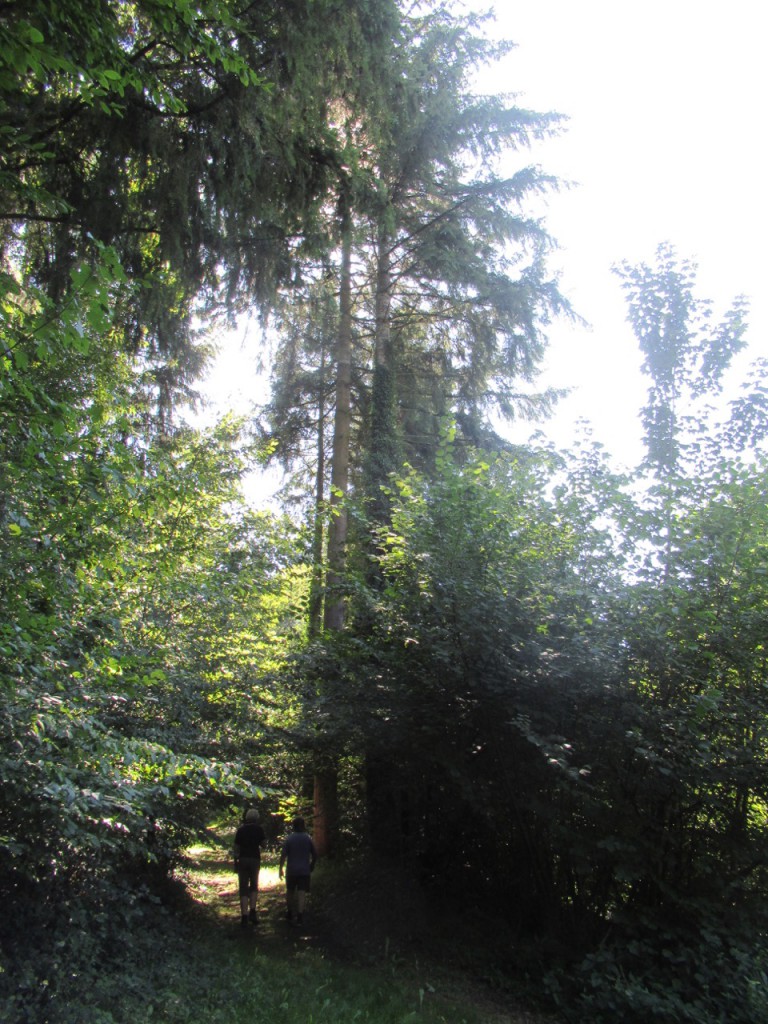 Depuis longtemps, j'avais archivé « en forêt de Bonnevaux » une balade attrayante, ce dimanche nous nous décidons. Après Saint-Jean-de-Bournay, nous n'avons aucune difficulté pour trouver le fléchage en direction du château de Bonnevaux. La voiture est abandonnée à l'ombre et nous partons en exploration.
For a long time, I had archived « en forêt de Bonnevaux » an attractive ride, this Sunday we decide. After Saint-Jean-de-Bournay, we have no difficulty to find the signs to le Château de Bonnevaux. The car is abandoned in the shade and we are exploring.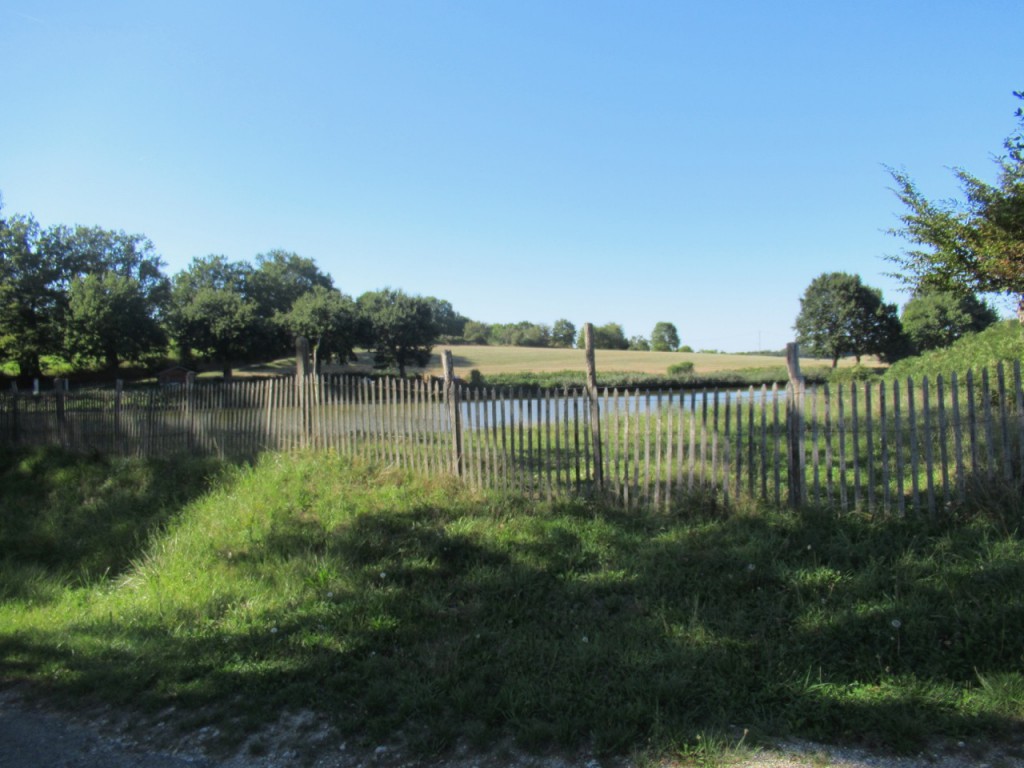 Pour avoir servi de carrière de pierres après la révolution, l'abbaye de Bonnevaux n'a plus grand-chose à montrer. La vallée de la Gère abrite des plantes rares, orchidées, orchis, qui resteront cachées à  nos yeux. Nous trouverons les lieux indiqués dans mon petit guide que je ne quitte pas des yeux, mais rien n'est à visiter, une bâtisse vue de loin, un domaine, une verrerie. J'arrête Dorothée et Paul pour leur montrer la charbonnière. Quand j'étais petite, papa laissait toujours la voiture garée « à la charbonnière » et nous descendions à pied au bord de l'Ardèche. Cette charbonnière-là était noire, le sol comportait sans doute encore une épaisse couche de charbon de bois. Mais cette activité a été abandonnée (en France et sous cette forme) depuis une cinquantaine d'années, alors j'imagine que l'érosion fait son œuvre peu à peu, que les pluies entraînent les derniers fragments de bois brûlé. Seul le numéro gravé sur un poteau témoigne encore de cette activité en forêt de Bonnevaux.
For having served as stone quarry after the revolution, l'abbaye de Bonnevaux has very few to show. The valley of the Gère is home to rare plants, orchids, which will remain hidden to our eyes. We will find the places indicated in my little guide in which I keep reading, but nothing is to visit, a building seen from afar, a field, a glassware. I stop Dorothée and Paul to show them « la charbonnière », the place were they made charcoal. When I was a little girl, Dad always left the car parked at « la charbonnière » and we walked down to the edge of the Ardeche. This place was black, the soil probably still had a thick layer of charcoal. But this activity has been abandoned (in France and in this form) for fifty years, so I imagine that the erosion is doing its work little by little, that the rains lead to the last fragments of burned wood. Only the number engraved on a post still testifies to this activity in la forêt de Bonnevaux.
Je me demandais si ma traduction de « charbon de bois » était correcte, et d'une chose à l'autre j'ai trouvé une vidéo intéressante : elle montre comment en fabriquer sans outils (si ce n'est de grosses pierres !).
I wondered if my translation of « charbon de bois » was correct, and from one thing to another I found an interesting video: it shows how to make it without tools (if not big stones!) .
Nous aimons beaucoup l'étang du Grand Giray, malgré une attaque invasive des renouées du Japon. Pour l'instant, de très beaux nénuphars se fichent complètement des problèmes environnementaux.
We love l'étang du Grand Giray, despite an invasive attack of Japanese knotweed. For the moment, beautiful water lilies do not care about environmental problems.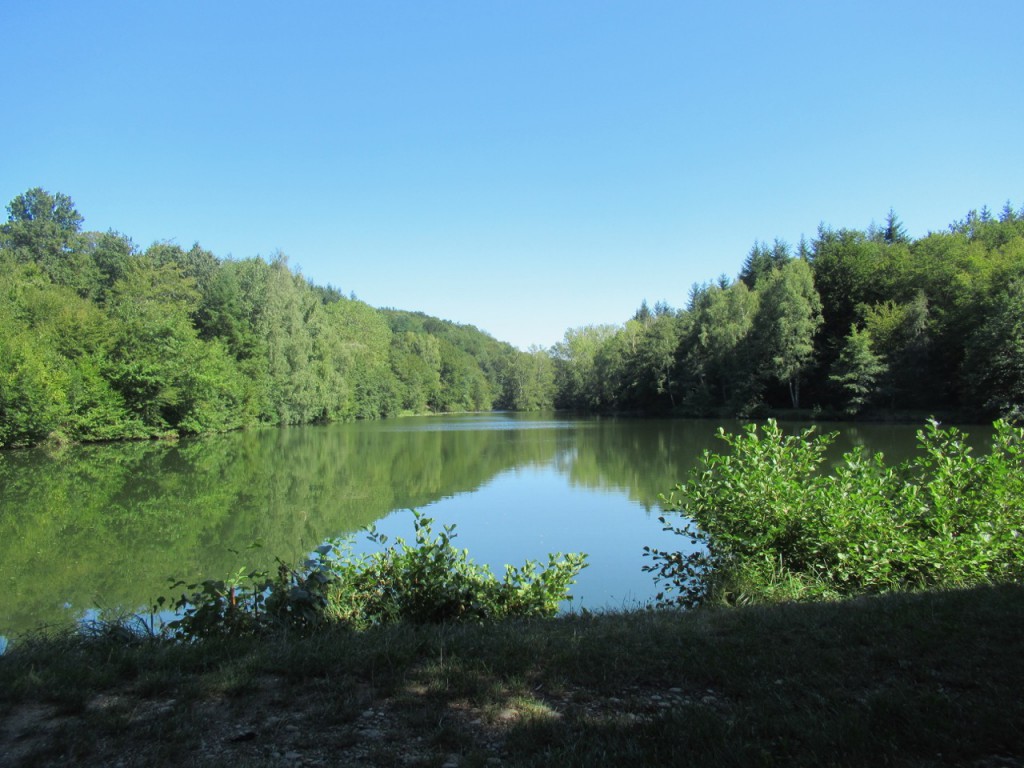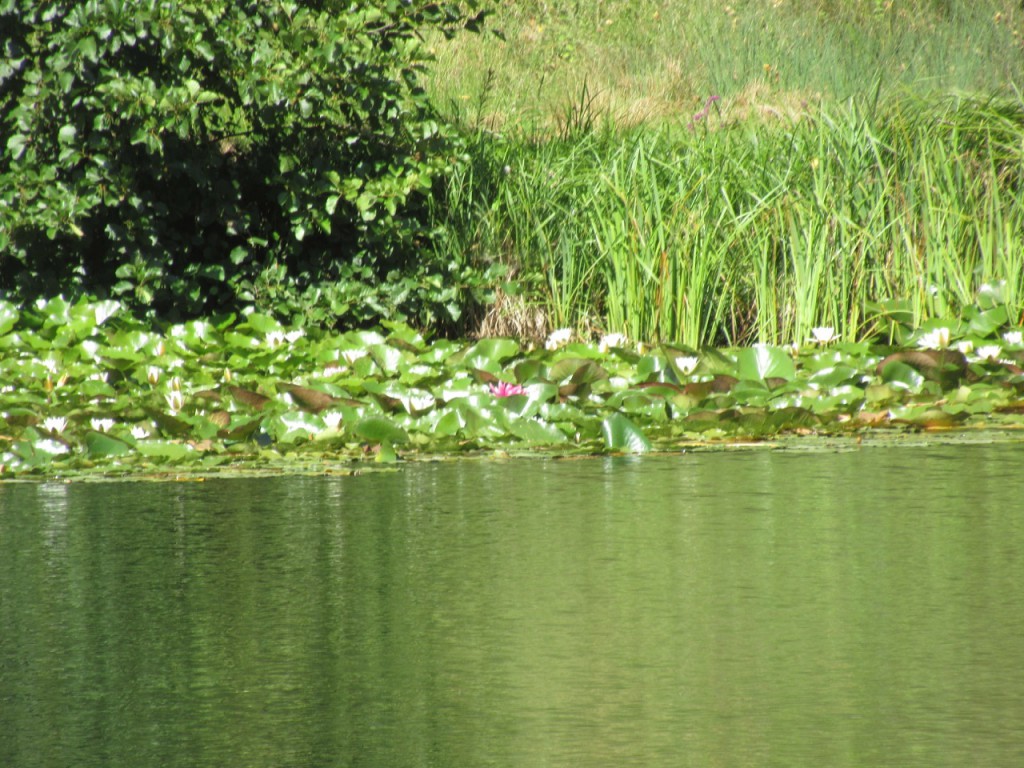 La foêt de Bonnevaux est magnifique, et nous marchons sur les pas de Louis XI qui venait souvent y chasser, dit-on, quand il était Dauphin.
La forêt de Bonnevaux is magnificent, and we walk in the footsteps of Louis XI, who often came to hunt, it is said, when he was Dauphin.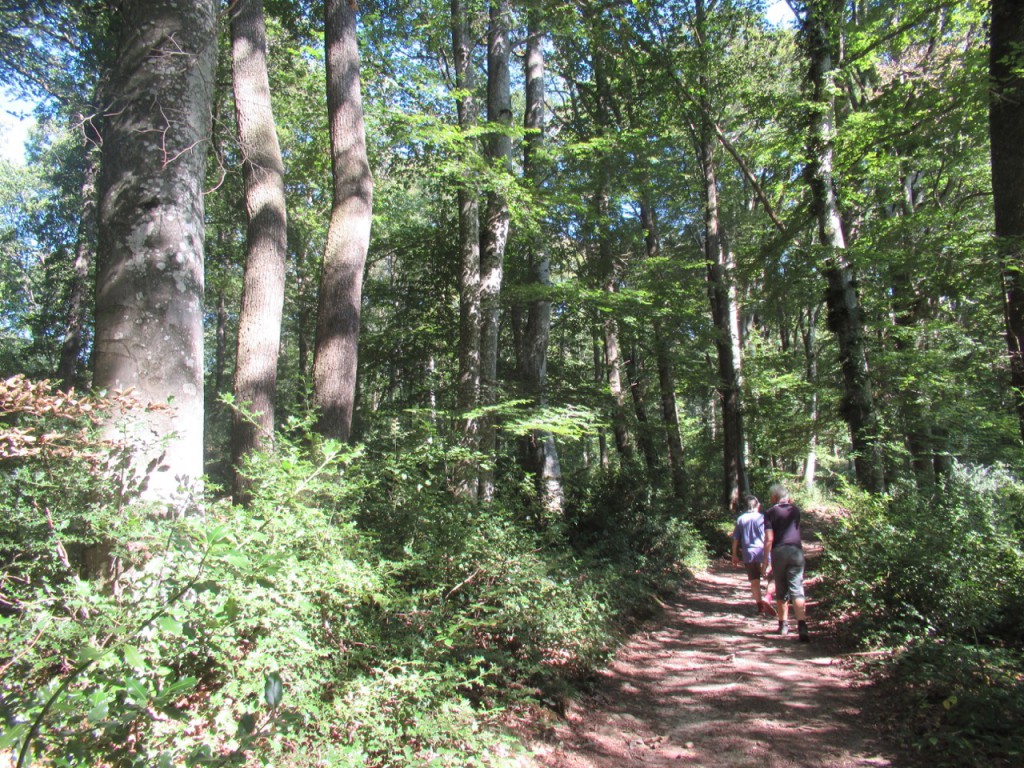 Nous devons parcourir un ou deux kilomètres en plein soleil et sur une route. Ce circuit n'est pas parfait !
We have to walk one or two kilometers in full sun and on a road. This circuit is not perfect!
Plus loin, un panneau signale une « déviation du sentier balisé ». Si nous l'avions suivie, nous aurions évité de multiples acrobaties pour franchir une série de beaux arbres (beaux autrefois) tombés au milieu du passage. Je suis contente d'avoir mon GPS qui me rassure, oui, nous sommes toujours dans la bonne direction.
Further, a sign indicates a « deviation from the marked path ». If we had followed it, we would have avoided multiple acrobatics to cross a series of beautiful trees (beautiful formerly) fallen in the middle of the passage. I am happy to have my GPS that reassures me, yes, we are always on the right direction.
Cependant, d'autres arbres morts sur pied seront bientôt abattus.
However, other dead standing trees will soon be slaughtered.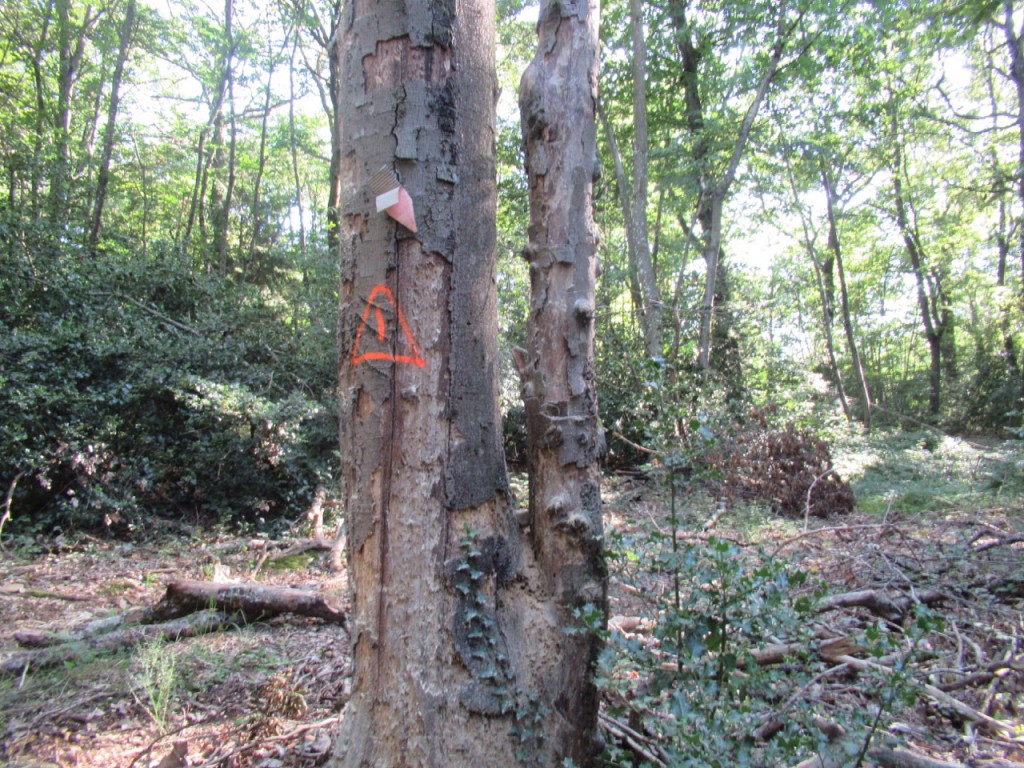 Pour finir, le dernier point remarquable, la tuilerie, « a aujourd'hui complètement disparu » — un peu comme tous les autres points remarquables de la balade. Ne boudons pas notre plaisir. Nous avons marché huit kilomètres au lieu des six annoncés (qui nous auraient fait hésiter). Nous ne sommes pas à bout de force, il fallait bien un jour faire cette plaisante marche en forêt.
Finally, the last remarkable point, the tilery, « has now completely disappeared » – a bit like all the other remarkable points of the ride. Do not sulk our pleasure. We walked eight kilometers instead of six advertised (which would have made us hesitate). We are not exhausted, we had to make one day this pleasant walk in the forest.
Rentrée des classes – Back to School
C'est un peu la panique le premier jour d'école, surtout pour les nouveaux élèves, mais au bout d'un moment les enseignants rétablissent l'ordre.
There's a huge panic the first day of school, especially for new students, but after a while teachers restore order.