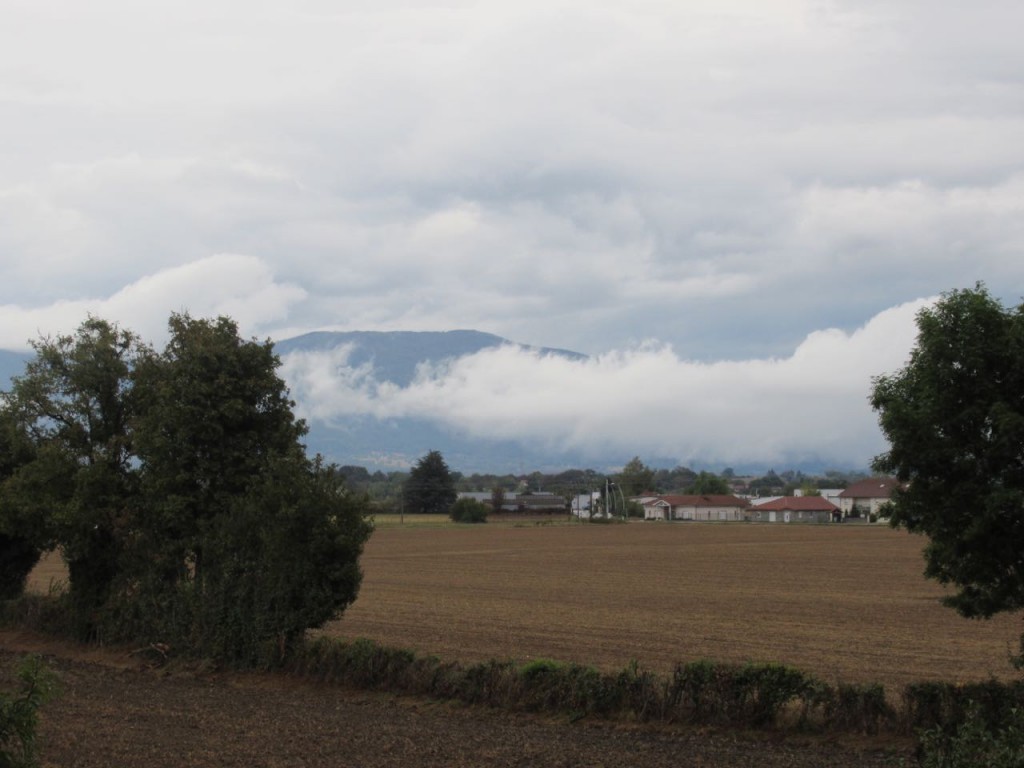 30 août — August 30
Paul a eu un jour besoin d'une photo d'Innimond pour illustrer son blog : Innimond, c'est le nom que nous donnons à tort au massif visible depuis la fenêtre. D'ici nous ne voyons pas le Rhône, qui le longe et marque la limite des départements de l'Isère et de l'Ain. Sur le plan géologique, cette élévation est la limite du massif du Jura et la région, c'est le Bugey.
Paul once needed a photo of Innimond to illustrate his blog: Innimond is the name we mistakenly give to the mountain range visible from the window. From here we do not see the Rhône, which runs alongside it and marks the limit of the departments of Isère and Ain. Geologically, this elevation is the limit of the Jura massif and the region is Bugey.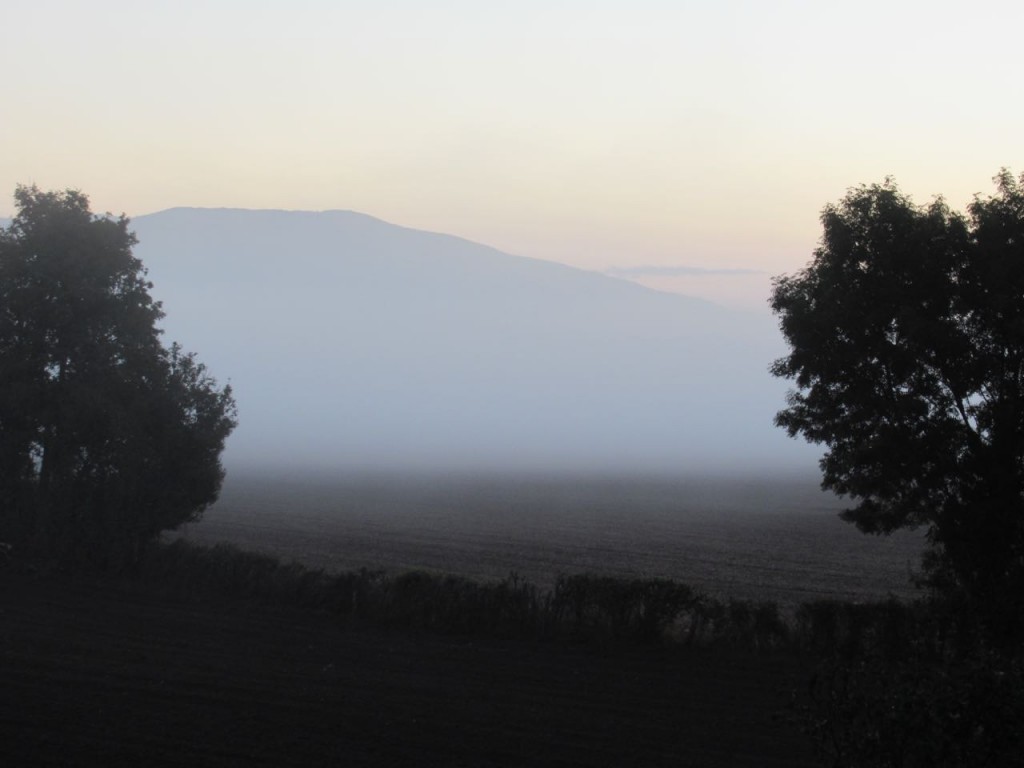 1er septembre — September 1

Nous ne voyons pas non plus Innimond, village posé sur un plateau et que le relief nous cache. Appeler cette vue « Innimond », c'est une convention entre nous. Cette grande colline, ou cette petite montagne, n'a rien d'extraordinaire, mais nous avons mille raisons d'y porter notre regard. Il y neige plus souvent que chez nous, parfois il y pleut quand nous tirons la langue sous la sécheresse.
We do not see Innimond either, a village set on a plateau and hidden from us by the relief. Calling this view « Innimond » is a convention between us. This great hill, or this little mountain, is nothing out of the ordinary, but we have a thousand reasons to look at it. It snows more often than at home, sometimes it rains when we stick our tongue out in the drought.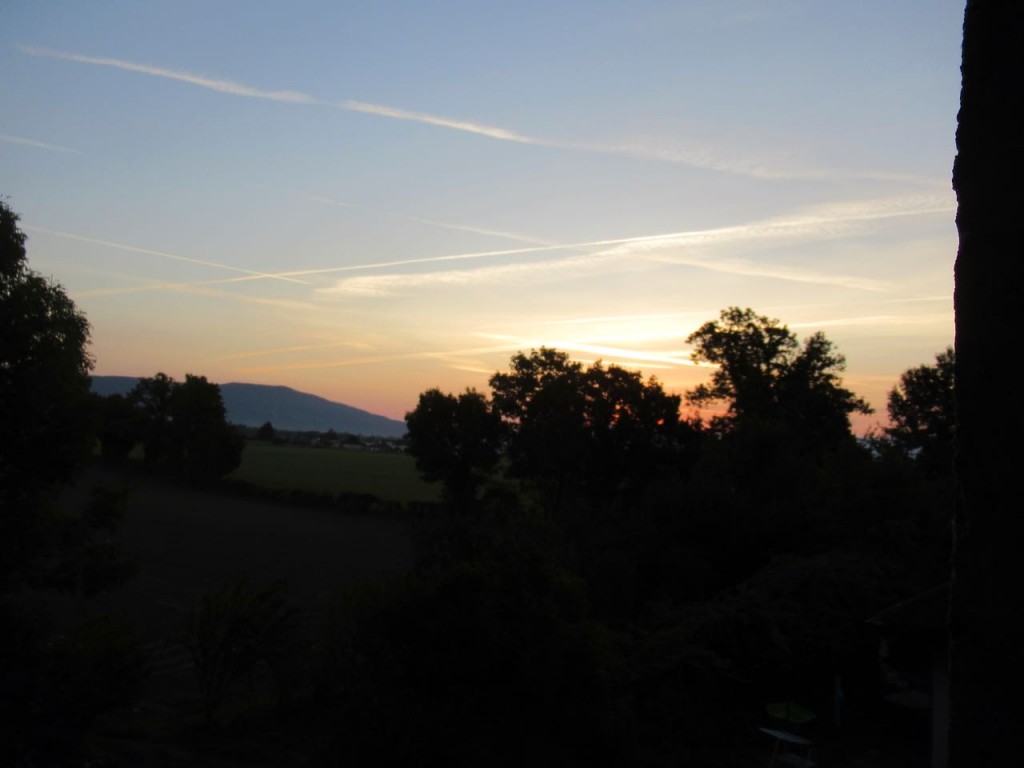 12 septembre — September 12

J'ai eu du mal à trouver un cliché pour Paul, pourtant, je me poste souvent à cette fenêtre. C'est de là que je surprends les voleurs de tondeuse (d'accord, ça ne s'est produit qu'une fois), c'est de là que je guette les chats qui ont fort à faire entre les murs à escalader, le toit de tuiles pour se prélasser au soleil quand il y en a (du soleil, les tuiles il y en a tout le temps), et plus loin en arrière la surveillance de la mare et de son peuple aquatique. L'autre jour, un moineau picorait gaiement les baies de l'ampelopsis, surveillé à moins de cinquante centimètres par un miron tout émoustillé, mais le piaf, pfff, a pris son envol. Quel dommage, je n'avais pas mon Canon sous la main…
It has been difficult coming up with a snapshot for Paul, yet I often post at this window. This is where I see lawnmower thieves (okay, it only happened once), this is where I watch for cats who have a hard time, climbing walls, basking in the sun on the tiled roof when there is some (sun, the tiles there all the time), and further back keeping an eye on the pond and its aquatic people. The other day, a sparrow was cheerfully pecking at the berries of the ampelopsis, watched less than two feet away by a very excited cat, but the bird, pfff, took flight. What a pity, I didn't have my Canon handy …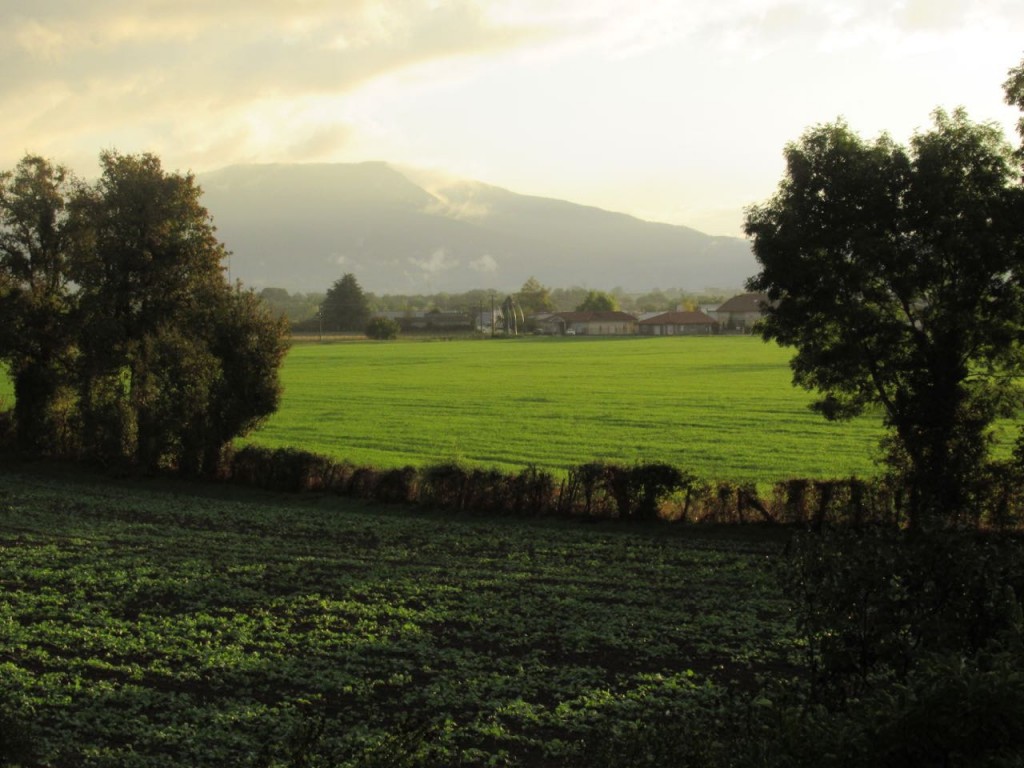 26 septembre — September 26

Depuis le jour où Paul a cherché une photo, j'ai regardé « Innimond » d'un autre œil. Ou plutôt, au travers  de l'œil mécanique de mon Canon. En même temps que je l'observais, me revenaient certains mots de Tony Hillerman dont je crois avoir lu tous les livres : Hillerman a écrit de nombreux polars dont les héros font partie de la police tribale navajo, et ont affaire aussi bien aux Blancs qu'aux Navajos ou aux Hopis. Il avait une très grande connaissance de ces peuples.
From the day Paul looked for a picture, I have looked at « Innimond » differently. Or rather, through the mechanical eye of my Canon. At the same time as I observed it, certain words came back to me from Tony Hillerman whose books I think I have all read: Hillerman has written many thrillers whose heroes are part of the Navajo tribal police, and deal with both whites and 'to the Navajos or the Hopis. He had a great knowledge of these people.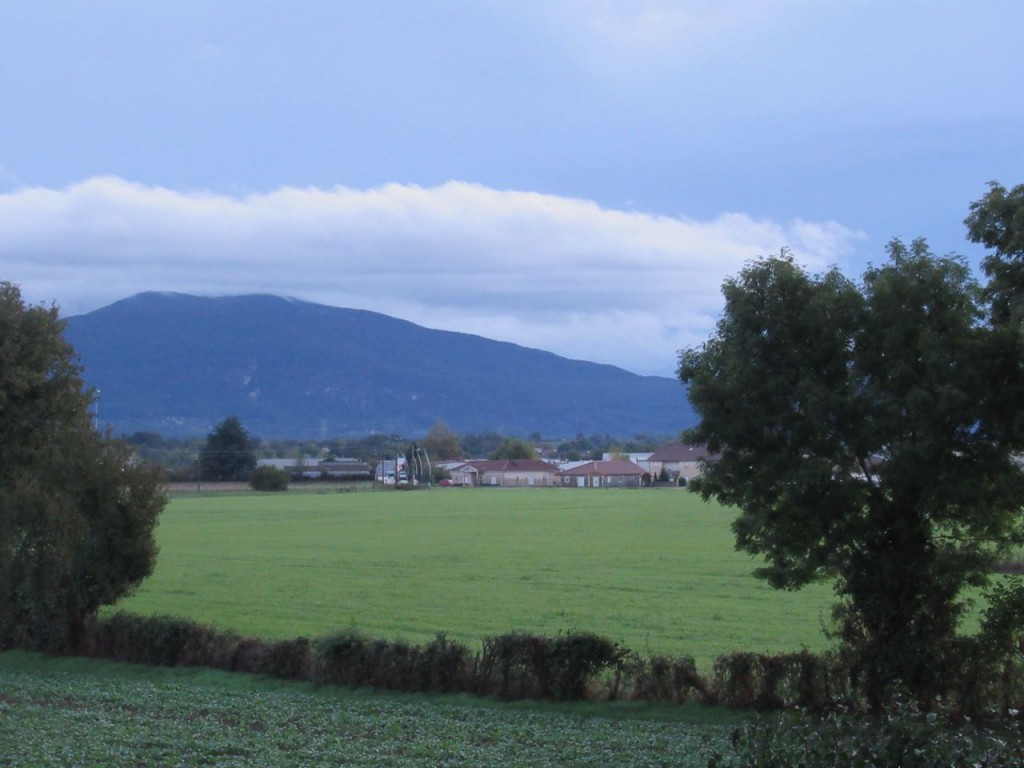 3 octobre — October 3

Hillerman ne pouvait écrire un roman sans avoir visité les lieux où se déroulait l'action. Il lui fallait donc les visiter, les explorer à fond, s'en imprégner, ce qui lui permettait de rédiger de magnifiques descriptions. Il te proposait en quelque sorte de regarder un lieu par tous les temps, toutes les saisons, toutes les heures du jour ou de la nuit. Lui-même avait examiné si intensément une immense collection de lieux qu'il pouvait sans quitter son siège évoquer l'infinie diversité de chacun d'entre eux.
Hillerman couldn't write a novel without having visited the scene of the action. So he had to visit them, explore them thoroughly, soak up them, which allowed him to write magnificent descriptions. He kind of suggested that you look at a place in all weather, all seasons, all hours of the day or night. He himself had examined a huge collection of places so intensely that he could evoke the infinite diversity of each one without leaving his seat.
Merci Tony, grâce à tes paroles m'est venue l'idée de proposer à mes lecteurs un lieu unique à regarder sous toutes les coutures : depuis le mois de janvier, j'ai accumulé pas loin de cinq cents prises de vue de ce massif.
Thank you Tony, thanks to your words, I got the idea of offering my readers a unique place to look at from every angle: since January, I have accumulated close to five hundred shots of this massif .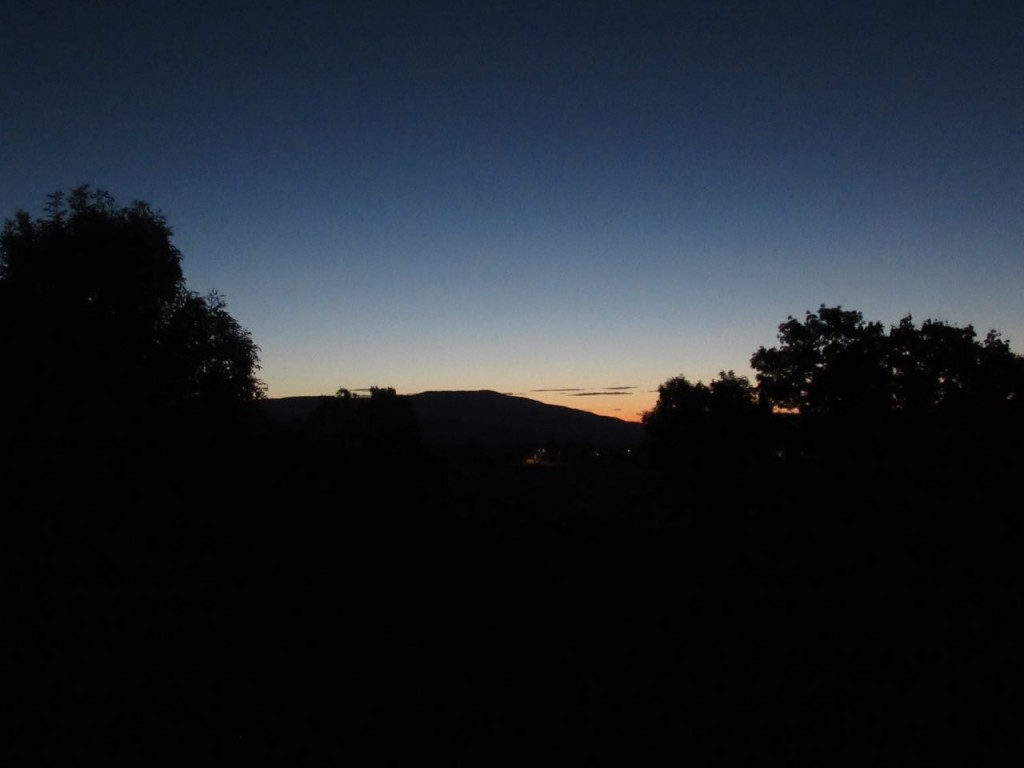 PRÉSENTATION DES LIEUX
Depuis la fenêtre, je vois, de gauche à droite,
- la zone qui sert de parking et les deux sapins plantés si serrés qu'on n'en voit qu'un…
PRESENTATION OF PLACES
From the window I see, from left to right,
- the area that serves as a parking lot and the two fir trees (fir ? Abies) planted so tightly that we only see one …
… puis le toit du hangar (l'abri des tondeuses) et un bout de la maison de Lolo…
… then the roof of the shed (the shelter of the mowers) and a small part of Lolo's house …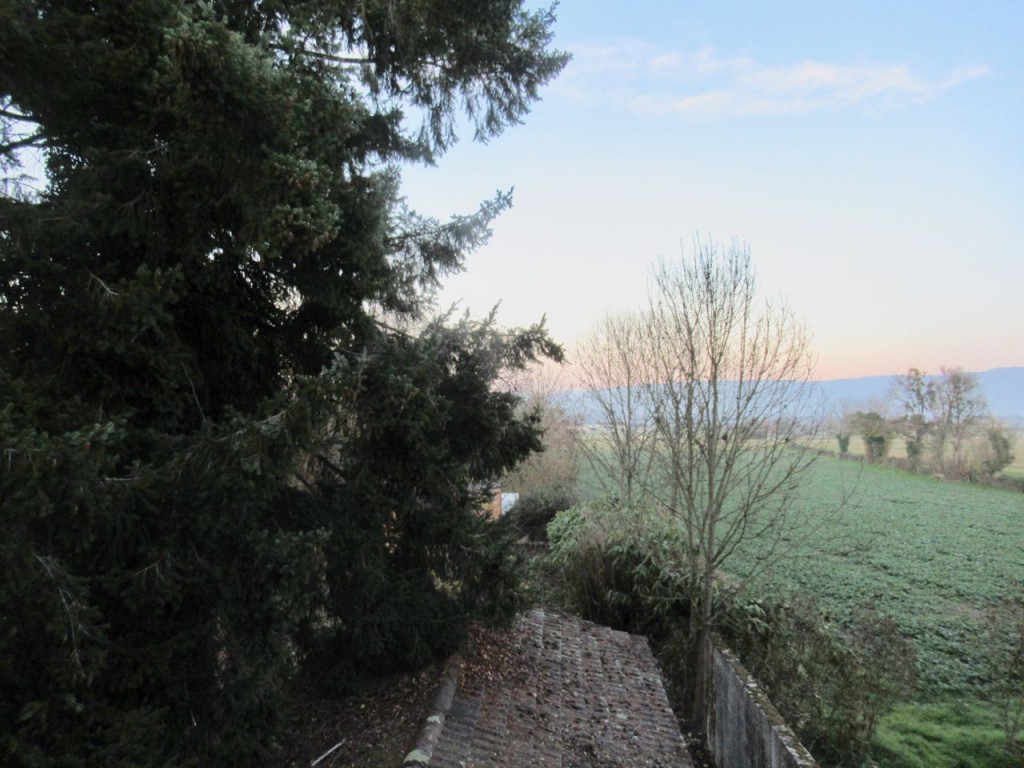 …et enfin au premier plan un champ de choux, ensuite une prairie avec des balles rondes que vous aurez l'occasion de revoir, puis une moche zone artisanale et commerciale et enfin au fond, en bleu, ce que nous appelons Innimond. En prime, vue imprenable sur la lune à son lever.
… and finally in the foreground a field of cabbage, then a meadow with round bales that you will have the opportunity to review, then an ugly artisanal and commercial area and finally in the background, in blue, what we call Innimond. As a bonus, breathtaking view of the moon as it rises.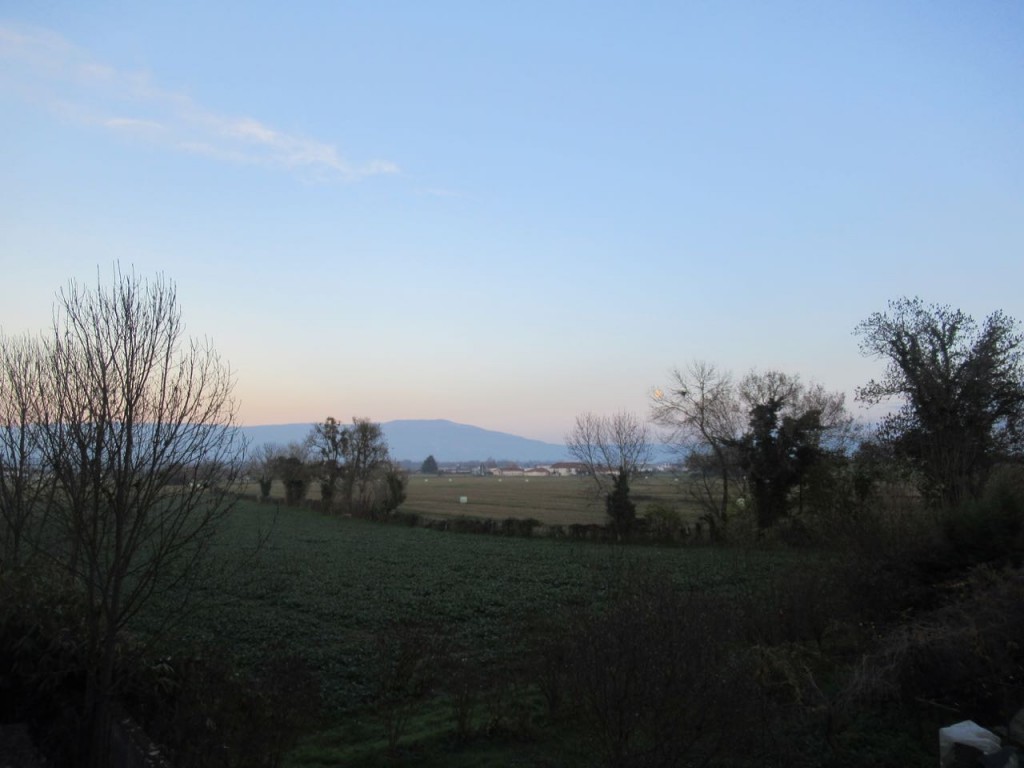 DE PLUS PRÈS
J'ai pris l'habitude de cadrer mes photos dans la trouée de la haie qui sépare les choux et la prairie. Vous voyez des falaises qui s'inclinent vers la droite (l'est). Elles ne s'inclinent pas réellement, elles sont rigoureusement immobiles, elles me servent de repère.
CLOSER
I got used to framing my photos in the gap in the hedge between the cabbages and the meadow. You see cliffs that slope to the right (east). They don't actually bow, they are rigorously motionless, they serve as a benchmark.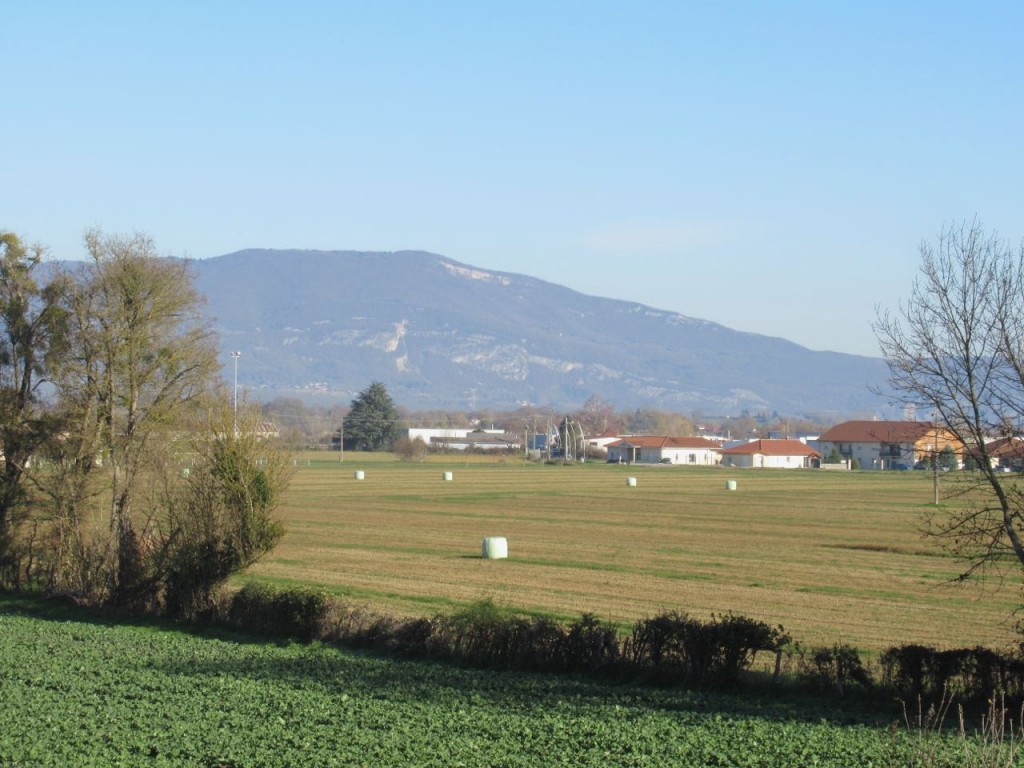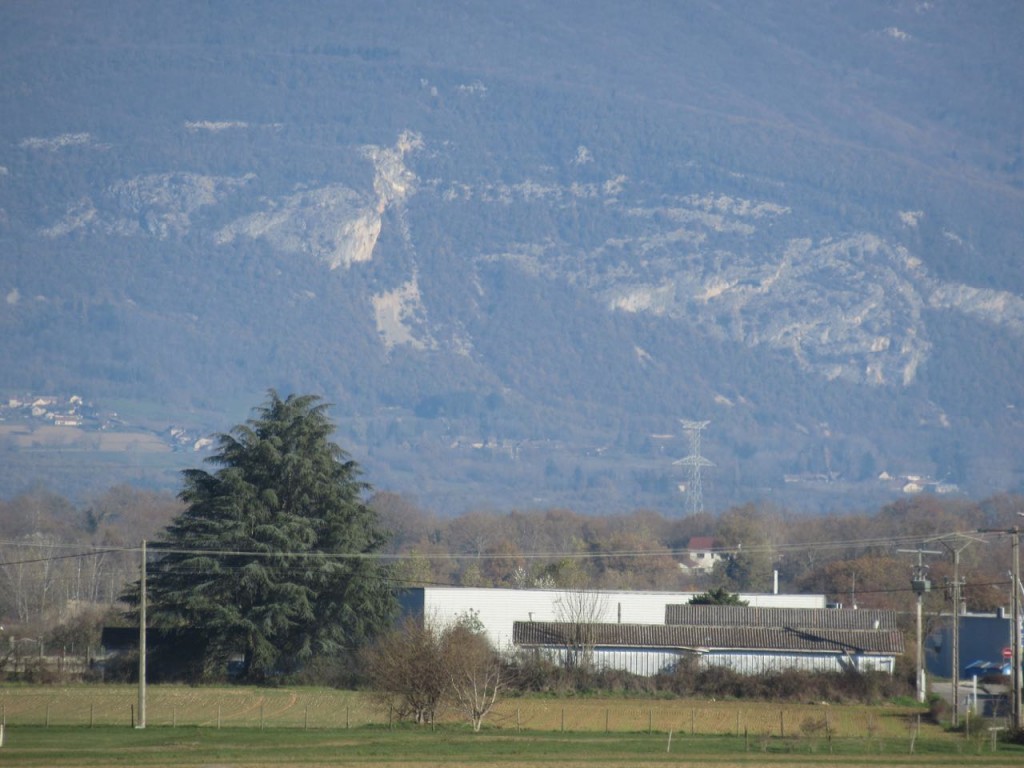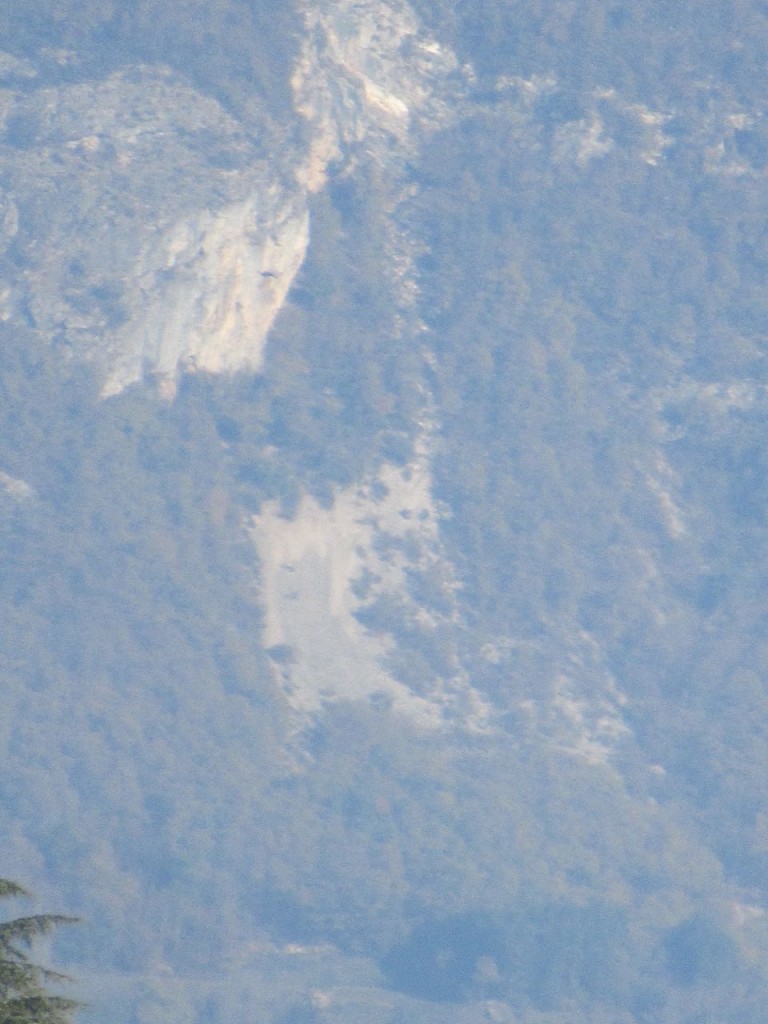 Je finis par connaître suffisamment cet endroit pour le reconnaître lors de nos balades en vélo, ici à Daleignieu – pour ceux qui connaîtraient ! (À droite, les falaises et l'éboulement caractéristiques)…
I end up knowing this place well enough to recognize it during our bike rides, here in Daleignieu – for those who would know! (To the right, the characteristic cliffs and landslide) …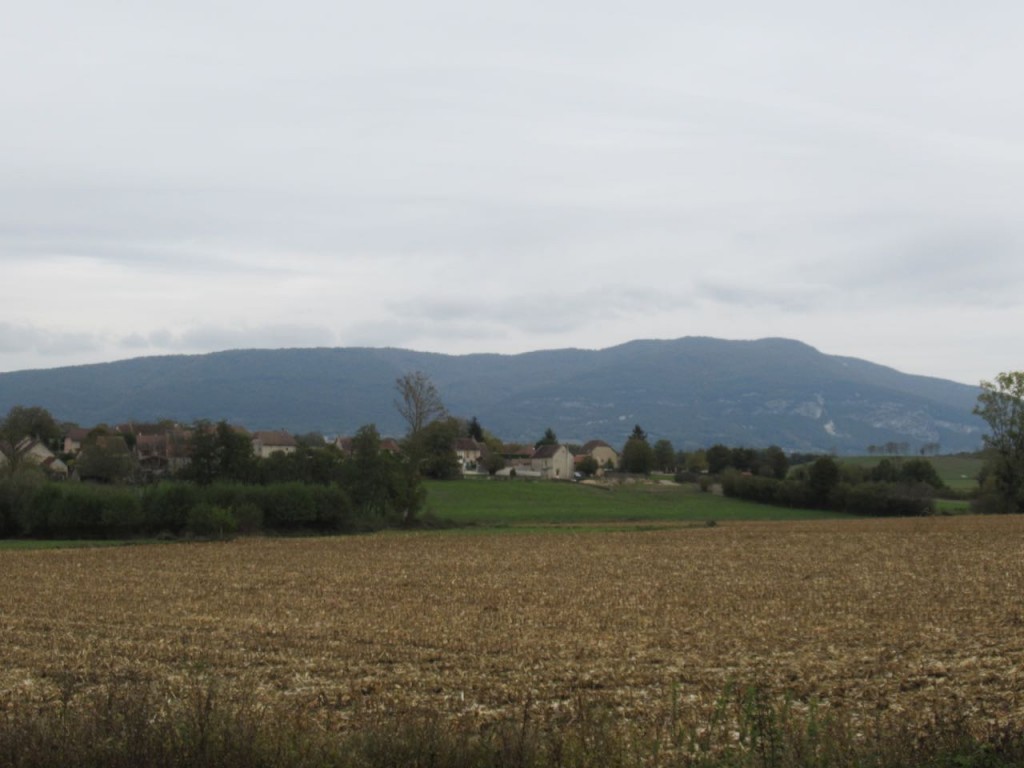 …ou encore là, au bord du Rhône.
… or there, on the banks of the Rhône.

Un soir, en février, sur la route de Passins
One evening, in February, on the road to Passins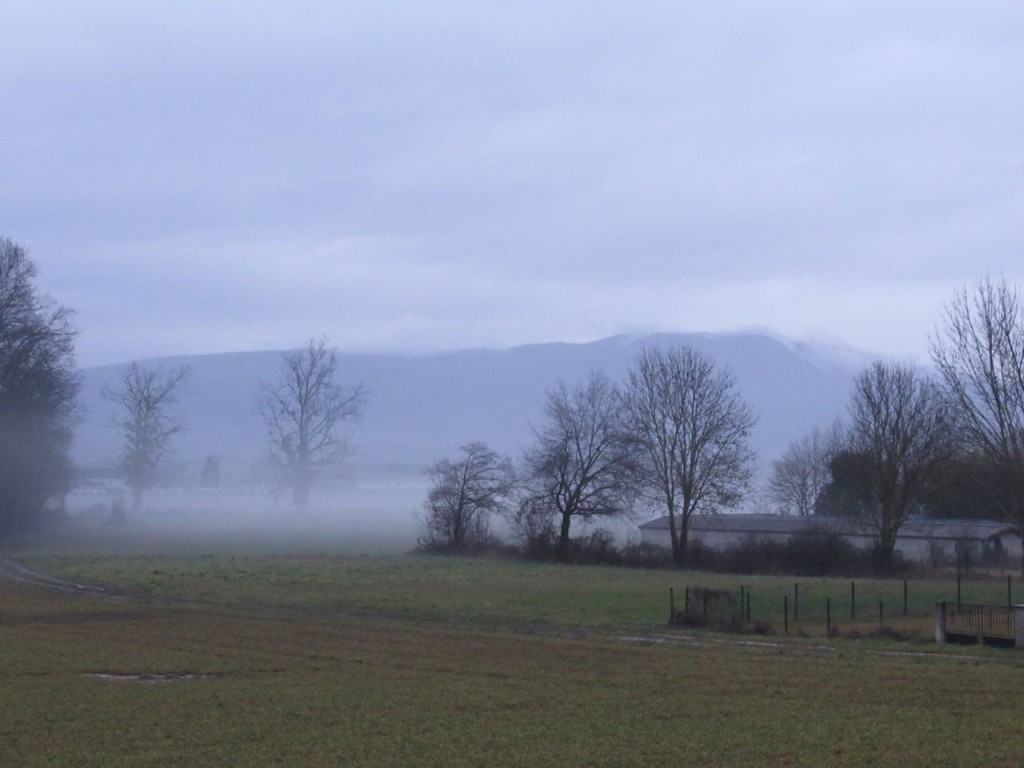 Même lieu, un autre jour
Same place, another day
4 février 15 h 43
February 4 3:43 p.m.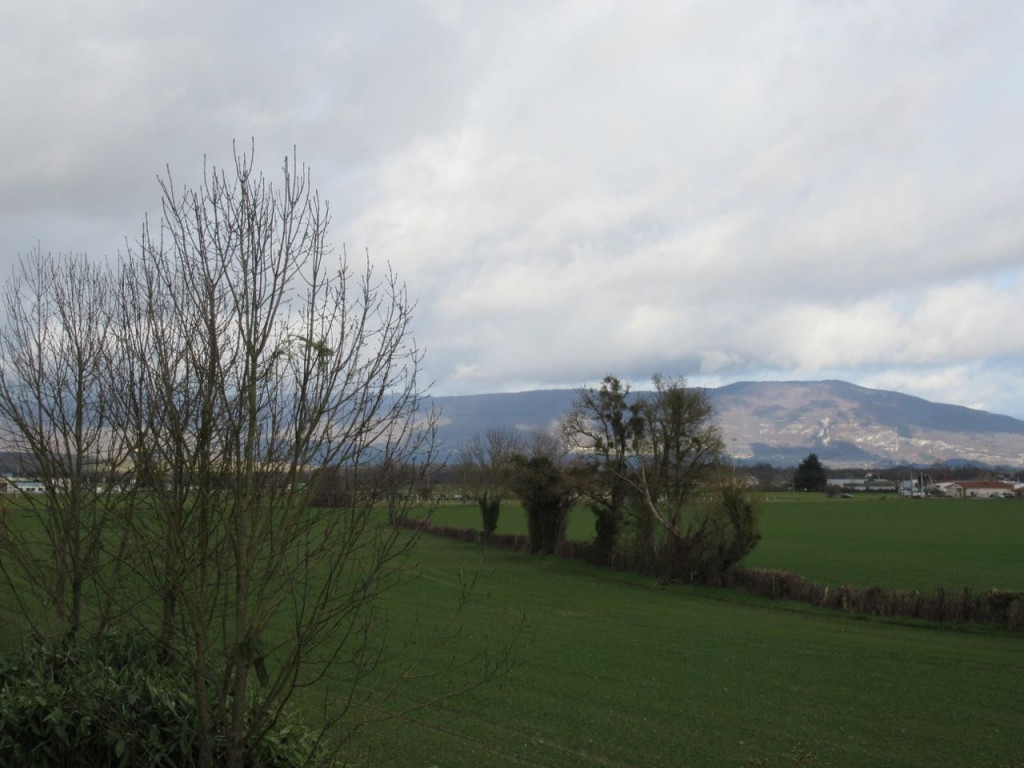 15 h 59
3:59 p.m.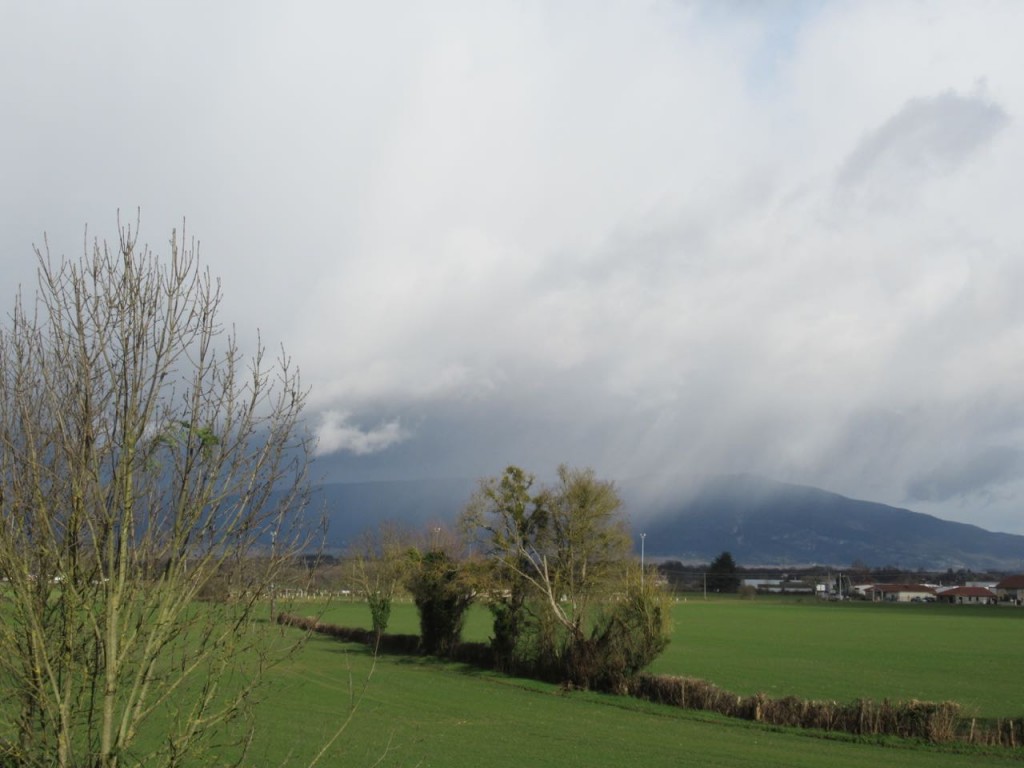 Mon regard est attiré par le soleil levant, comme un trou dans ma photo. Il est neuf heures moins le quart le 22 février, le jour se lève tard !
My eyes are drawn to the rising sun, like a hole in my photo. It is a quarter to nine on February 22, the day is breaking late!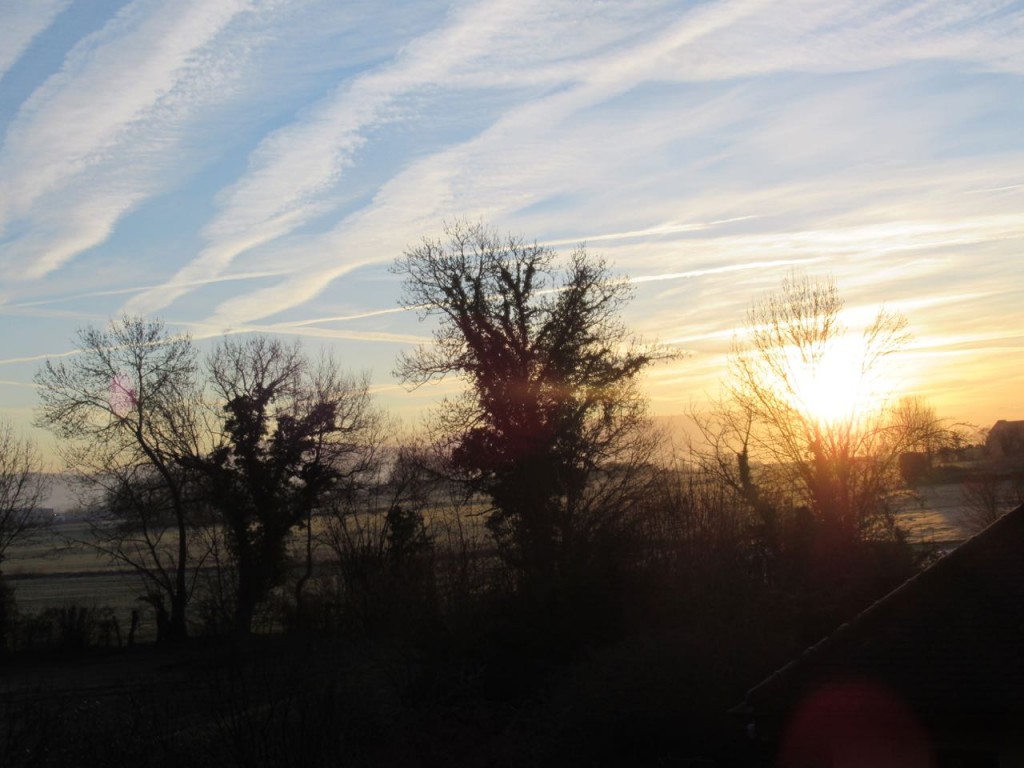 Jour de froid, de neige, 15 septembre 2019
Cold, snowy day, September 15, 2019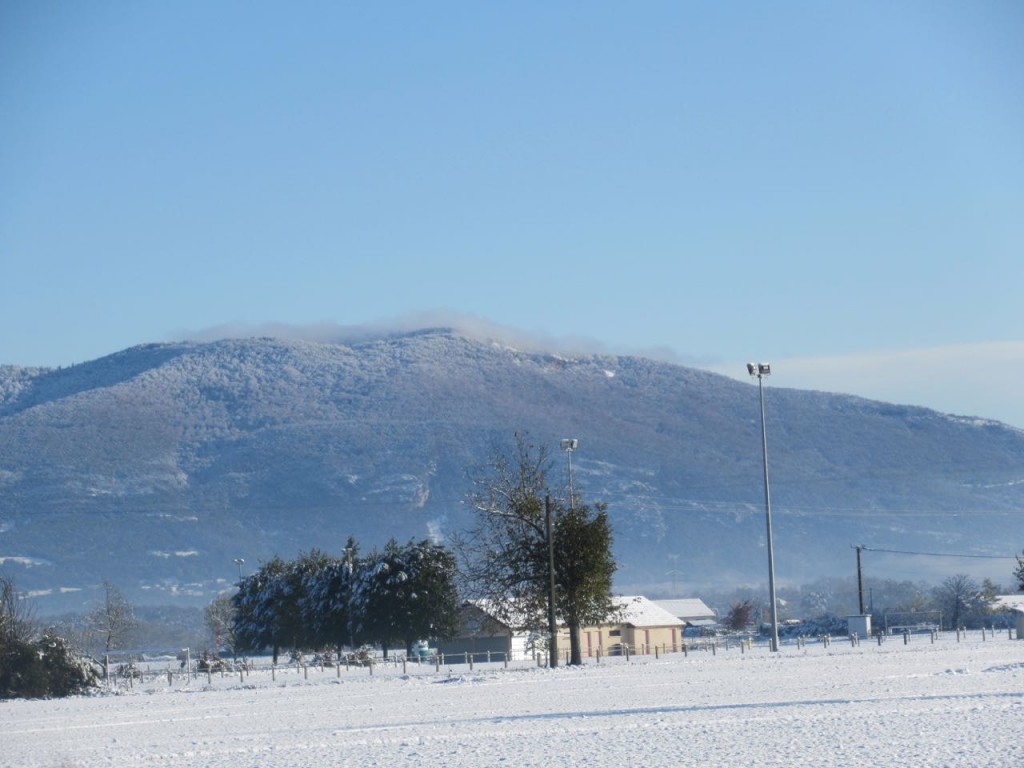 Caché ! — Hidden !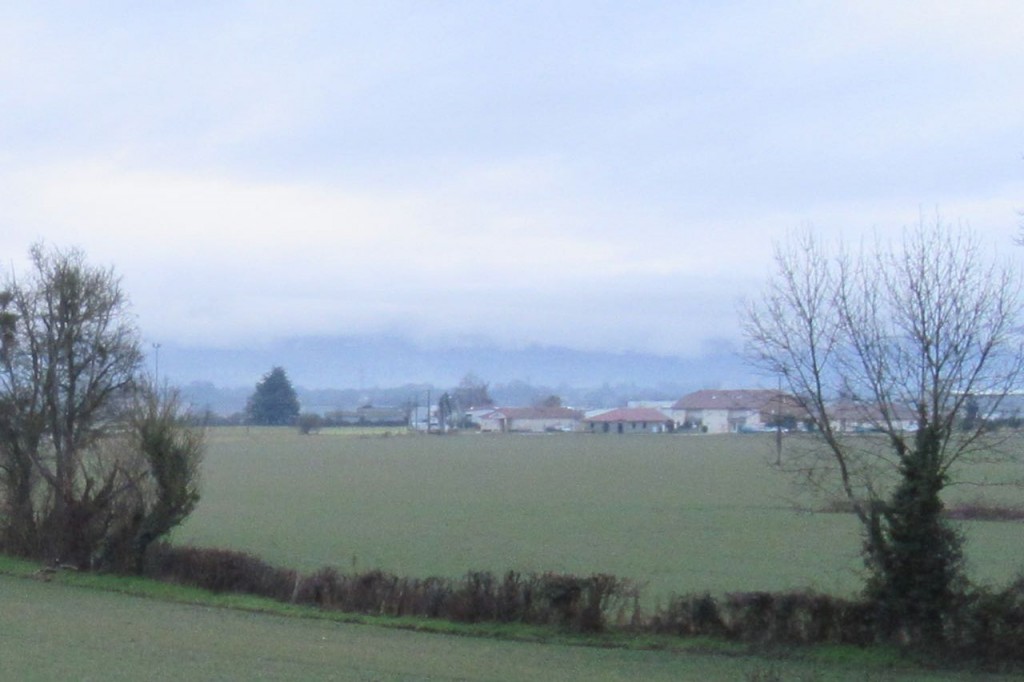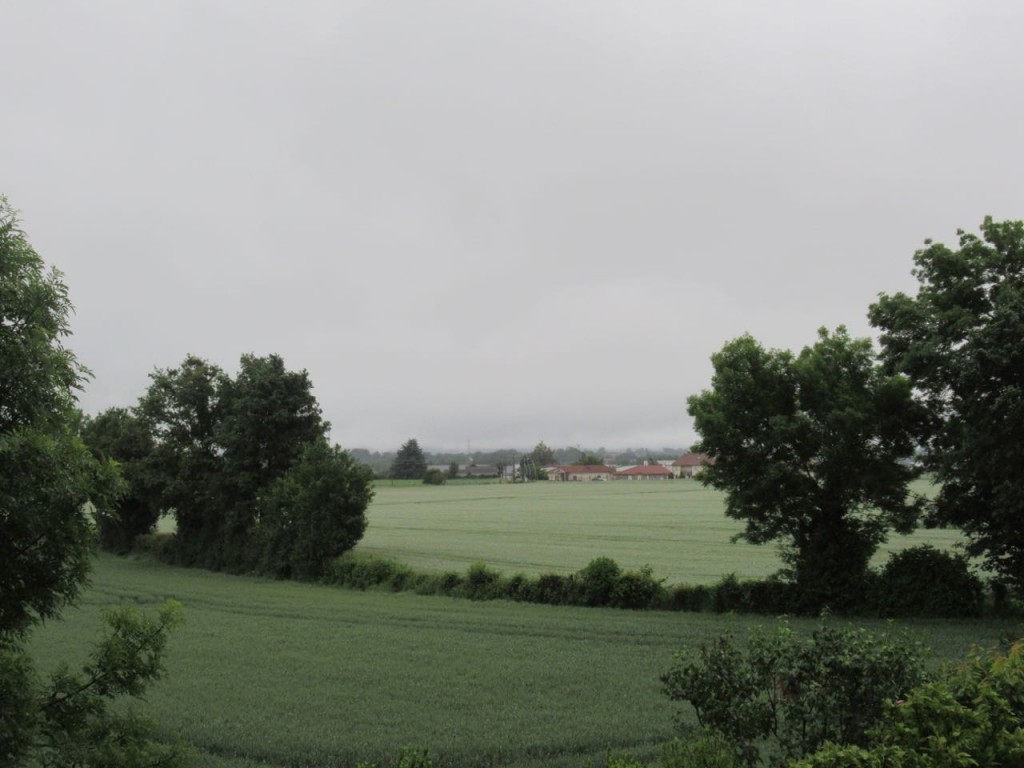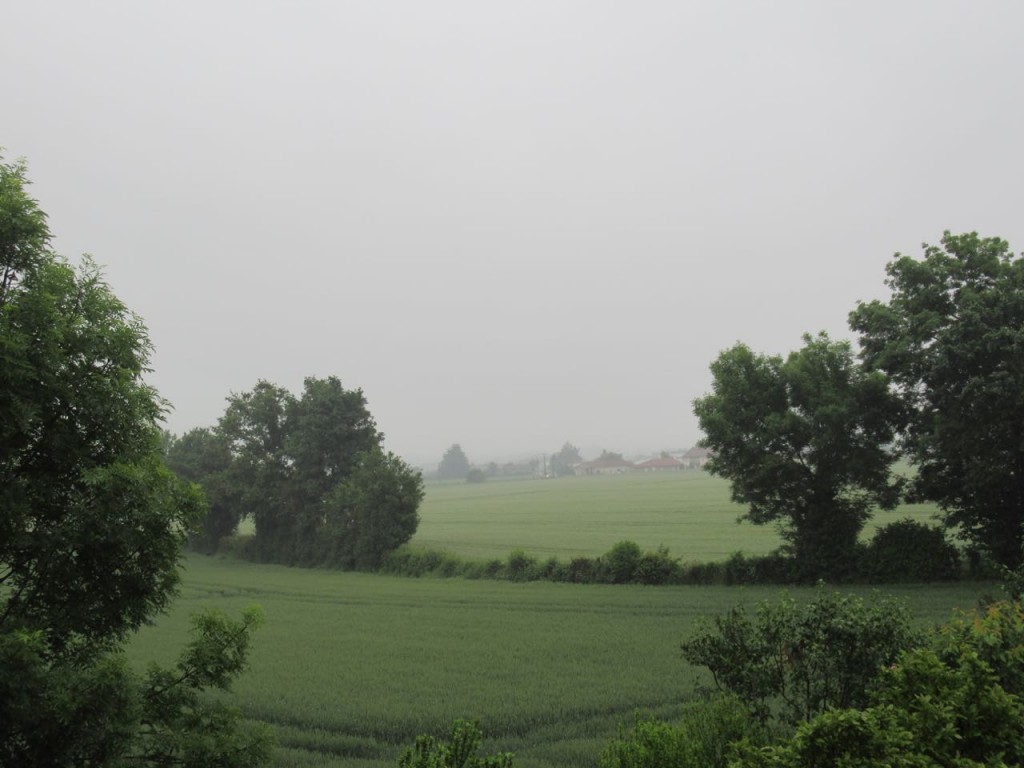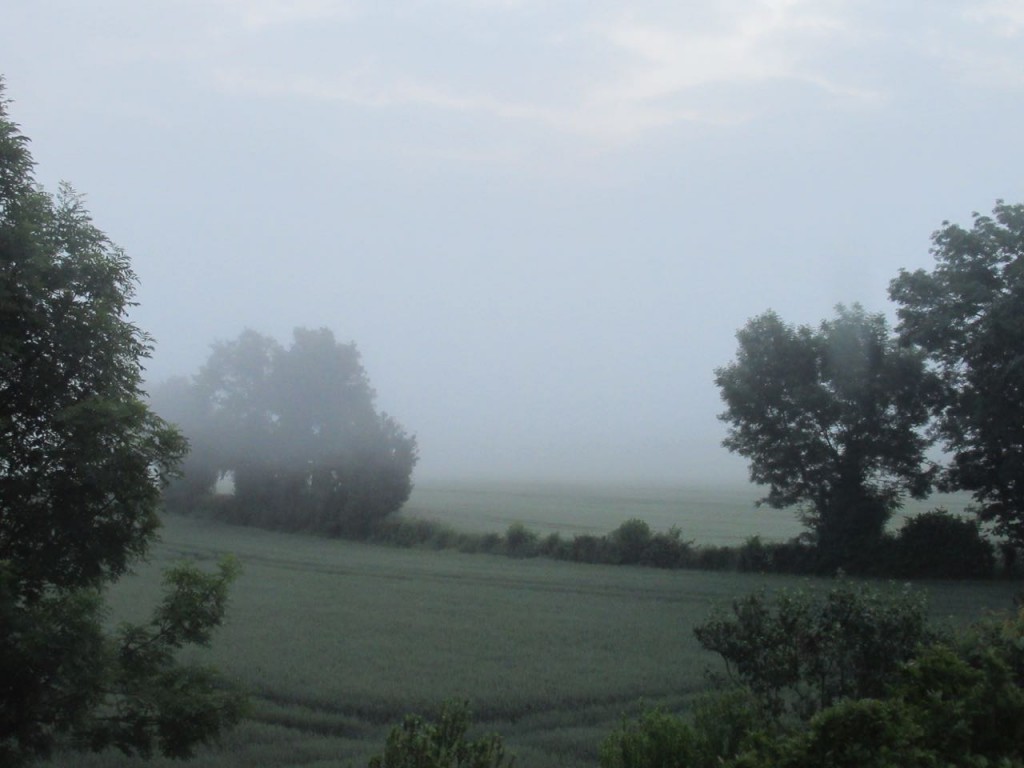 La même, différente à chaque fois
The same, different every time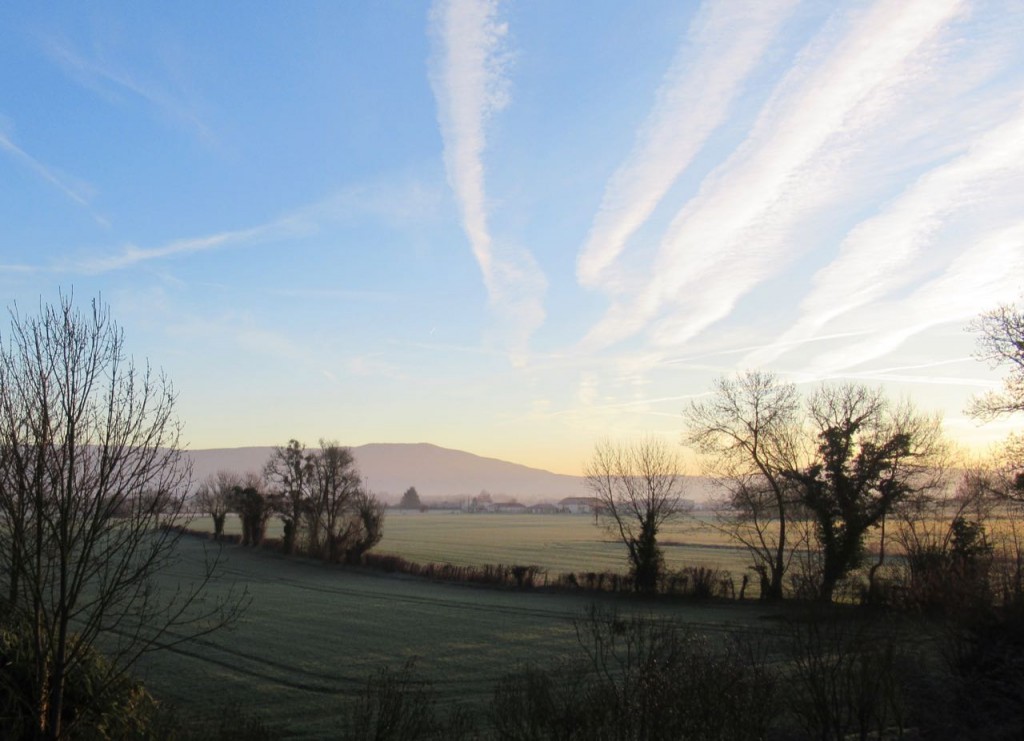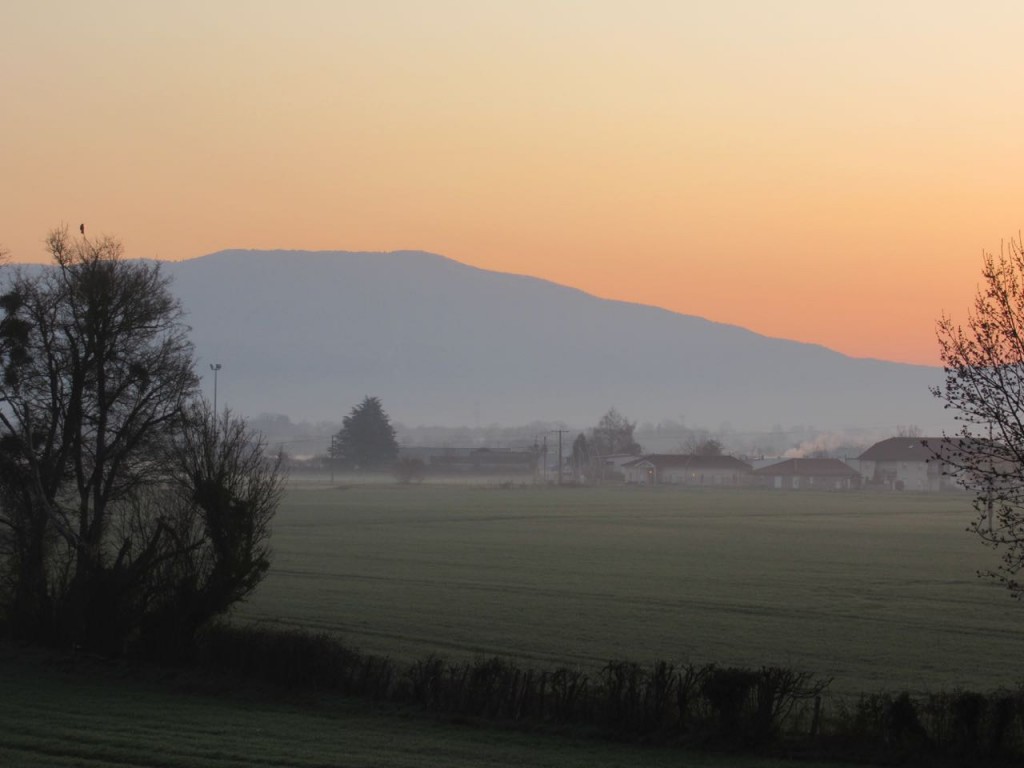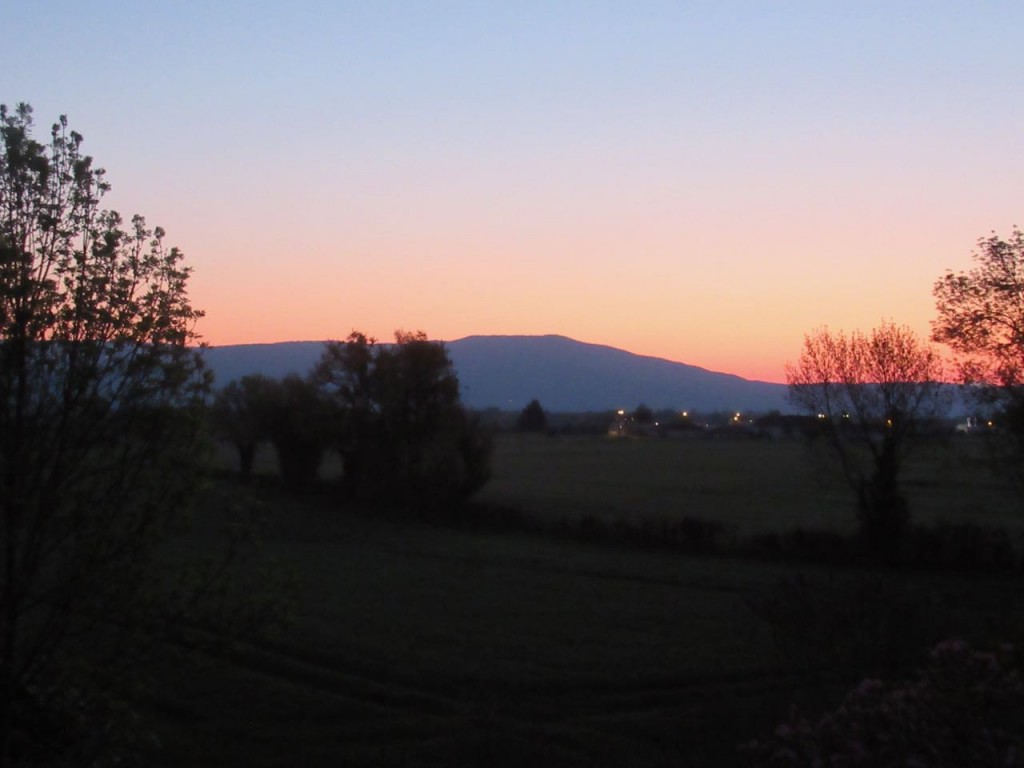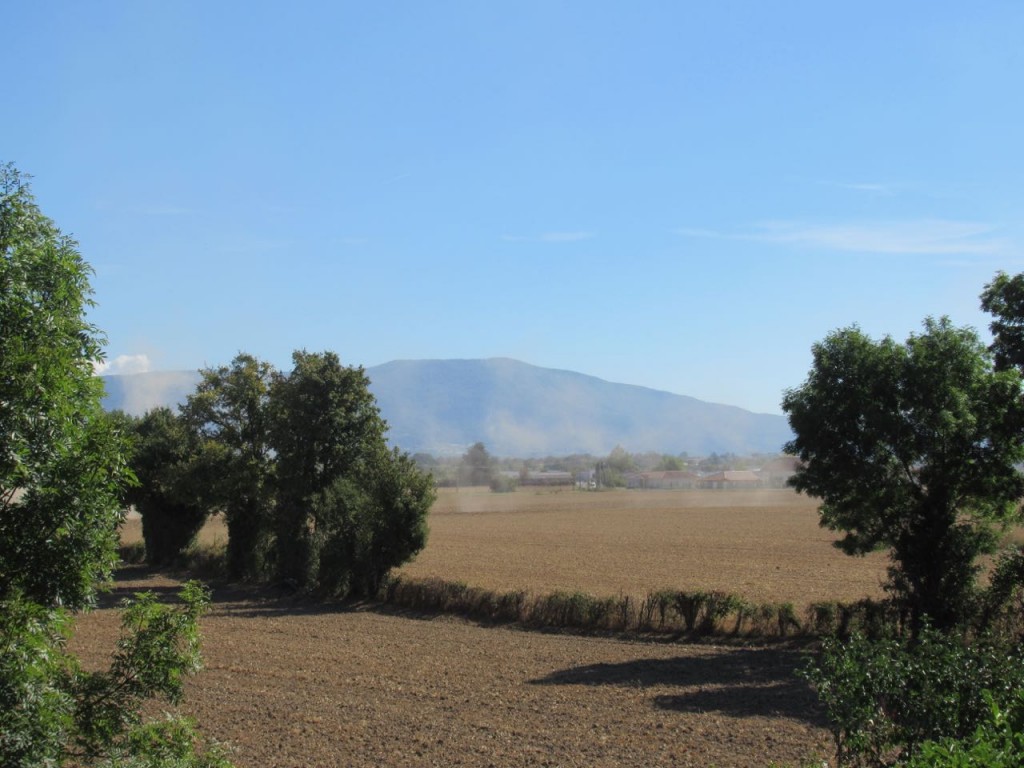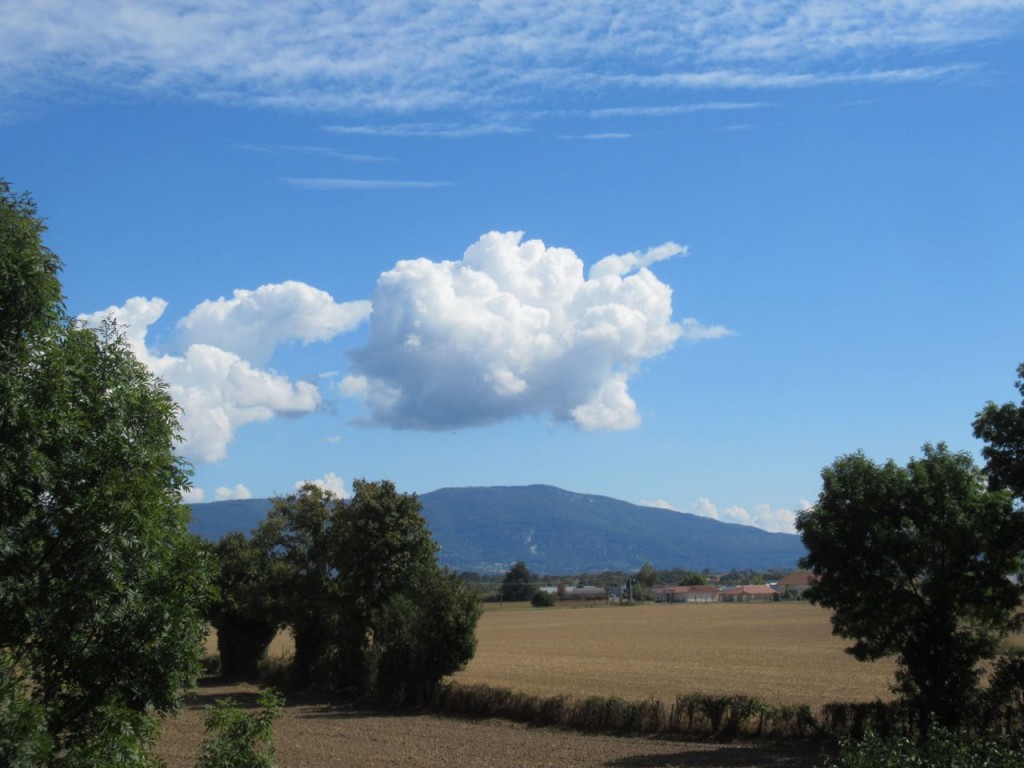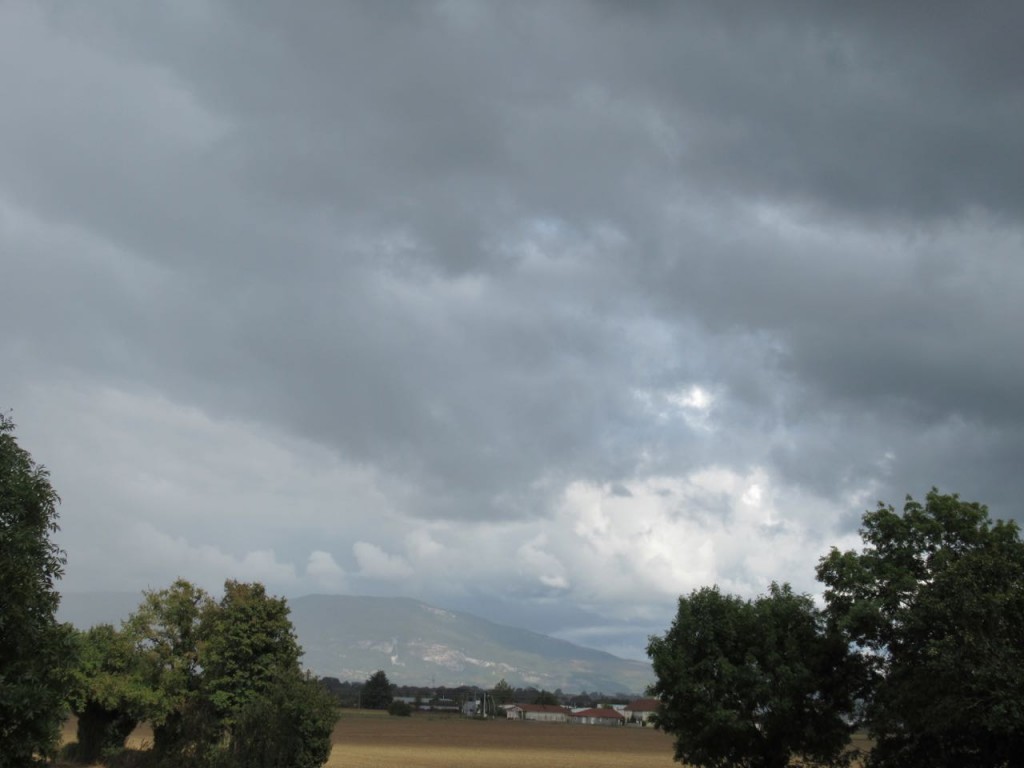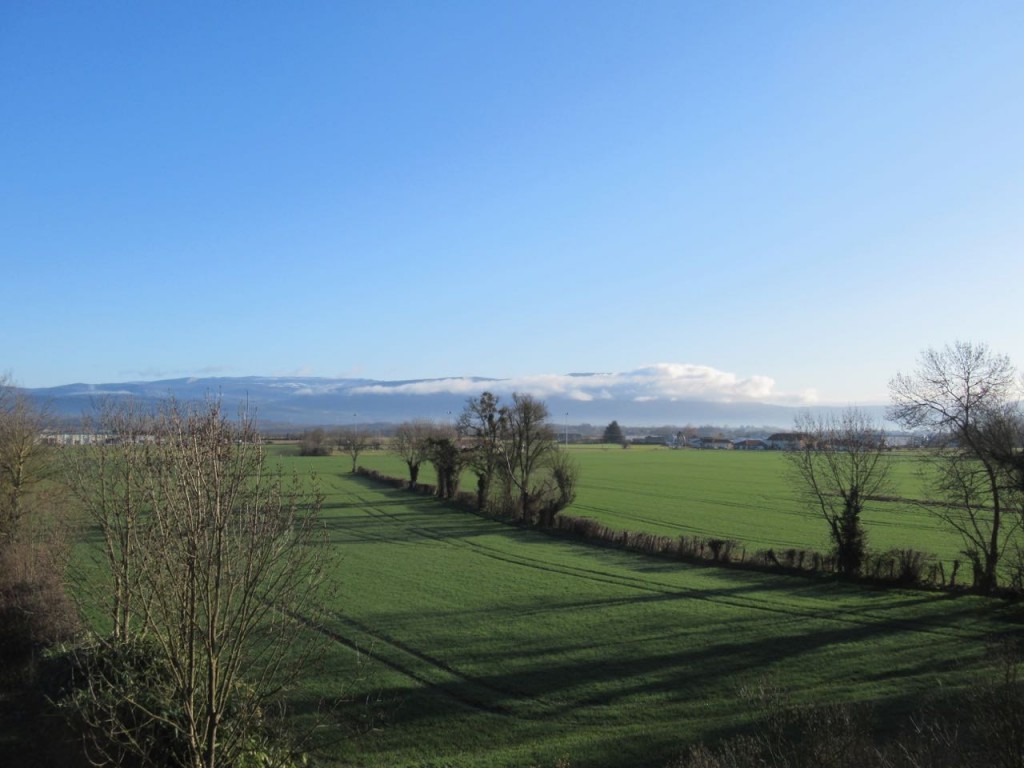 Il nous arrive de savoir où se cache le Rhône, quand un long ruban de brume suit son cours
Sometimes we know where the Rhône hides, when a long ribbon of mist takes its course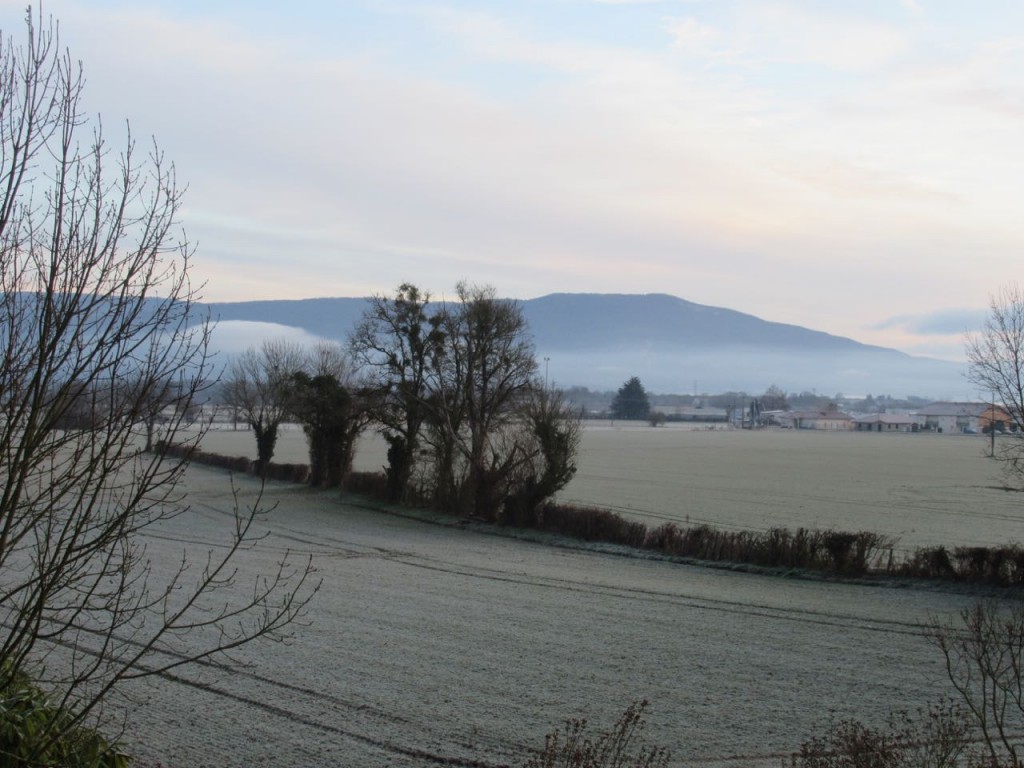 À l'envers dans la fenêtre
Upside down in the window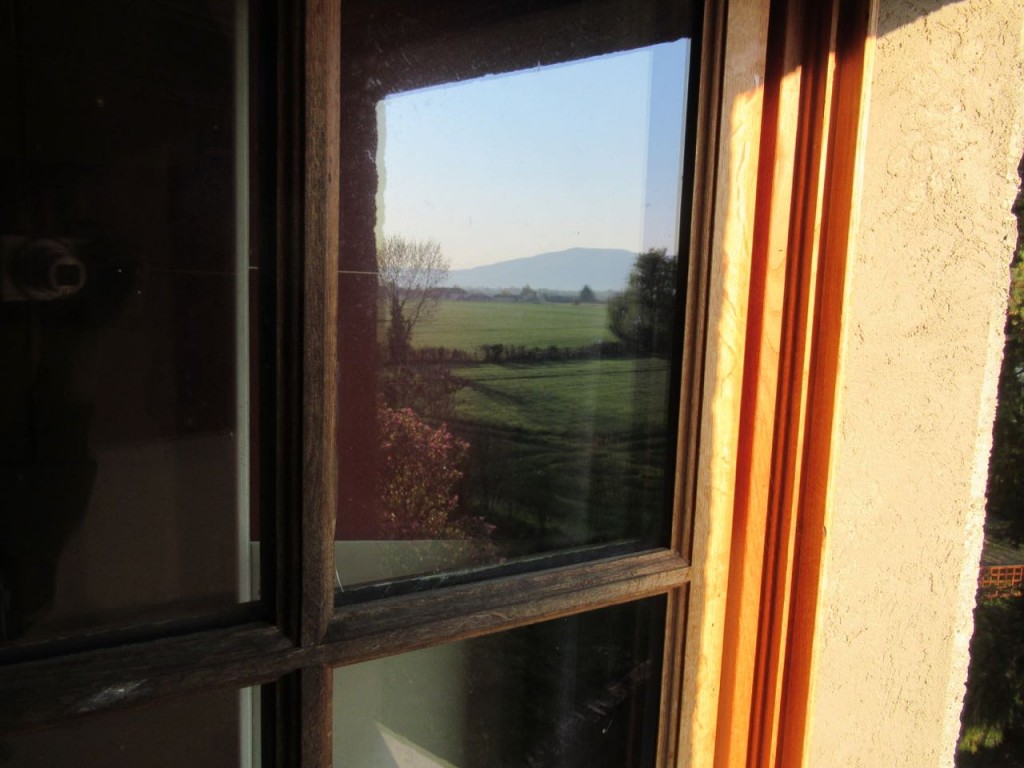 De toutes les couleurs…
Of all the colors…