Voilà le chien, maintenant je peux passer à autre chose…
Here is the dog, now I can move on…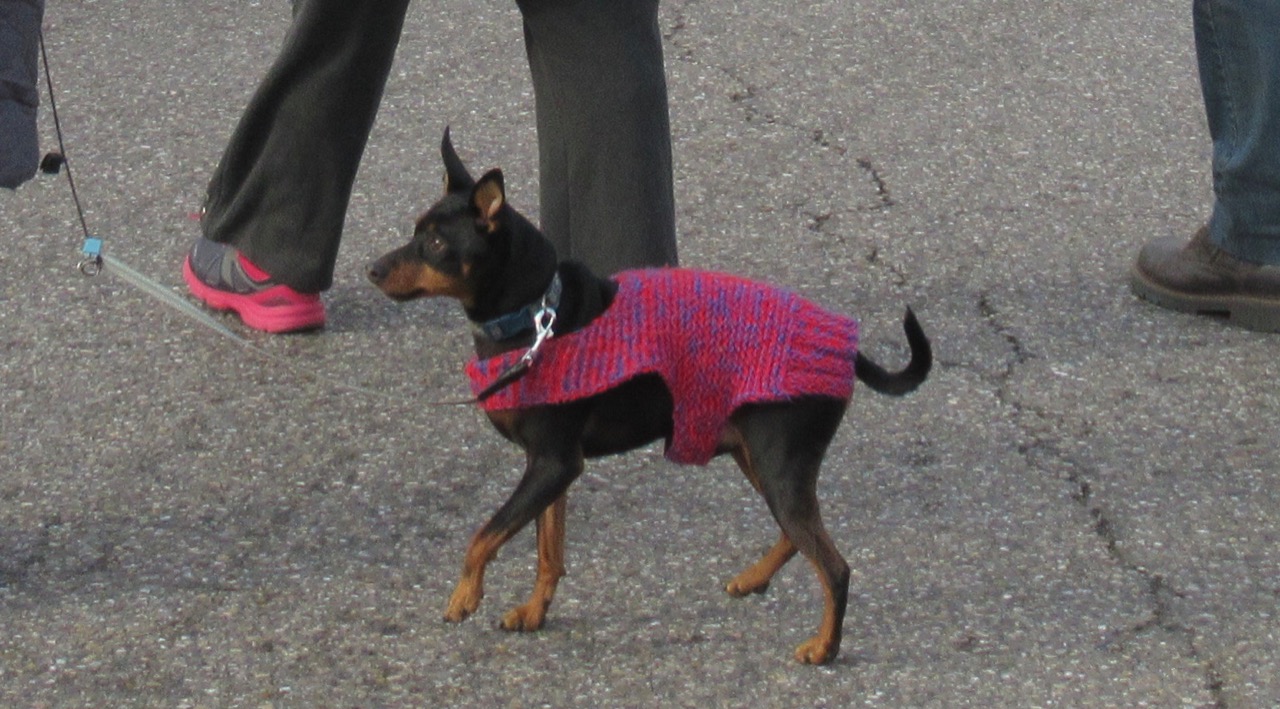 Quand Odette m'a vue avec mon Canon, elle a tout de suite deviné de quoi parlerait ma prochaine chronique.
When Odette saw me with my Canon, she immediately guessed what my next column would be about.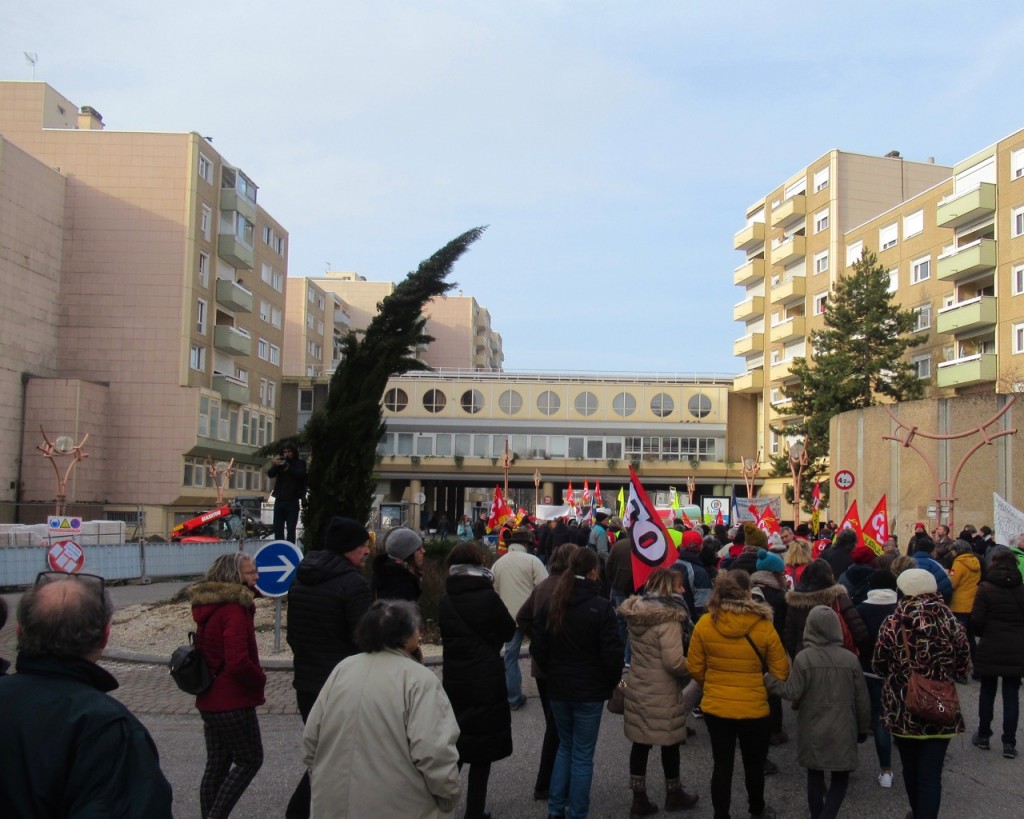 J'ai entendu sur France Culture l'interview d'une femme retraitée qui gagne 940 euros par mois. Sa hantise étant de se retrouver à la rue, elle paye en priorité son loyer. La banque lui facture tous les incidents bancaires (chèque rejeté par exemple), qui se succèdent en permanence dans sa situation. Ainsi il y a eu un mois où elle a payé plus de 170 euros de frais bancaires.
I heard on France Culture the interview of a retired woman who earns 940 euros per month. Her obsession being ending up on the street, she pays her rent as a priority. The bank invoices her for all banking incidents (check rejected for example), which follow one another permanently in her situation. So there was a month when she paid more than 170 euros in bank charges.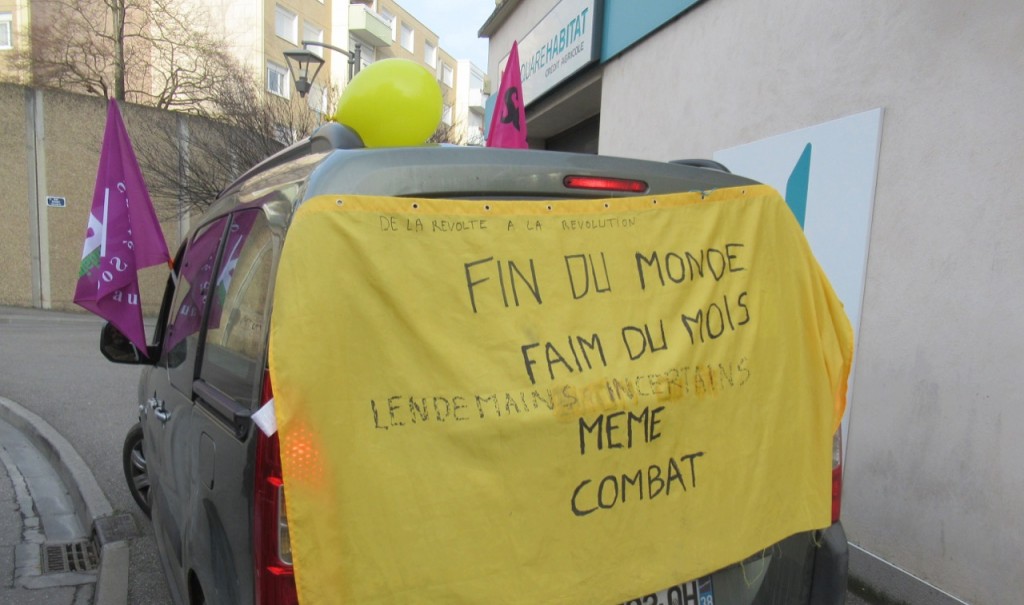 From revolt to revolution
end of the world
hunger of the month
uncertain tomorrows
same fight

L'émission expliquait que les Français à bas revenus étant très nombreux… ils représentent une manne pour les banques. Elles réussissent à leur extorquer un mois par an de leurs revenus en frais bancaires.
The program said that there are so many low-income French people … they represent a windfall for the banks. They manage to extort one month a year from their income in bank charges.

Yago racontait un jour avec consternation comment un responsable, lors d'une journée de formation, concluait une intervention en expliquant que chacun doit vénérer le Dieu Argent.
Yago was telling with consternation one day how a leader, during a training day, concluded an intervention by explaining that everyone should worship the Silver God.
Comment nous sortir de tout ça ? L'argent qui dirige le monde, rend le vol légal, et condamne à plus de pauvreté encore ceux qui en manquent, les retraites bientôt jouées à la roulette russe…
How to get out of this? The money that runs the world, makes theft legal, and condemns those who lack it to even more poverty, the pensions soon to be played on Russian roulette …

Voyant mon Canon, une dame me demande si je filme, si je suis journaliste : « Non, je fais des photos pour mon blog.
- Alors parlez du livre "les voraces" dans votre blog » me demande-t-elle.
J'en parle donc, voici ce que j'ai trouvé chez amazon :
« Jamais autant de hauts fonctionnaires n'ont pantouflé à prix d'or dans le privé.
Jamais autant de ministres n'ont été multimillionnaires.
Jamais autant de responsables politiques, et non des moindres, ne sont devenus lobbyistes ou avocats d'affaires…
Comment en est-on arrivé là ? Pourquoi la situation a-t-elle empiré sous Macron ?
Après deux ans d'enquête et grâce à une quarantaine de témoignages inédits, Vincent Jauvert révèle les moeurs de ces élites si voraces qui ont pris le pouvoir dans le sillage du nouveau président de la République. Il décrit leur course à l'argent, leurs campagnes en coulisses pour dissimuler leurs véritables revenus et leurs conflits d'intérêts. Un document implacable. »
Seeing my Canon, a lady asks me if I am filming, if I am a journalist: « No, I take photos for my blog.
– Then talk about the book "les voraces — the ravenous" in your blog » she asks me.
So I'm talking about it, here's what I found on amazon:
« Never before have so many high-ranking civil servants slippered in the private sector.
Never have so many ministers been multimillionaires.
Never have so many political leaders, and not the least, become lobbyists or business lawyers …
How did we get here ? Why did the situation get worse under Macron?
After two years of investigation and thanks to around forty unpublished testimonies, Vincent Jauvert reveals the mores of these voracious elites who took power in the wake of the new President of the Republic. He describes their race for money, their backstage campaigns to hide their real income and conflicts of interest. A relentless document. »
Les hommes politiques ne connaissent la misère que par les statistiques. Abbé Pierre
Politicians know misery only through statistics. Abbé Pierre
Messieurs XXX ne regardent pas les statistiques
ils les ignorent
leur missel est le CAC 40
Mister XXX are not looking at statistics
they ignore them
their missal is CAC 40

La manif démarre à pas lents. Nous perdons de vue notre conducteur, Jean-Paul, qui rencontre de nombreuses connaissances. Moi, j'ai la joie de retrouver Catherine et Jean, qui continue des recherches sur les maquisards dans le Vercors. Yvanne est là aussi, Christian, et Florence. Claude et Brigitte sont venus avec Paul et Hortensia que j'avais perdus de vue depuis des années. Marie-Laure a écrit un vrai roman !
Le bal des faux culs
Age-pivot du bluff
La violence économique est à l'œuvre
Le pauvre va mourir au travail
(Age pivot 66 ans année 90)
le riche jouir de sa retraite par capitalisation
Merci : Macron la CFDT Black Rock derrière
The demonstration starts slowly. We lose sight of our driver, Jean-Paul, who meets many acquaintances. I am delighted to find Catherine and Jean, who is continuing research on the maquisards (those who fought against the Nazi) in the Vercors. Yvanne is there too, Christian, and Florence. Claude and Brigitte came with Paul and Hortensia whom I had lost sight of for years. Marie-Laure wrote a real novel!
The ball of phoneys
Bluff pivotal age
Economic violence is at work
The poor man will die at work
(Pivotal age 66 years year 90)
the rich person enjoy their retirement by capitalisation
Thank you: Macron the CFDT Black Rock behind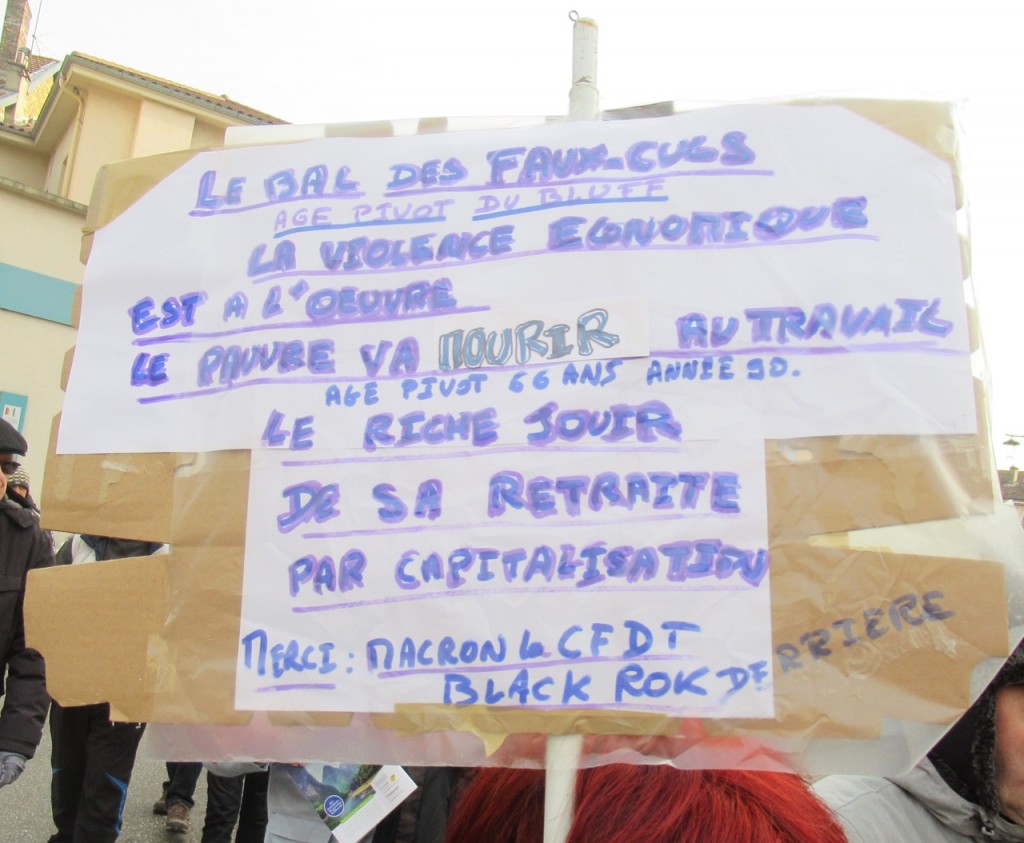 Plus loin, je parle avec un monsieur qui a commencé à manifester en mai 68. Depuis décembre, il en est à sa sixième manif et son sixième panneau, il en crée un nouveau à chaque fois !
Le roi Macron à Versailles et le peuple sur la paille
Further on, I speak with a gentleman who started to demonstrate in May 68. Since December, he's been on his sixth protest and his sixth panel, he's creating a new one every time!
King Macron at Versailles and the people on the straw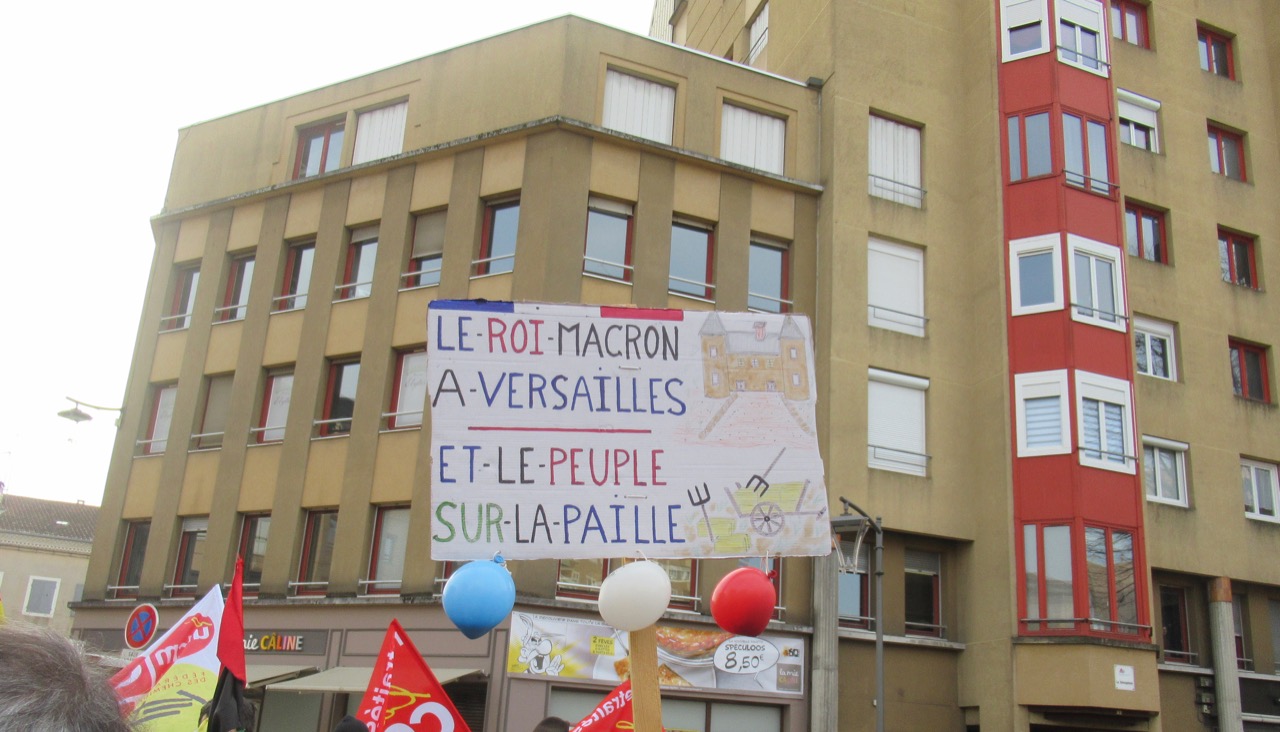 Un panneau a emprunté à Attac la formule :
Pas de justice climatique sans justice fiscale et sociale
A sign borrowed the formula from Attac:
No climate justice without fiscal and social justice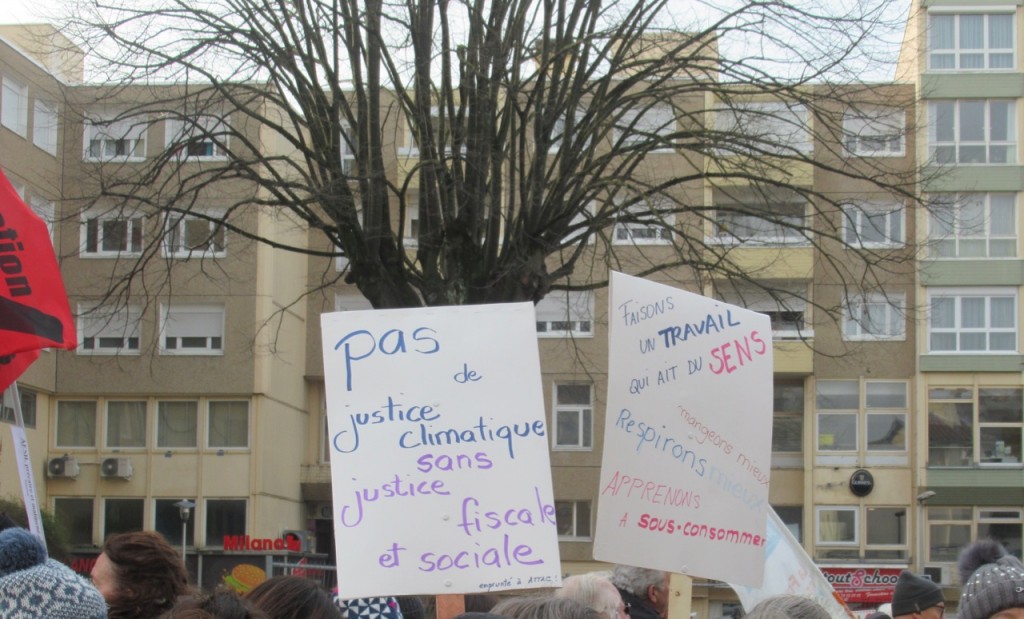 Quant aux panneaux pour la baisse de la consommation, c'est encore un peu une nouveauté dans les manifs politiques, et ça fait plaisir que ce sujet aussi soit abordé :
Faisons un travail qui ait du sens
mangeons mieux
respirons mieux
apprenons à sous-consommer
About the signs for the reduction of consumption, it is still a bit of a novelty in political demonstrations, and it is a pleasure that this subject is also addressed:
Let's do meaningful work
let's eat better
let's breathe better
learn to under-consume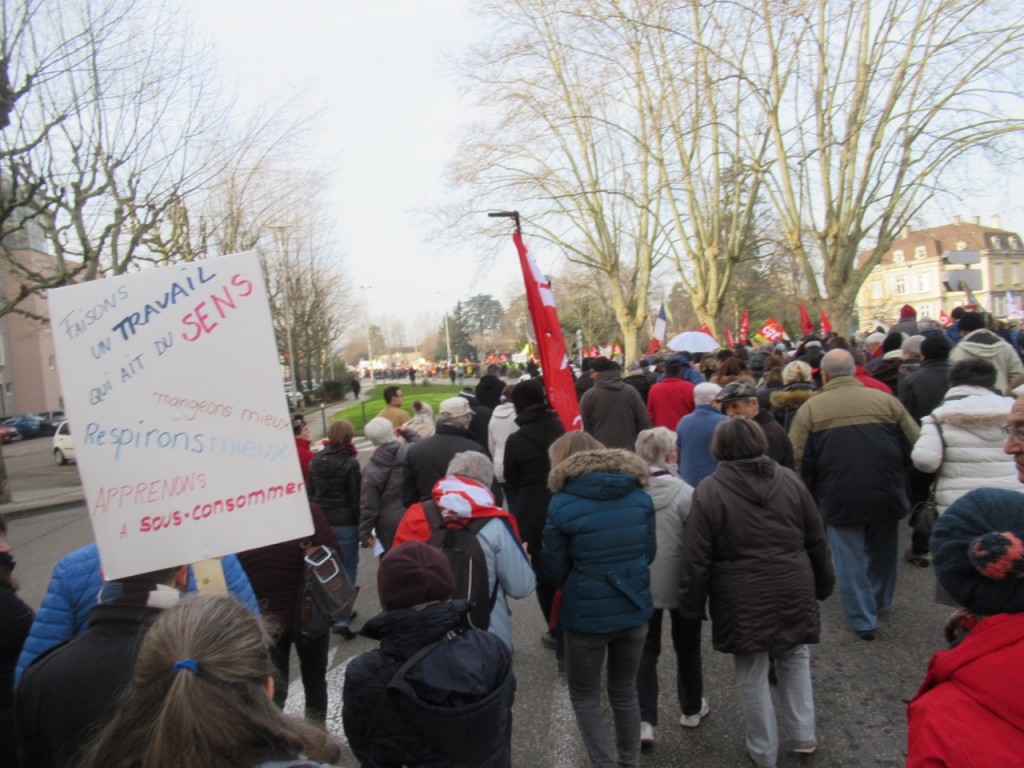 Chez moi, j'ai passé du temps sur une vidéo de Denis Robert qui dénonce les « stratégies langagières et policières de la Macronie pour nous soumettre à ses visées néolibérales. » Je publie de larges extraits de ses réflexions. Peut-être y aura-t-il une erreur de transcription ici ou là, mais je ne trahis pas son propos. Dans la manif, il y a des slogans, dans cette vidéo, il y a un raisonnement, de la réflexion, occasion pour moi de réfléchir à mon tour.
At home, I spent time on a video by Denis Robert which denounces « the language and police strategies of Macronie to submit us to his neoliberal aims. » I publish large extracts from his reflections. Perhaps there will be a transcription error here or there, but I am not betraying his purpose. In the protest, there are slogans, in this video, there is reasoning, reflection, opportunity for me to reflect in my turn.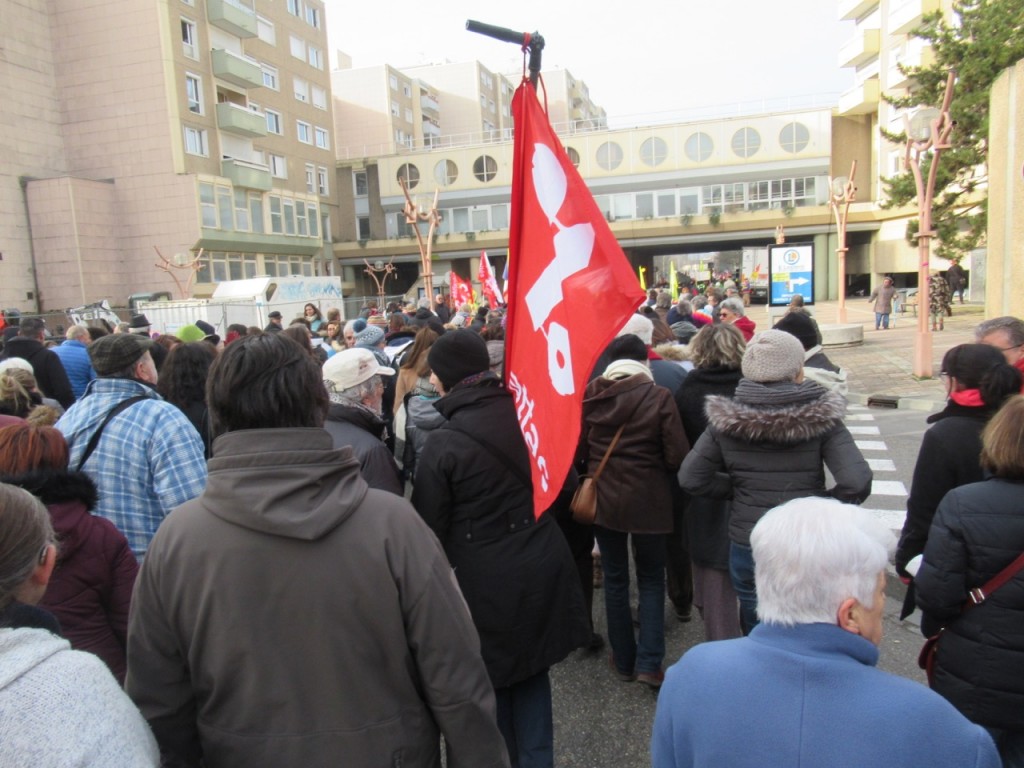 Denis Robert commence par s'adresser aux gilets jaunes :
« Vous êtes notre honneur, notre seul moyen de riposter. »
Denis Robert begins by speaking to the yellow vests:
« You are our honor, our only way to fight back. »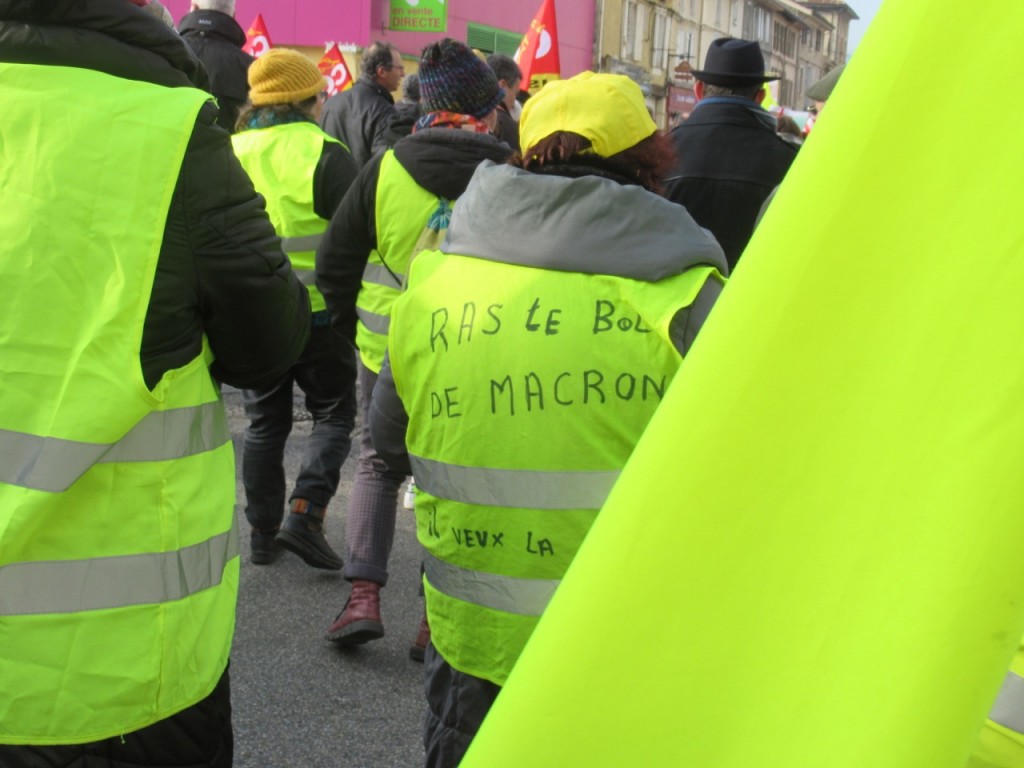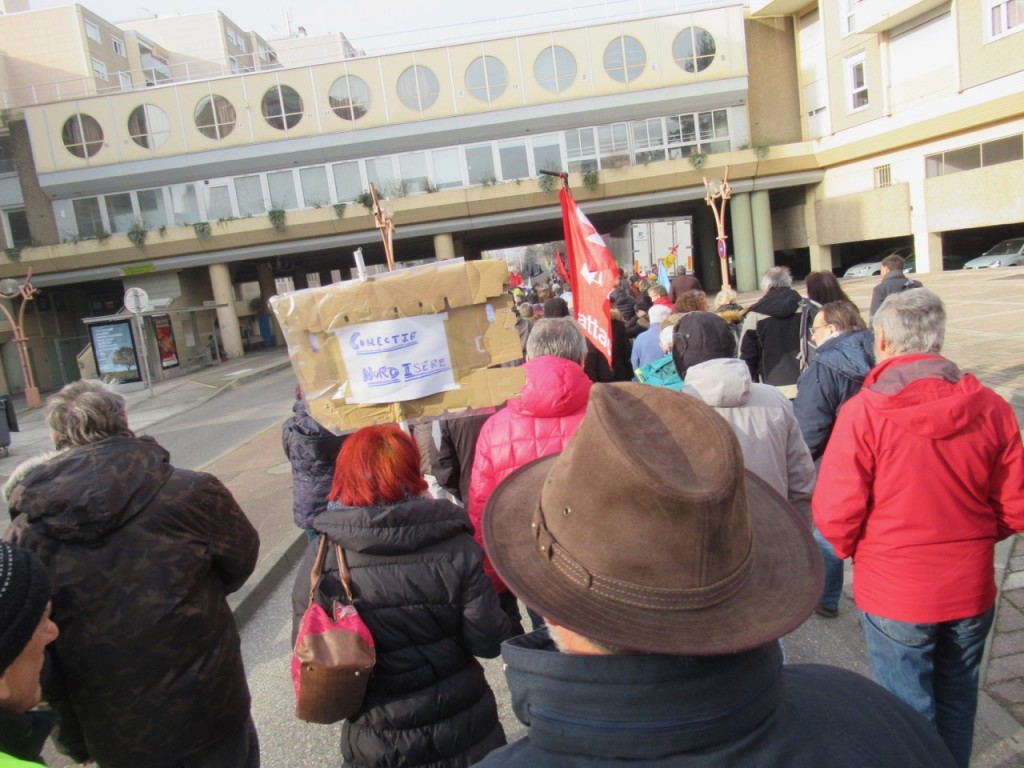 Puis il déclare :
« Ce pouvoir joue sur le temps, il joue sur la sémantique, il cherche à nous enfumer. »
Then he declares:
« This power plays on the time, it plays on semantics, it seeks to smoke us. »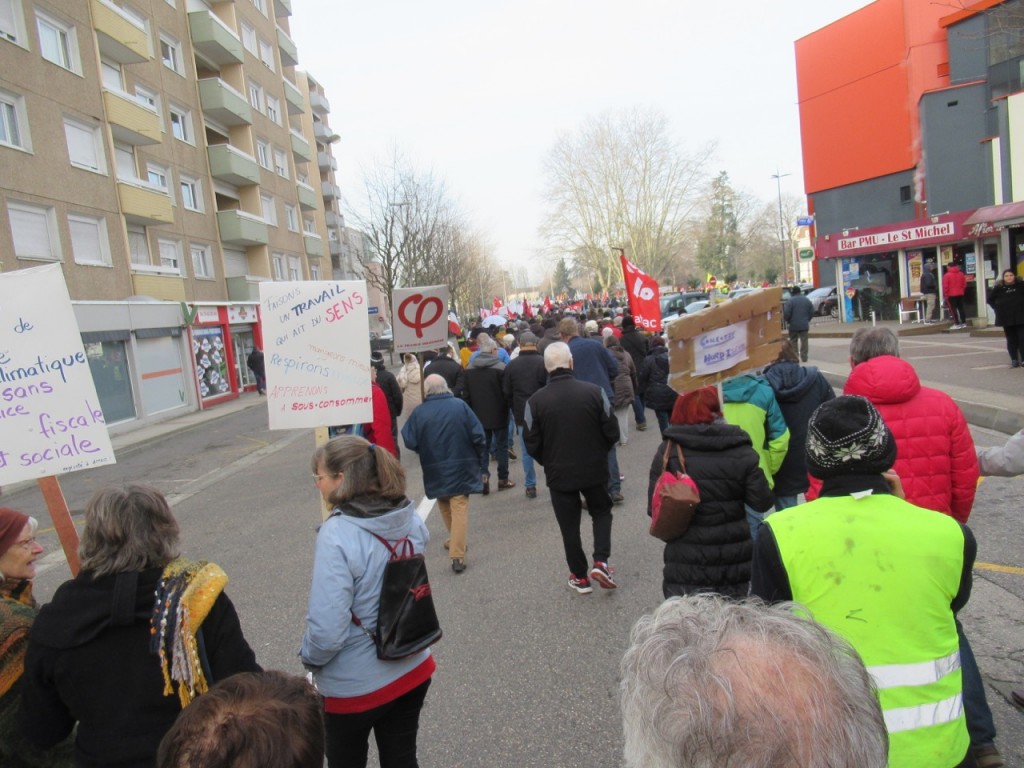 Je lui laisse la parole :
« Le régime des retraites a été construit après la guerre sur la base d'un régime général.
Macron a inventé le concept bidon d'universalité et les petits soldats du macronisme, robots décérébrés de la sphére publique de répéter jusqu'au dégoût ce mensonge de l'universalité alors que non, le système que Macron a en tête n'est pas universel, mais promeut une rupture, un danger, un retour aux féodalités et au black rock. Autre idée pitoyable, l'âge pivot.
(…)
Macron me déprime.
Macron est une machine un homme programmé pour détruire ce qui fut fait par nos aînés. Macron, c'est le tueur placide du conseil national de la résistance. Macron c'est Pinocchio puissance mille, c'est Tartuffe, c'est le contraire de Stéphane Hessel, c'est le contraire de la douceur et du coton.
Chaque mot qui sort de sa bouche depuis le début du mouvement des gilets jaunes et encore plus depuis les révoltes contre sa réforme sur les retraites est un mensonge ou au mieux la manifestation d'une stratégie d'évitement.
Macron vit dans un monde parallèle suspendu où il nous fait croire qu'il débat, qu'il dialogue, qu'il concède alors que rien du tout, pas de chaleur, pas d''humanité, pas de polititique au fond.
Macron fait mal son métier. Macron n'est pas un homme politique. Bien sûr il a été élu, mais son élection est un hold up.
Macron dirige son pays comme une boîte, nous sommes sa start up nation.
Et si on le laisse faire si on les laisse faire on va tous crever.
(…)
Quelqu'un qui ment si éhontément n'est plus digne de nous adresser la parole.
(…)
Macron ne gouverne pas, Macron dirige, Macron ordonne. Macron ne gouverne pas, il nous soumet. Il ne cèdera rien sur les retraites.
Il gagne du temps. Il est dans un rapport de force permanent.
Je n'arrive pas à rester distancié face à tant d'inconséquence, de sournoiserie, d'imposture. »
I give him the floor:
« The pension scheme was built after the war on the basis of a general scheme.
Macron invented the bogus concept of universality and the little soldiers of macronism, brainless robots in the public sphere are repeating this lie of universality until disgust while not, the system that Macron has in mind is not universal, but promotes a break, a danger, a return to feudalism and black rock. Another pitiful idea is the pivotal age.
(…)
Macron depresses me.
Macron is a man-machine programmed to destroy what was done by our elders. Macron, he's the placid killer of the National Resistance Council. Macron is Pinocchio power thousand, he is Tartuffe, he is the opposite of Stéphane Hessel, he is the opposite of softness and cotton.
Every word that has come out of his mouth since the start of the yellow vests movement and even more since the revolts against his pension reform is a lie or at best the manifestation of an avoidance strategy.
Macron lives in a suspended parallel world where he makes us believe that he is debating, that he is dialoguing, that he concedes when nothing at all, no warmth, no humanity, no politics at heart.
Macron does his job badly. Macron is not a politician. Of course he was elected, but his election is a hold up.
Macron runs his country like a box, we are his start up nation.
And if we let him do, if we let them do, we're all going to die.
(…)
Someone who lies so shamelessly is no longer worthy to speak to us.
(…)
Macron does not govern, Macron directs, Macron orders. Macron does not govern, he submits us. He will not give up anything on pensions.
He saves time. He is in a permanent balance of power.
I can't stay distanced in the face of so much inconsistency, slyness, sham. »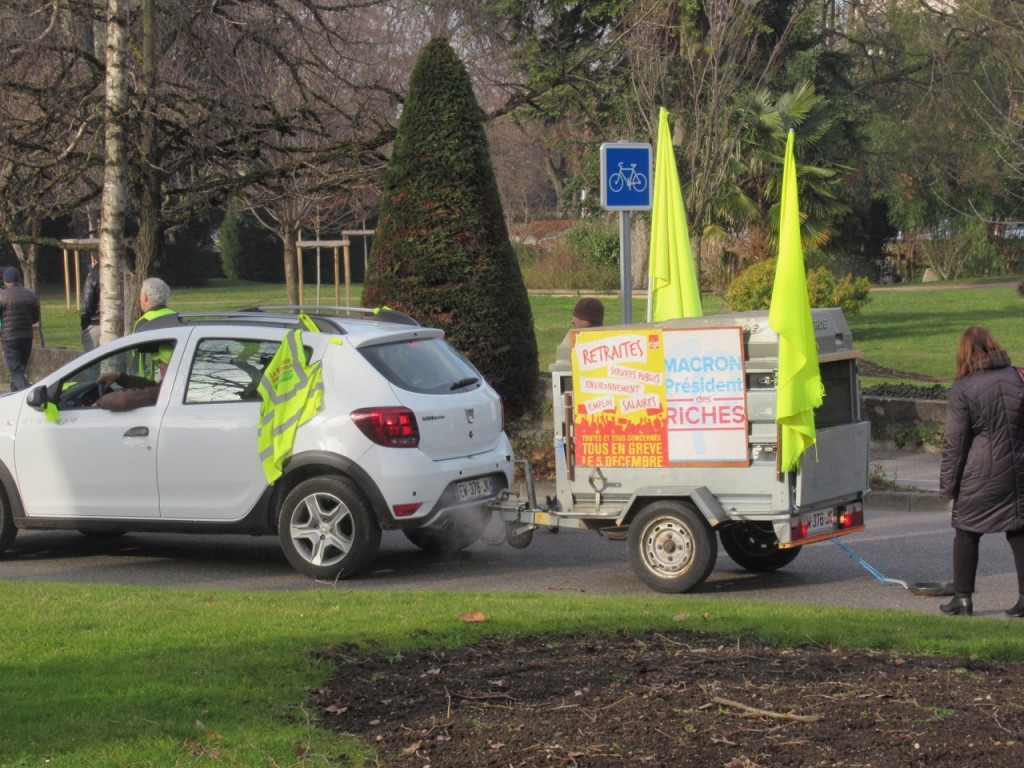 Puis Denis Robert cite Roland Gori, psychanaliste :
« Emmanuel Macron ne gouverne pas les Français, il les soumet. »
Then Denis Robert quotes Roland Gori, psychoanalist:
« Emmanuel Macron does not govern the French, he submits them. »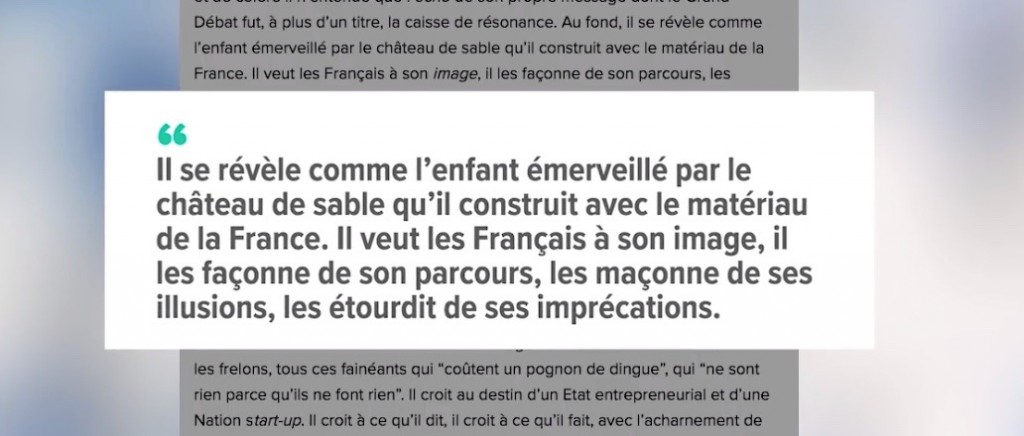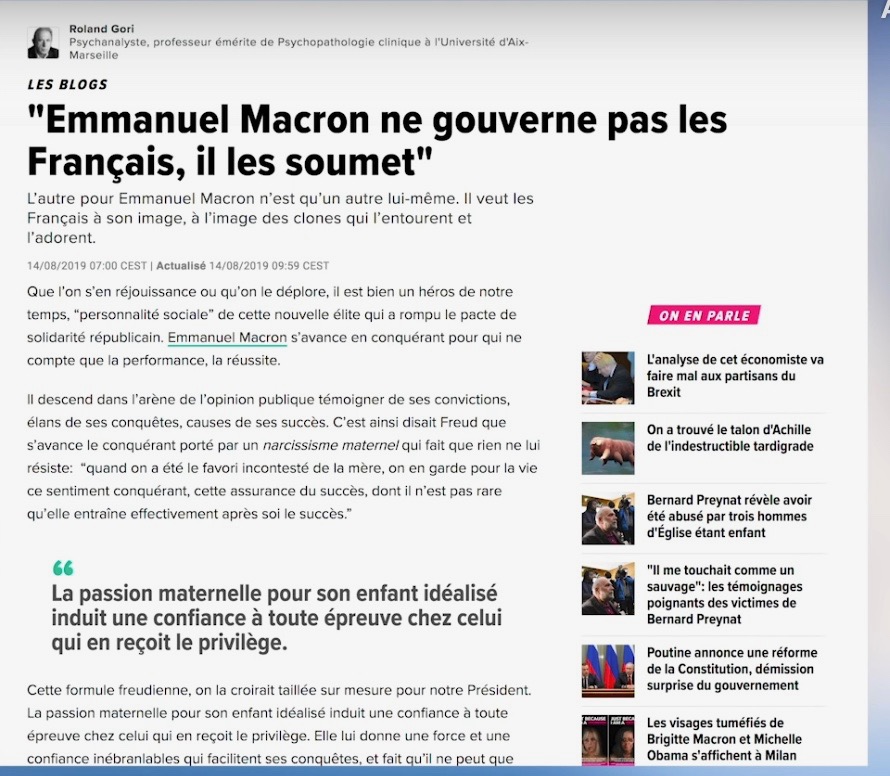 Comme Denis Robert, moi aussi « je rêve d'une France plus solidaire, de policiers finissant par baisser leur matraque, je rêve de juges plus ouverts, plus tolérants, et de procureurs qui redeviennent les représentants du peuple. »
I too dream as Denis Robert « of a more united France, I dream of the police eventually lowering their batons, I dream of more open, more tolerant judges, and of prosecutors who are once again becoming representatives of the people. »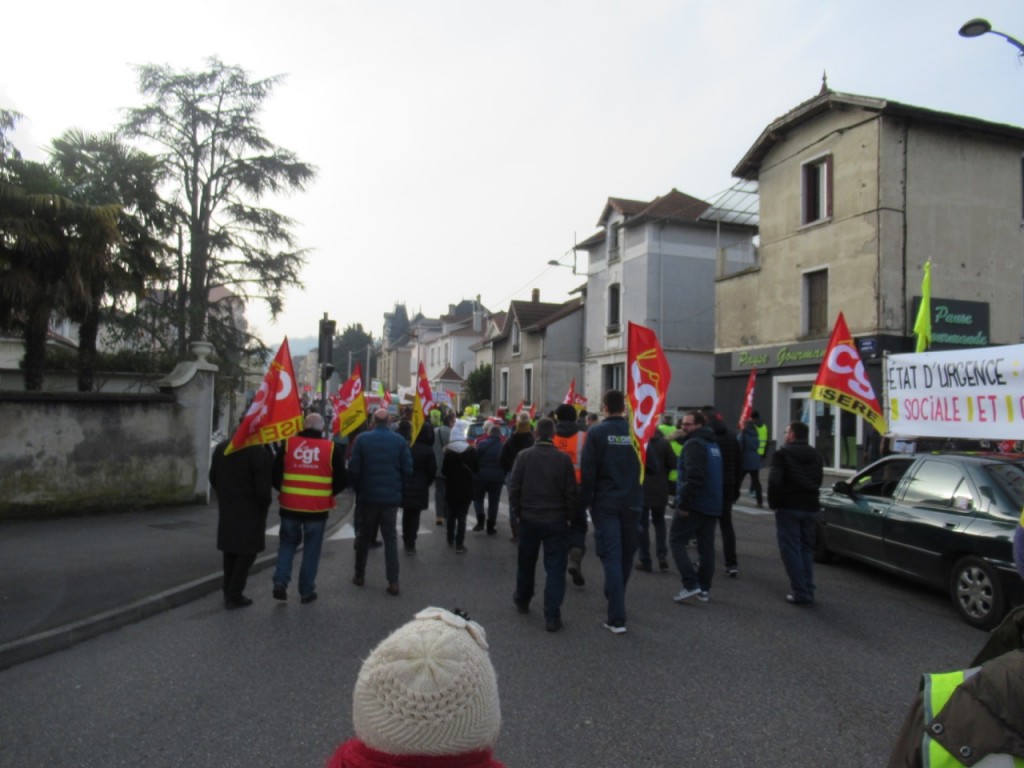 Je suis partagée entre une profonde angoisse à cause de tout ce à quoi j'assiste, la planète à feu et à sang, et le plaisir de ne pas me sentir seule quand je lis Denis Robert, ou toutes ces banderoles autour de moi. Partout il se passe des choses, les humains sont capables du pire mais aussi du meilleur. Cette fois, je laisse la parole à ces inconnus dont j'évite de montrer le visage :
I am divided between a deep anguish because of all that I attend, the planet is burning and bleeding, and the pleasure of not feeling alone when I read Denis Robert, or all these banners around me. Everywhere things happen, humans are capable of the worst but also the best. Now, I give the floor to these unknown whose faces I avoid:
Un vieux monsieur très souriant porte le panneau « France insoumise »
A smiling old man wears the « France rebellious — France insoumise » sign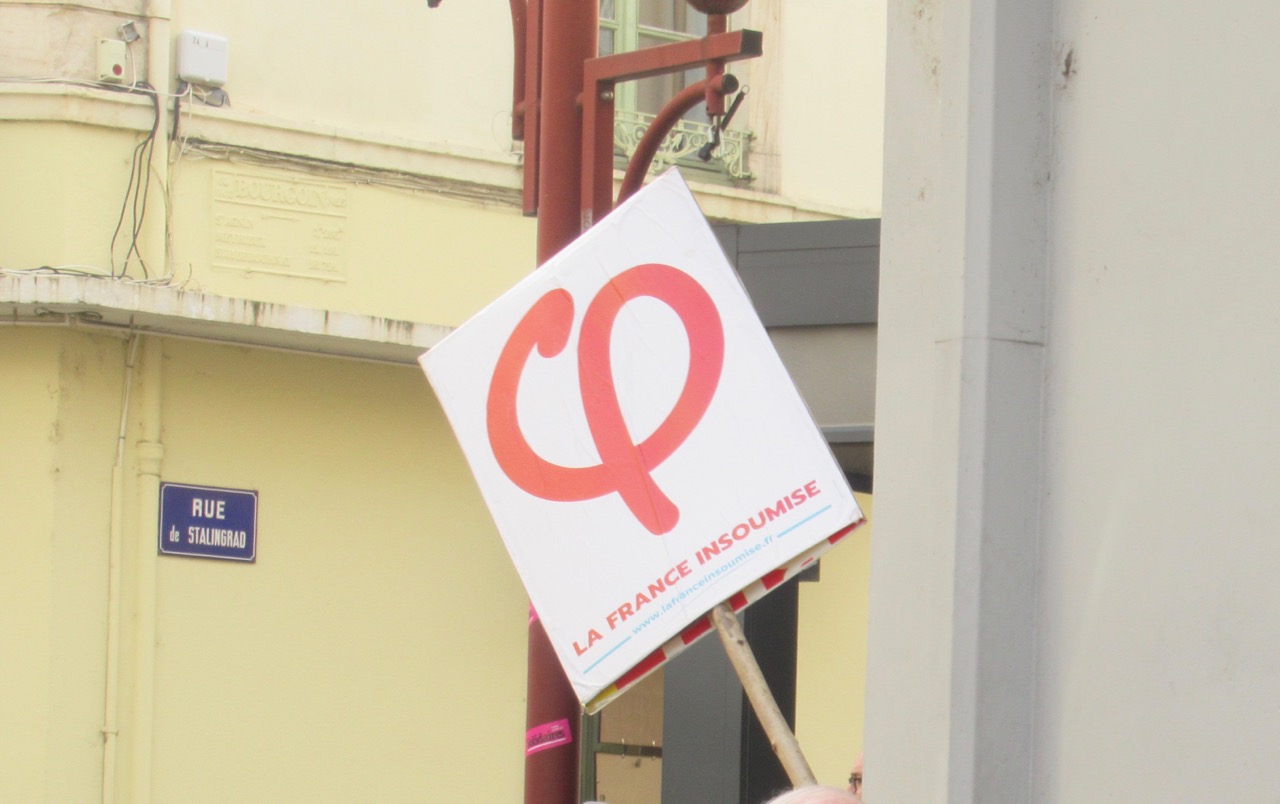 prof en colère
retraite de misère
angry teacher
misery retreat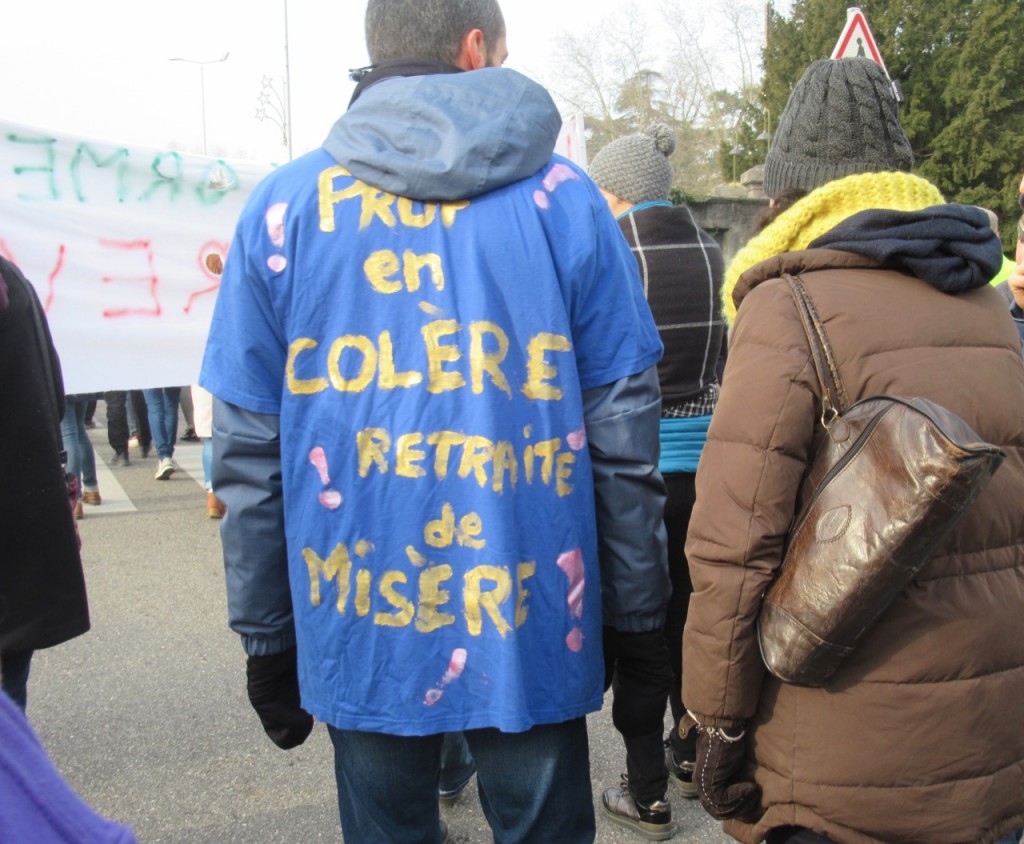 Élèves et personnels du lycée Aubry en grève !!! (banderole à l'envers)
Aubry high school students and staff on strike !!! (upside down banner)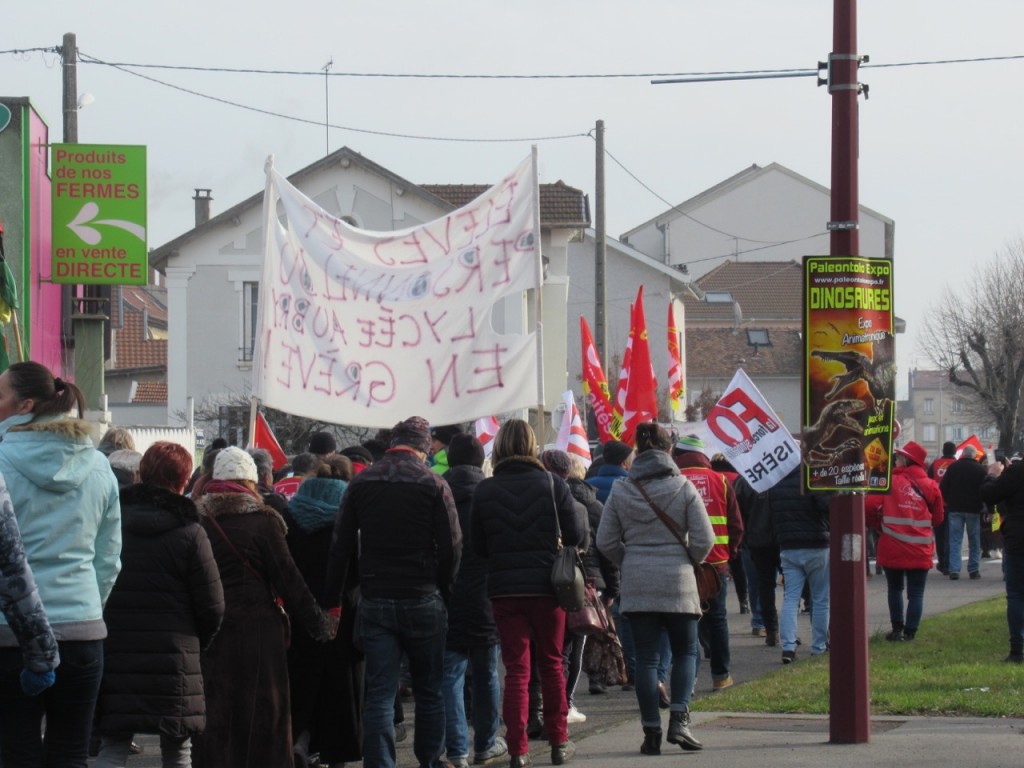 J'aime beaucoup la
maîtresse
maternelle
en colère
Une vraie colère en effet…
I really like the
angry
teacher
of nursery school
A real anger indeed …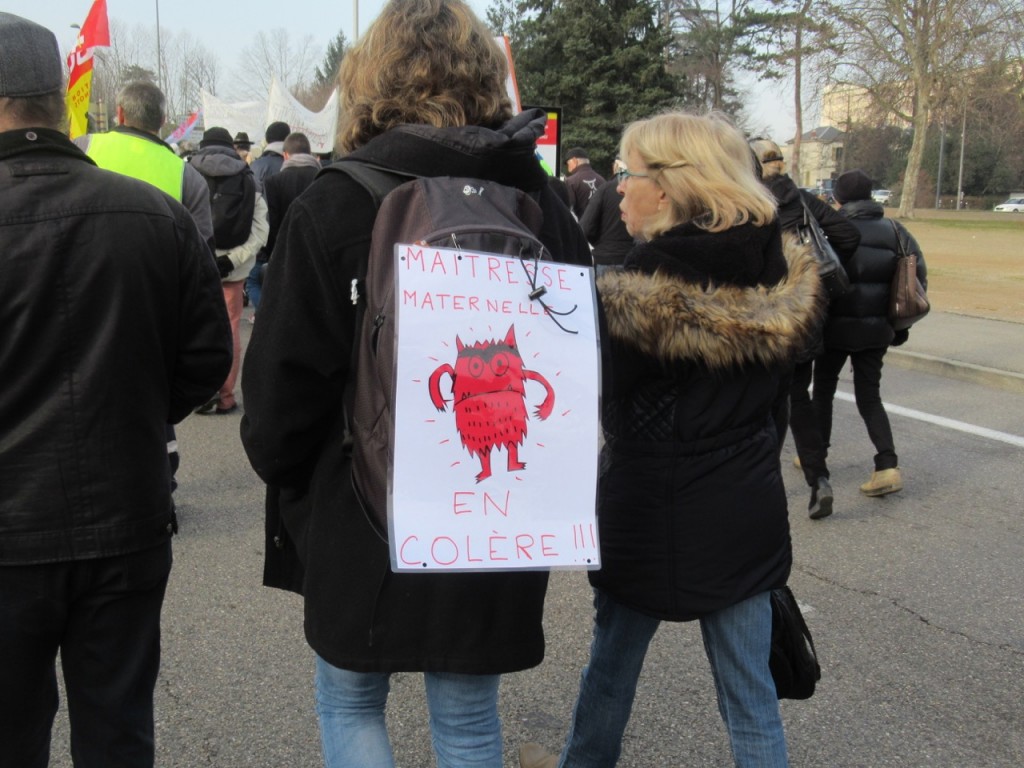 …et aussi
soldes sur les retraites
– 30%
– 40%
– 50%
faites vite ! Il n'en restera pas pour tout le monde !
… and also
retirement balances
– 30%
– 40%
– 50%
be quick ! There won't be enough left for everyone!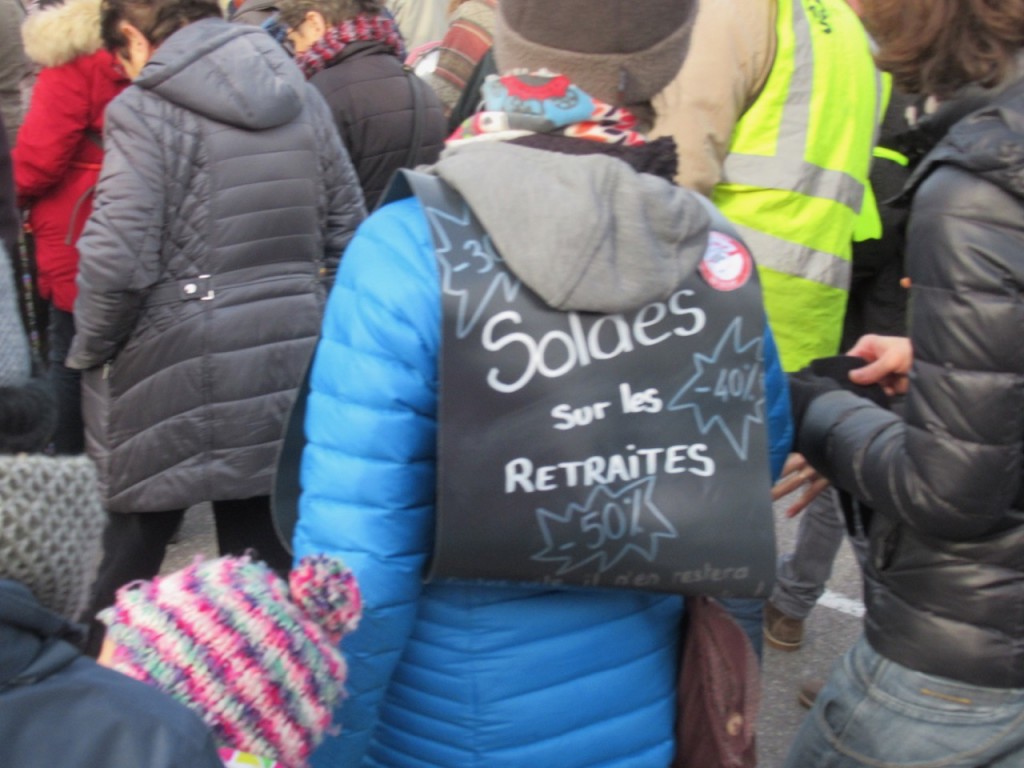 état d'urgence démocratique sociale et climatique
democratic social and climatic emergency
BlackRock connaissez-vous ?
Voilà un nouveau venu, totalement inconnu et dont le nom est sur toutes les bouches !
BlackRock do you know?
Here is a newcomer, completely unknown and whose name is on everyone's lips!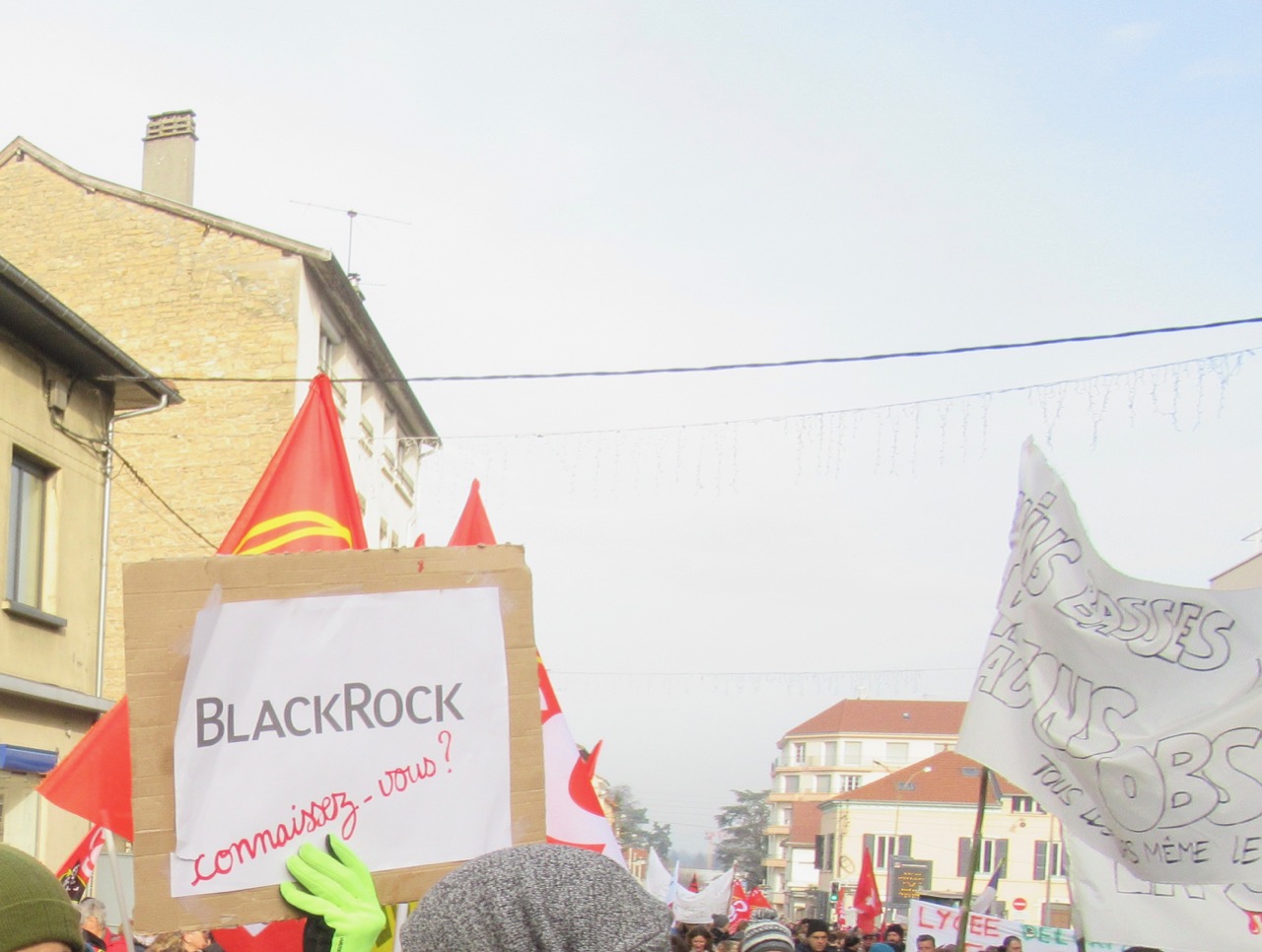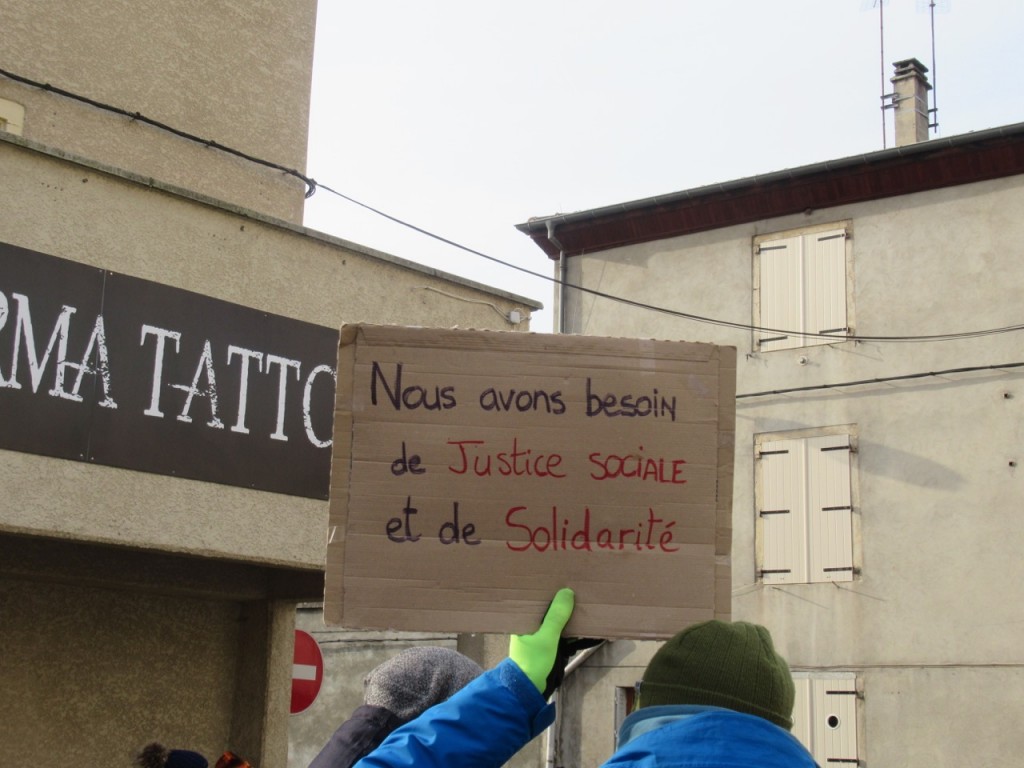 Je ne censure pas :
ni dieu
ni maître
juste
moi et
mes couilles
I do not censor:
neither god
neither master
only
me and
my balls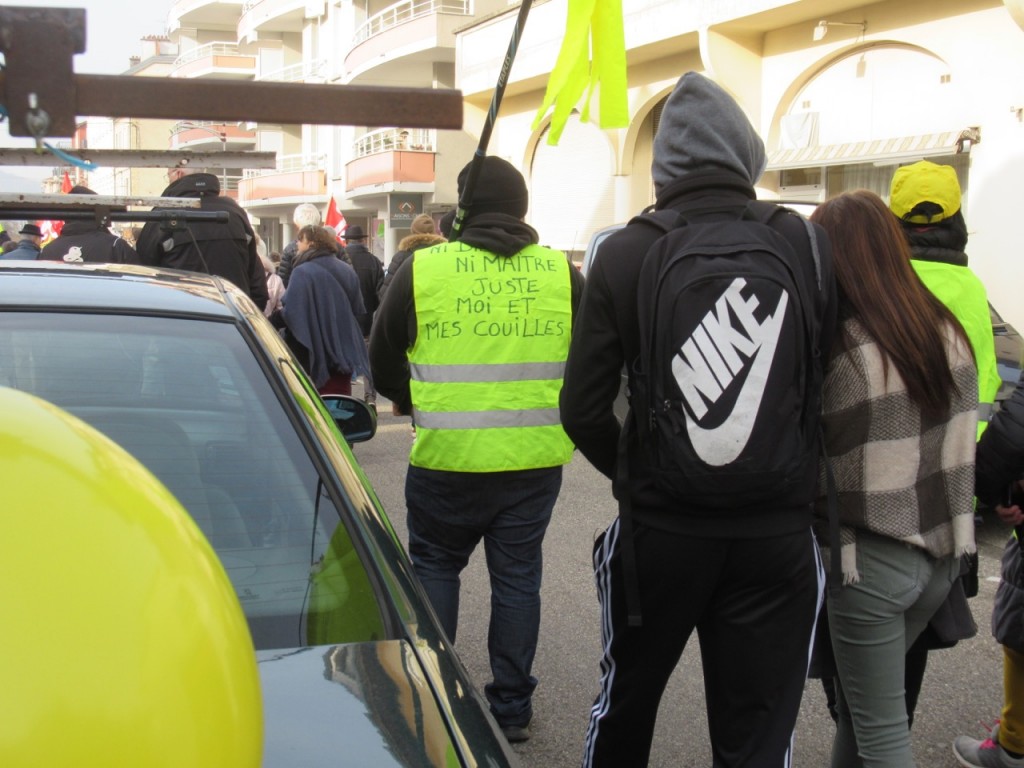 Une grande banderole rappelle judicieusement que
quand tout sera privé
on sera privé de tout
A large banner aptly reminds us that
when everything will be private
we will be deprived of everything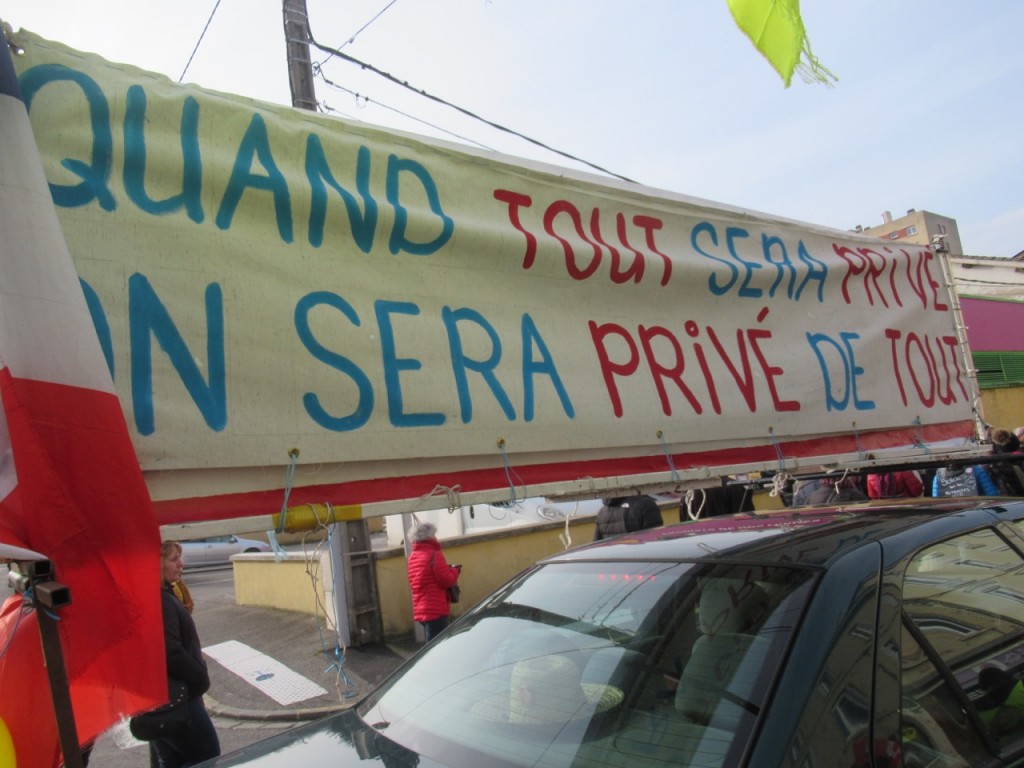 grève générale pour bloquer macron
non à la retraite des morts
general strike to block macron
no to the retirement of the dead

élection d'une constituante souveraine
election of a sovereign constituent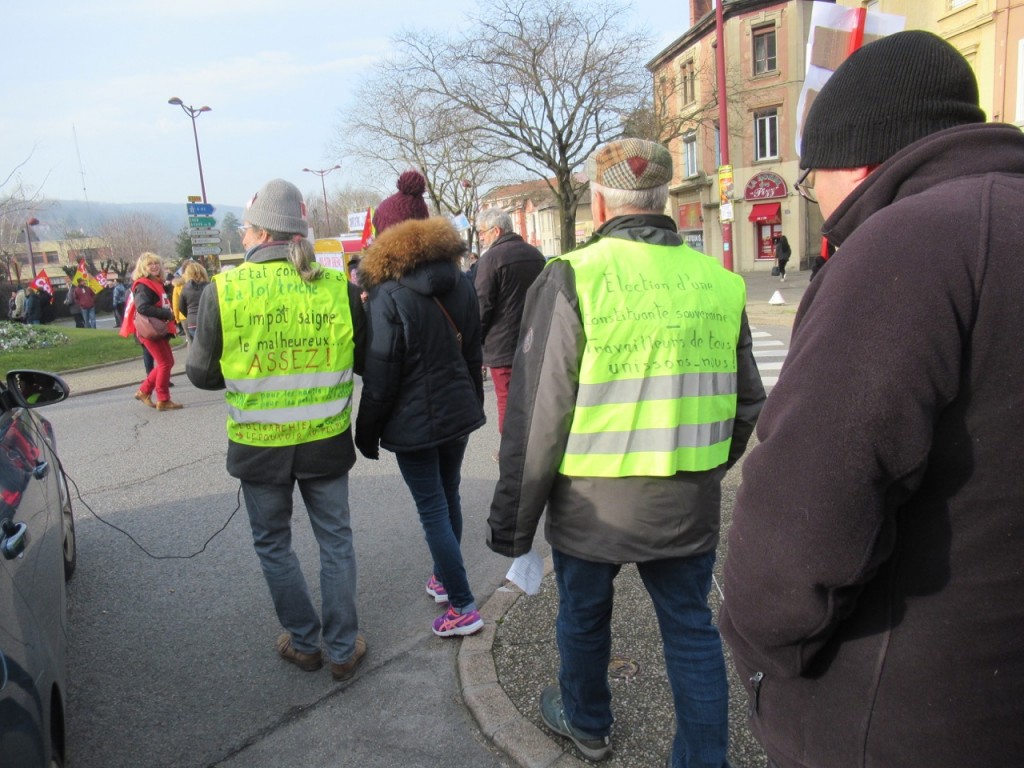 convergence des luttes
grève et mobilisation générale
retrait de la réforme des retraites
convergence of struggles
strike and general mobilization
withdrawal from pension reform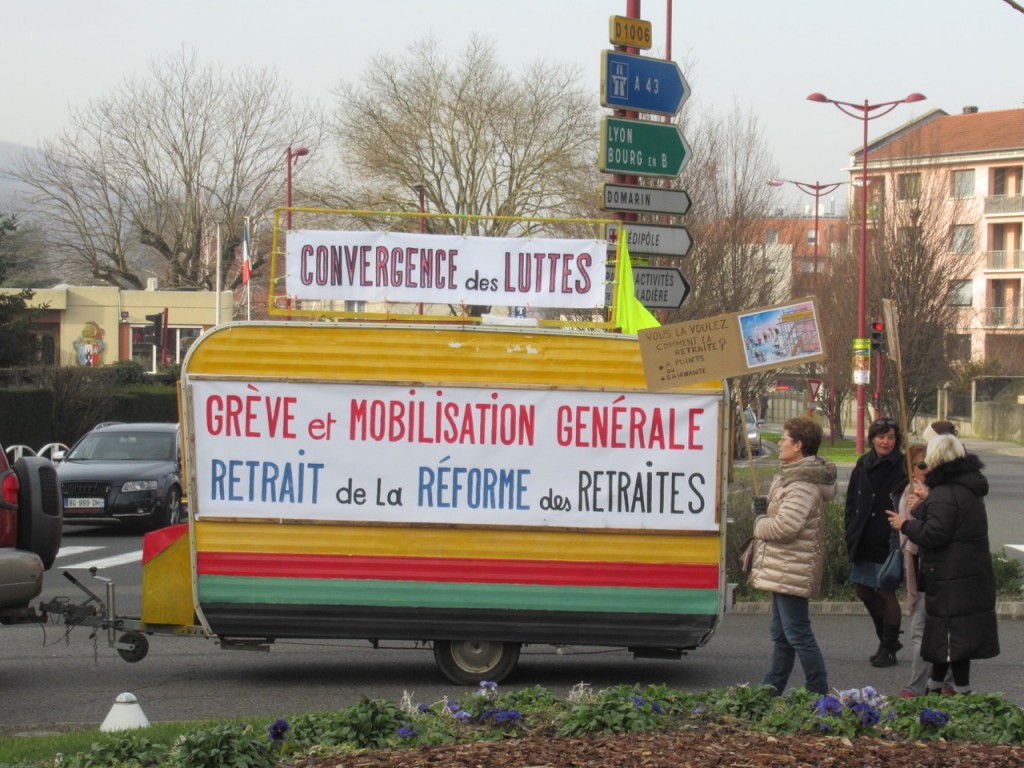 how do you want retirement?
"À point" or bleeding
Joke with « points »: when you order meat in the restaurant, the waiter asks you how it must be cooked. « À point » or « bleeding »?
The pension reform must introduce points retirement.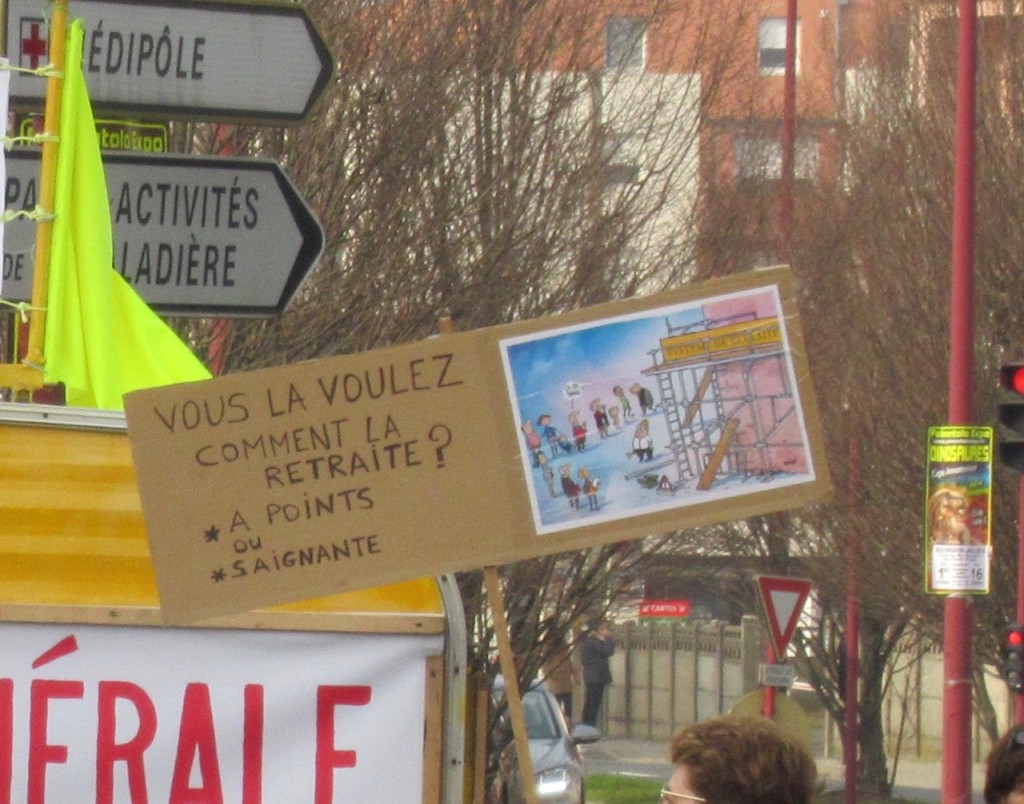 Ministres sénateurs députés présidents
et vos régimes spéciaux on en parle ?
Ministers senators deputies presidents
and your special diets we talk about?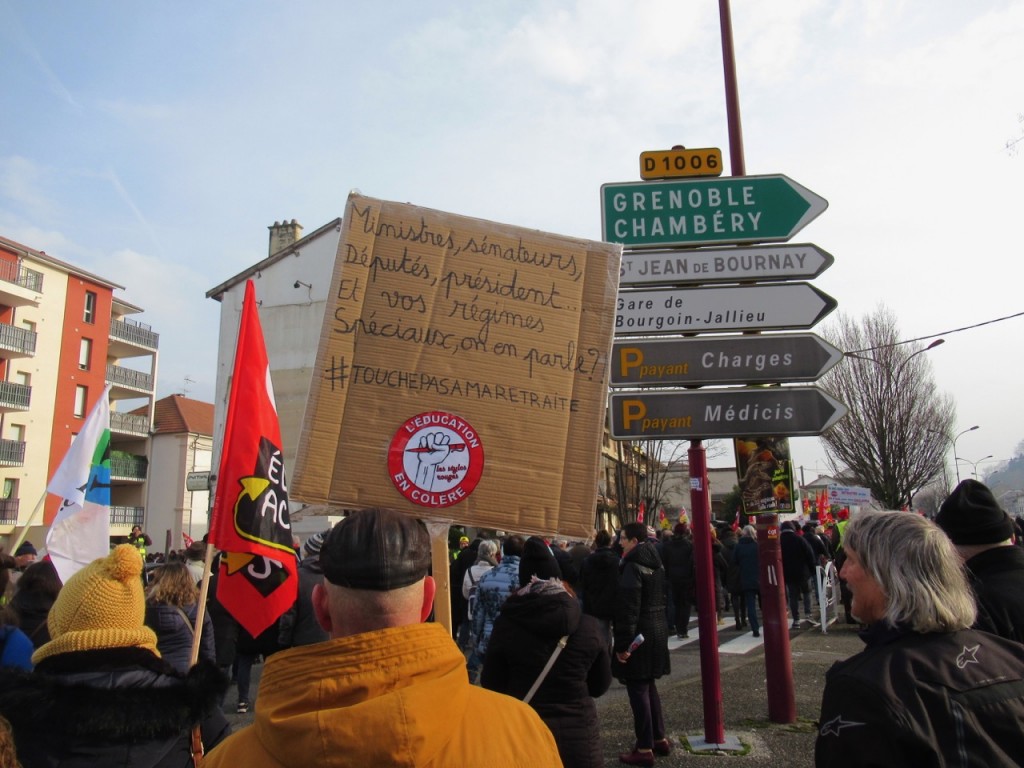 du BAC bidon aux retraites en toc
stop
on n'est pas des esclaves
révolution !!!
From bogus BAC to pensions in fake
stop
we are not slaves
revolution !!!

Suppression cotisations
sur les salaires de
10 000 € et plus
=
nouveau cadeau
(4 à 5 milliards d'€ / an)
pour les entreprises
et les hauts salaires
Cancellation of contributions
on the salaries of
€ 10,000 and more
=
new gift
(4 to 5 billion € / year)
for companies
and high wages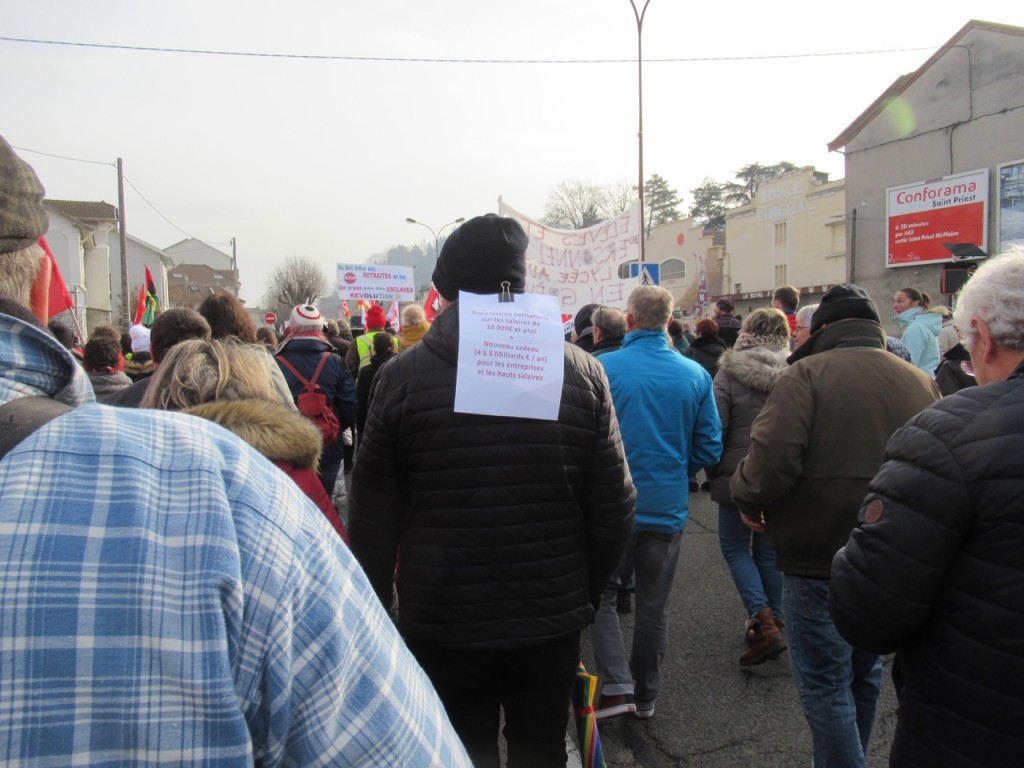 Retraite à poing
dans ta gueule !
Fist retreat
in your face !
Point = point / poing = fist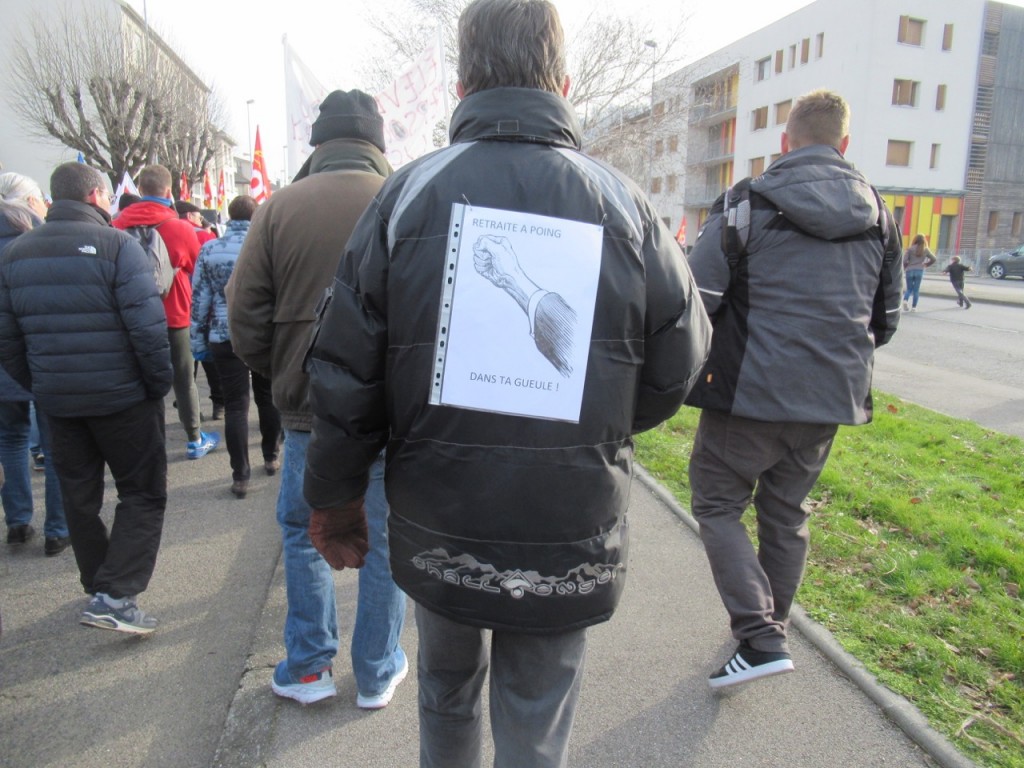 Le noir et le rouge, puis le vert, se rejoignent, étroitement réunis par le jaune. Fraternisons.
Black and red, then green, meet, closely united by yellow. Let's fraternize.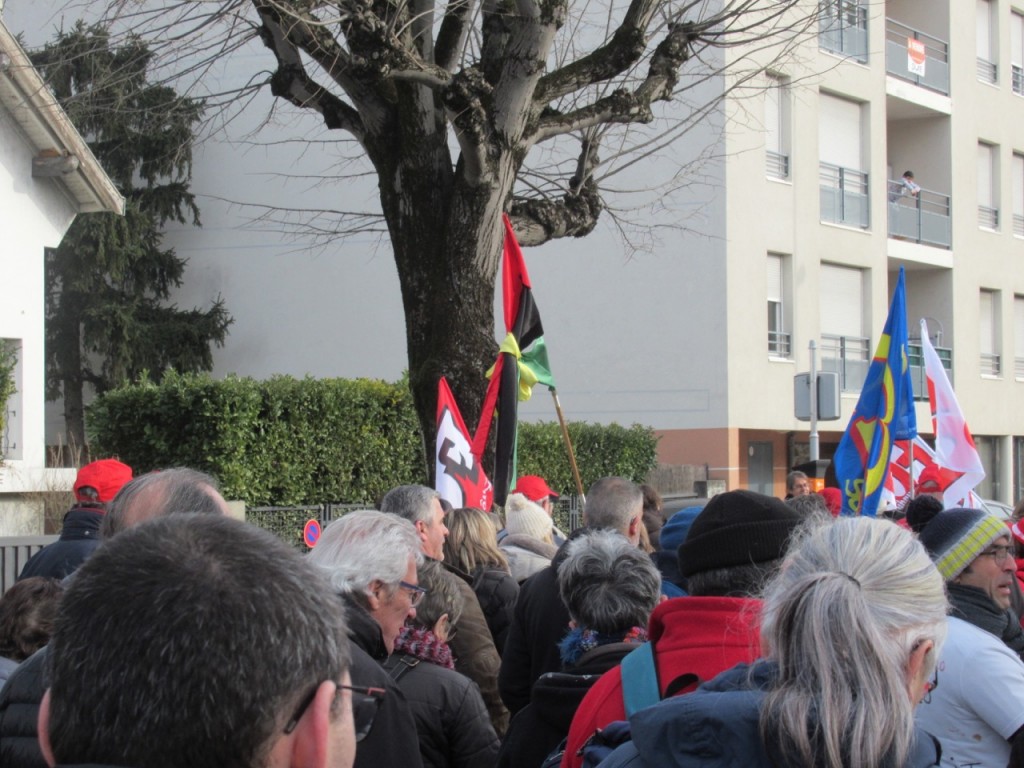 On veu(t)
le retrait
rien d'autre
We want
withdrawal
nothing else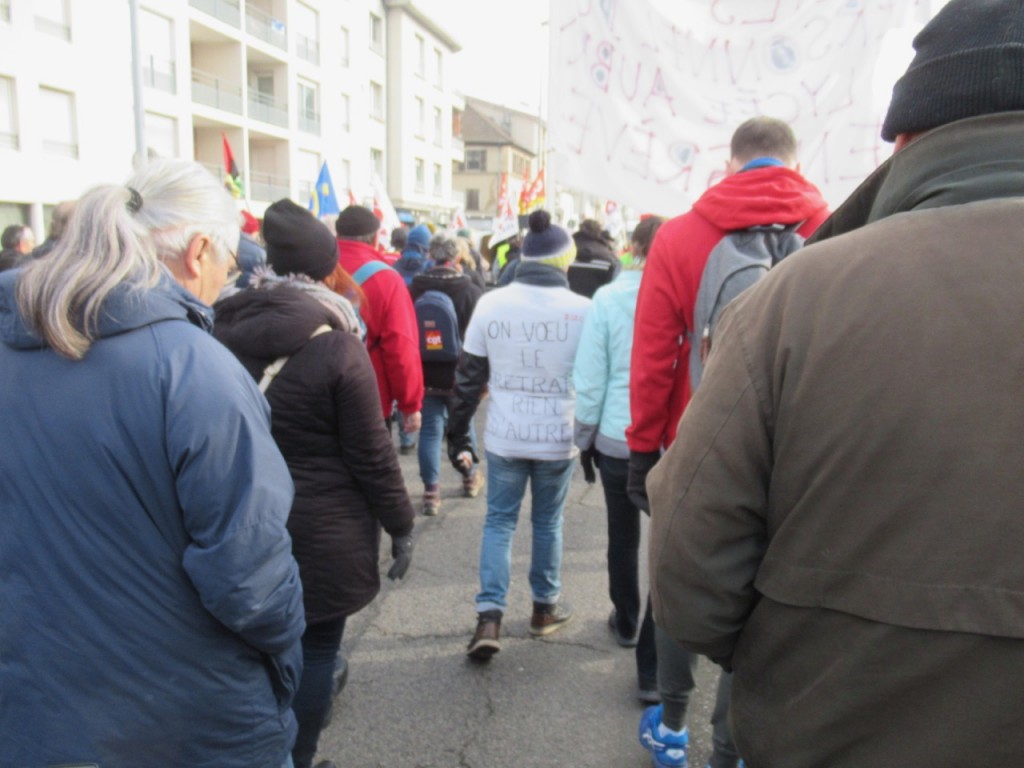 Imposons un autre avenir
Impose another future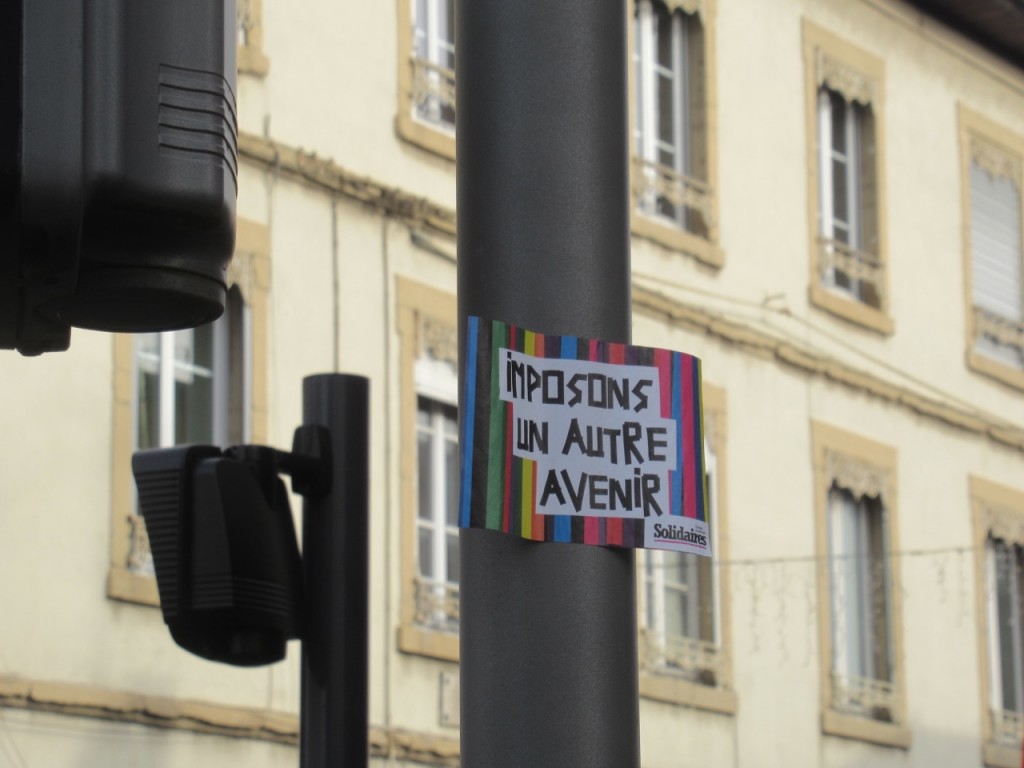 Sur la caravane
convergence des luttes
assez de mensonges
de privations
de répressions
résistance
stop aux régressions sociales
révolution citoyenne
le pouvoir au peuple
non à la vente des équipements publics
aux multinationales
On the caravan
convergence of struggles
too much lies
too much deprivation
too much repressions
resistance
stop social regressions
citizen revolution
Power to the people
Do not sell public equipment
to multinational companies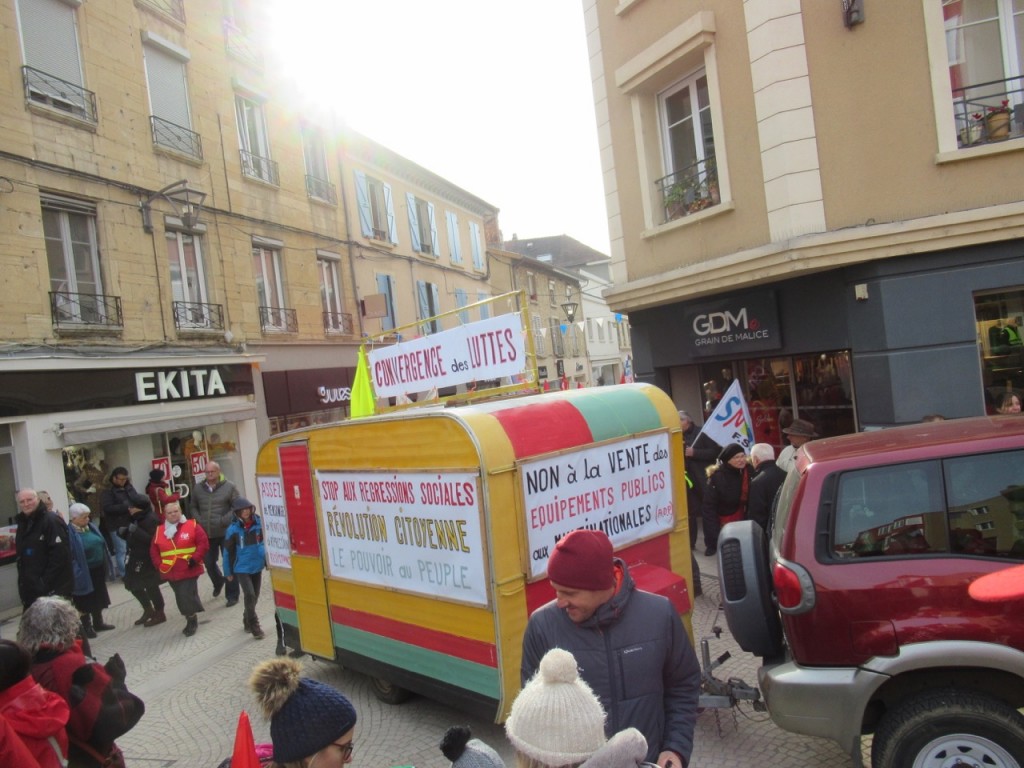 Stylos rouges
blouses blanches
casques argent
gilets jaunes
militants verts
peuples de la planète bleue
révolutions !
Red pens
white blouses
silver helmets
yellow vests
green activists
peoples of the blue planet
Revolutions!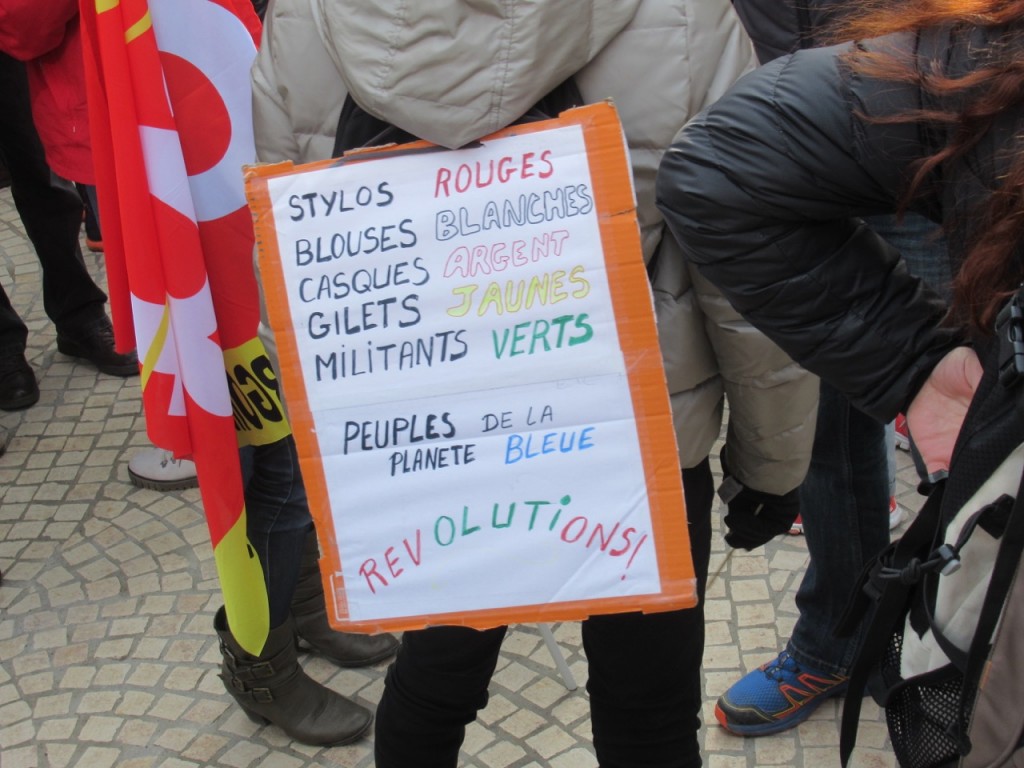 Notre manif se termine, déjà certains quittent le défilé. Une dernière photo :
macron menteur
médias manipulateurs
et je dis à la dame qui porte ce gilet combien je suis d'accord avec elle.
« Je me suis fait agresser avec ça », raconte-t-elle. Quand elle a garé sa voiture, une passante lui a dit que c'est mal de critiquer monsieur le président. Alors la manifestante lui a répondu « j'emmerde monsieur le président ! » L'autre n'a pas répondu et a disparu en toute hâte.
Our demonstration ends, already some are leaving the march. One last photo:
macron liar
manipulative media
and I tell the lady wearing this vest how much I agree with her.
« I was attacked because of this, » she says. When she parked her car, a passerby told her that it is bad to criticize Mr. President. So the protester replied « I fuck Mr. President! » The other did not respond and hurried away.